Choosing the right sewing machine for your projects is one huge step towards accomplishing them. Of course, right now, we are still bombarded with hundreds if not thousands of choices.  But fret not, we're here to make things easier for you.
We've researched and listed down some of the best basic sewing machines in Canada and made sure to prepare a comprehensive breakdown for your convenience.
Whether you are prepping for a personal project or you're a professional tailor, finding the right sewing machine for the job is paramount. You'd want something versatile and that can take your sewing skills to the next level. Read on!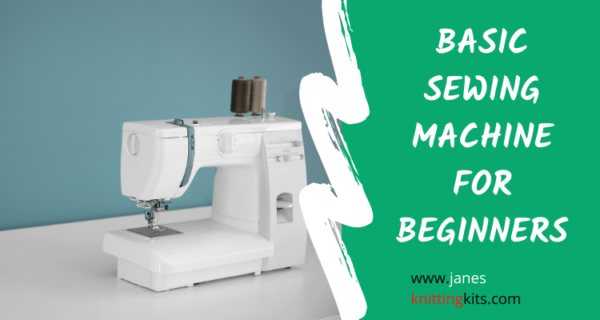 What is a Basic Sewing Machine?
A basic sewing machine can be considered a beginner sewing machine in the sense that it offers all the basic features that one might need to start some simple sewing projects.
It doesn't mean though that while it can be "basic" that it can't be versatile nor very functional on its own. A sewing machine that is considered basic is still pretty much capable of helping you accomplish a multitude of sewing projects and is also quite reliable.
They are also most likely really affordable and at the very least will yield a pretty great value for your money. In its very definition, a sewing machine is a piece of equipment that one can use for sewing fabric or other materials together by means of a thread. Students can bring these lightweight sewing machines to their sewing classes as well.
It has been the go-to machine for such projects since the start of the first industrial revolution up until now. It's utilized for personal projects, mass production, or even the highest standards of design in the fashion industry.
You may call it a do-it-all machine and it is quite valuable for a lot of tasks.
What are the Best Sewing Machine Brands?
Throughout the years, there have been numerous brands in the market that have manufactured top-quality sewing machines for all skill levels or types of projects. These manufacturers have kept a certain standard and have made sure that the machines they release are versatile and reliable enough for a variety of tasks. Most have manufactured some of the best starter sewing machines.
Some of the best brands today are as follows some of which have products that we have prominently featured on our list below:
Singer machines
Brother machines
Janome machines
Bernina machines
Elna machines
Husqvarna Viking machines
Jaguar machines
Juki machines
Pfaff machines
Toyota machines
And yes, most if not all of these brands are some of the best sewing machines in Canada. With no question, the Singer brand has been a global leader having made known and available their products all over the world.
Most likely, if you stick to the products of this quality brand of sewing you're going to get your money's worth and won't regret your purchase.
Comparison Table of Different Brands Basic Sewing Machine:
Basic Singer Sewing Machine Reviews
1. SINGER MX60 Sewing Machine.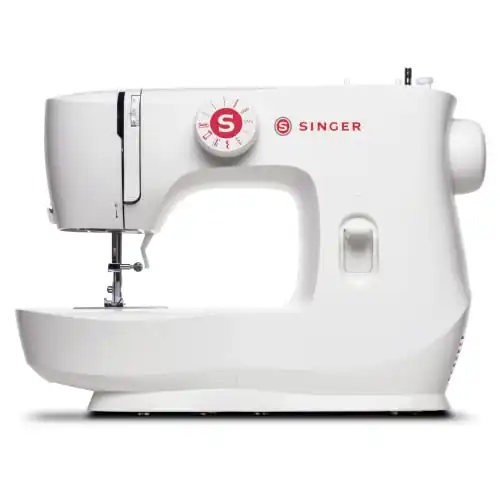 The SINGER MX60 Sewing Machine is the first unit we will feature and it is regarded as one of the best basic sewing machines in Canada. This model has been widely known as a sewing machine for beginners.
The advantage of this machine is its beginner-friendly features, and it comes with 6 essential stitches that you'd need and an easy stitch selection adjustment mechanism. You just need to preset your desired stitch length and width, and you're good to go. It's an easy machine to use for buttonhole sewing in 4 easy steps.
You also have a reverse lever that will allow you to sew in reverse to secure those seams from beginning to end to reduce the chances of unraveling.
It's got an adjustable thread tension mechanism, quick and easy to thread, and comes in a heavy-duty frame. With these manual controls, basic sewing, alterations, and home projects can be accomplished in a breeze.
It's not as intimidating too so you can take all the time you need for learning the craft. This is a bestseller and a popular choice even from the brand.
This perfect sewing machine also got thousands of reviews online with no issues at all and has got excellent ratings.
2. Singer M3300 Sewing Machine.
The next stop on our sewing machine reviews for Canada is the Singer M3300 Sewing Machine. With this unit, you just have to pay a bit more compared to our previous entry, but trust us when we say that it's all worth it.
This unit comes in a super-sturdy metal frame so from that you already know that you're getting your money's worth with a machine that's going to endure a lot of years.
And yes, it does come with a whopping 97 stitch applications essential for all your sewing and decorative needs. It's got one of the widest range of applications from the price range for sure. An automatic needle threader is an extra feature of this machine.
If the latter model offers buttonhole sewing in 4 easy steps, try just 1 step for this unit and it's got consistent results every time. It comes with 4 presser feet and a needle threader so you save time and start or resume your projects fast.
It also comes with customized stitches needed for creative sewing. It's got an LED light, front-loading bobbin, and as mentioned, a heavy-duty frame to boot! At 4.5 out of 5-star ratings on Amazon, you're sure that you have a winner with this one.
3. Singer 3232 Simple Sewing Machine.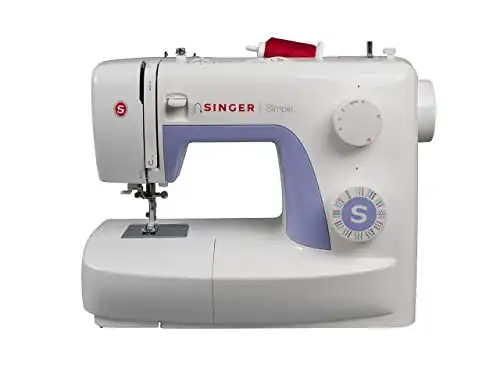 Another one of the best singer sewing machines available in Canada is the Singer 3232 Simple Sewing Machine. As the name indicates, this is a pretty straightforward machine and any beginner would appreciate it as well.
The performance of the machine is pretty good and it can handle most home sewing projects too and anything that you might work on quickly. But, don't underestimate it as it's capable of 110 sewing applications but of course, this unit comes at a heftier price than the first two on our list.
The key feature of this machine is a built-in needle threader along with 6 essential stitches, 1 buttonhole stitch, and 19 decorative stitches, and an automatic thread cutter. It comes with all the accessories that you need, plus a needle threader to make things really easy for you. It comes with a knob to make stitch selection easy too. 
You can also adjust your stitch length and width easily, it's got a front-loading bobbin, and as always, a heavy-duty frame for utmost endurance.
You may consider this a premium sewing machine, especially for beginners but it sure won't let you down. It's just so packed with features that make the investment worth it.
4. Singer 1304 Start Essential Sewing Machine.
The Singer 1304 Start Essential Sewing Machine is another mid-priced offering from the brand. It also enjoys a good reputation among its users.
It comes with 6 of the essential stitches of course and an easy threading mechanism for everyone's convenience. It also comes with a 4-step auto-buttonhole feature and dual spool pins aimed for twin-needle sewing.
Some of the delights that come onboard with this unit are a free arm convertible, 3 presser feet, presets for stitches' length and width, and as usual from the brand, a heavy-duty frame that will endure.
You'll have a convenient LED light too so you can work even in poor lighting conditions. It's got an automatic bobbin system and a darning plate. What's more is that its 3-presser feet system includes an all-purpose foot, buttonhole foot, and a zipper foot.
Pretty versatile unit if you ask us. Worth its price dollar for dollar.
Brother Basic Sewing Machine Reviews
5. Brother XM2701 Sewing Machine.
Let's jump on the Brother sewing machines available in Canada. The first unit we will discuss is none other than Brother XM2701 Sewing Machine.
This unit is quite easy to use and perfect for beginners too. It's also quite versatile and you can accomplish a lot of sewing projects with it. It comes with a 1-step auto-sized buttonhole feature, LED light so you can work in poor lighting conditions, 27 built-in stitches, an easy threading system, an easy stitch selector, and a jam-resistant bobbin.
Not only that, but it comes with a 6-feet presser including a button sewing foot, buttonhole foot, blind stitch foot, zipper foot, zigzag foot, and narrow hem foot.
It's one of the most functional and feature-packed sewing machines in its price range. It's quite advanced and easy to move around as well. What are people saying about it?
Well, by far, it's the most reviewed unit on our list and holds the best rating so far with 80% 5-star reviews. In amazon, that's not so easy to accomplish unless the product is really superb. Great value for money this one too!
6. Brother Mechanical Sewing Machine: JX2417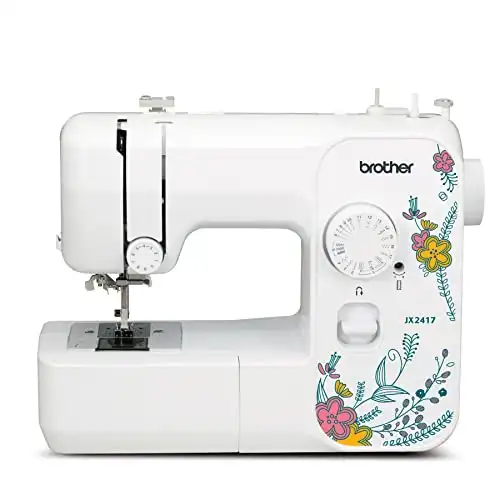 Next on our list is one of the lesser-known units from Brother JX2417, a compact sewing machine. But we assure you that this fully functioning sewing machine delivers excellent stitch quality with an adjustable stitch speed control function.
It comes with 17 unique stitches and a 4-step auto-sized buttonhole system. it's got an easy threading system too for your convenience and a quick set drop-in bobbin system.
Comes with 4 dewing feet namely a zigzag foot, buttonhole foot, zipper foot, and button sewing foot. It's got a free arm perfect for working on sewing sleeves and cuffs.
This unit is a cheap sewing machine available in Canada and it is one great investment for beginners. It's feature-packed for its price and pretty reliable.
As mentioned, it's not as popular as the rest of the sewing machines on our list, but if you don't want to invest north of say $150 for a sewing machine for a hobby, then this is the unit for you.
7. Brother ST150HDH Sewing Machine.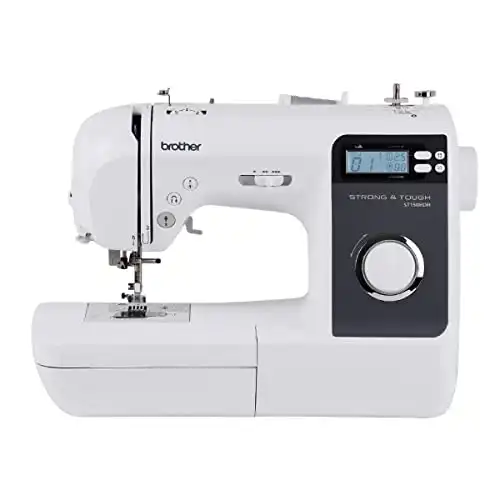 From a pretty affordable unit let's discuss the premium-priced entry of this brand. Its price tag is not in any way a negative indicator and you'll understand as soon as you hear what it's got to offer.
First of all, this is one of the best-reviewed computerized heavy-duty sewing machines in Canada. This unit is tough and strong and pretty versatile. It's got a metal frame and it is quite portable.
It's got an advanced needle threader, a large bright LCD, and an auto bobbin system. The metal frame is not just for endurance but for sewing any kind of fabric. This unit is meant for durable sewing.
It's got 50 built-in stitches including quilting stitches and 7-point feed dogs so feeding it with fabric will be a breeze. The box feed design is ready for tough projects. Please do take note though that this may not be ideal for a beginner to purchase because of the initial investment on its price but if you require a lot of tough sewing projects then this heavy-duty sewing machine unit is worth every penny.
Janome Basic Sewing Machine Reviews
8. Janome 2212 Sewing Machine.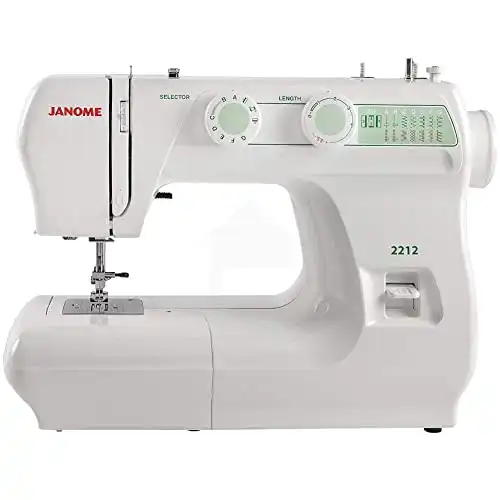 Moving on, the Janome 2212 Sewing Machine is the first entry from our third featured brand. This unit is one of the easiest sewing machines to use on our list.
Sew with confidence even if you're just starting out. This machine is perfect for home projects and tougher projects alike. It comes with 12 stitches that include a 4-step buttonhole system.
An easy threading system is also onboard with auto-tension. It also comes with a metal hook, metal bobbin case, cast aluminum frame, all-metal shuttle, diamond feed dogs system, zigzag presser foot, and an adjustable length and width system for your stitches.
The unit itself is made tough and the removable arm is quite convenient. While not as popular as the units from Singer or Brother this unit can go toe to toe with them in terms of features.
People are saying that it's one of the best sewing machines for beginners and we second that!\
9. Janome Basic Sewing Machine 234311LT.
The penultimate unit that we are going to review is the Janome Basic Sewing Machine 234311LT. This unit is still pretty much a basic sewing machine that's perfect for beginners.
It also comes with 12 of the essential stitches that you'd need for any home project as well as quick alterations. Built-in is also that signature Janome 4-step buttonhole system so you can work on them in a breeze.
Easy threading system is also built-in for your convenience plus all the foot presser that we mentioned for the above unit. This one also comes with a pretty sturdy frame and is also quite portable.
Not much price difference either with the above unit. It's also armed with multiple indicators within its body to help guide you as you learn the ropes of the craft. It looks sleek and is pretty reliable even though it is an underdog.
10. Janome HD5000 Sewing Machine.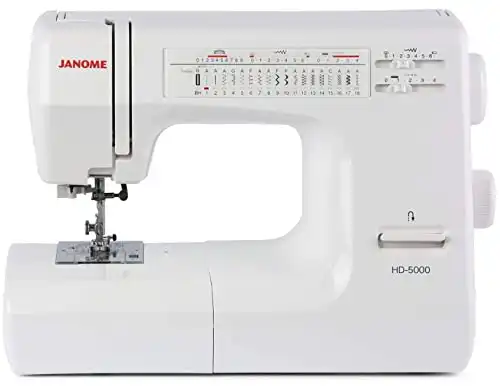 The last entry on our best basic sewing machines in Canada review is no other than the Janome HD5000 Sewing Machine. The best phrase to use when describing this unit is "heavy-duty".
It's meant for tough sewing and will smoothly work on a multitude of heavy fabrics. It is the most expensive unit on our list so it's meant for long-term investment and not really for beginners to try out.
Its aluminum build will make sure to stand the test of time. It's got a 19-stitch selection system and it also comes with an XL heavy-duty handle and a hard case cover.
You also won't experience any eye strain with the machine due to its auto-threading system. It's got a top-loading drop-in bobbin system as well as a 1-step buttonhole feature. Built to last!
Sewing Machine Basics
Let's stack up sewing machine basic knowledge so that you can easily understand what to look for in a sewing machine.
Sewing Machine Equipment
You will need these things to augment the capability of your sewing machine and to help you as you work on your projects.
Sewing Machine Needle
It's important that you use the right sewing machine needle for the job. Take note, that there are a few types of sewing needles that you may utilize.
Each needle will have its own purpose. You have the universal style needle, ballpoint, chromium regular point style, denim or jeans style, twin needle, hemstitch or wing needle, and leather style needles.
The name would imply what they are generally used for or what fabric they'd be best for. You also have to consider the needle size as you decide which one to use for your project.
Pressure Foot
The pressure foot is the attachment utilized on your sewing machine to hold the fabric flat as it is being fed into the machine to get stitched.
Bobbin Driver
The bobbin driver or what is sometimes called the bobbin case is the mechanism in your sewing machine that controls your secondary thread's movement.
Feed Dog
There are usually thin and short metal bars that are cross-cut with diagonal teeth in your sewing machine. These are called feed dogs. It moves back and forth on your sewing machine's needle plate.
It's the part that pulls the fabric into the machine discreetly in-between stitches.
Vibrating Shuttle
A vibrating shuttle is the bobbin driver designed in sewing machines during the latter half of the 19th century and the first half of the 20th century. It was then supplanted by the rotating shuttle design.
Sewing Stitches
A stitch is defined as a single loop or turn of yarn or thread. It's a technique utilized in sewing, embroidery, knitting, crocheting, and many more.
There are a bunch of sewing stitches. The basic stitches include the running stitch, basting stitch, cross-stitch, back stitch, slip stitch, blanket stitch, standard forward/backward stitch, zigzag stitch, and many more.
Each technique is utilized for a variety of projects for different aesthetics. Let's talk about a few of them in further detail.
Zigzag Stitch
Chances are if you buy a sewing machine in Canada, it's going to have a zigzag stitch option as most do.
This stitch is pretty efficient as it won't require you to go over a fabric multiple times anymore. This stitch is solid and will make sure to keep the seams from fraying. It's also an ideal stitch to utilize for buttonholes.
Overlock Stitch
The overlock stitch is what you call a stitching technique involving both a zigzag and a straight stitch. It's a technique that sews back and forth in a straight line, but the difference is that each set of a straight stitch then sews a zigzag.
If executed properly then it will resemble what you call serging which is a technique utilized for store-bought clothes.
Chain Stitch
The chain stitch is characterized by a series of looped stitches that will then resemble a chain-like pattern. It's also utilized in embroidery a lot and is actually quite an ancient technique common in Chinese embroidery patterns.
Tack (Sewing Stitch)
To tack is to create a temporary stitch that is then intended to be removed later on. It's also called to baste. It's a technique that's utilized all the time if you sew.
Cover Stitch
A cover stitch is characterized by straight stitches to the fabric with a looper thread right on its opposite side that then zigzags between straight stitches.
Two or more needles are utilized to execute this stitching technique. The results of a cover stitch are parallel lines of straight stitches on one side and then an overcast stitch right on the other side.
Blind Stitch
The blind stitch is executed in a way 2 pieces of fabric are stitched together to hide the thread. Utilized to create a blind hem or join 2 folded edges.
Lock Stitch
A lock stitch is what you describe as the most common stitch made mechanically or in a sewing machine. The technique firmly links 2 stitches or 2 threads together.
Type of Sewing Machine
There are 3 types of sewing machines, electrical, mechanical, and computerized models. Let's explore them.
Mechanical
Mechanical sewing machines are easy to use as well as maintain and are primarily designed with manual controls that are super-durable. They were, of course, made way before electrical models came into being.
Most of the popular stitches utilized when sewing can be handled by a mechanical sewing machine. Plus, they are meant for basic sewing needs, alterations, home projects, and many more.
You may recognize them as having a vintage design and can either be hand or treadle-operated. It's a less accurate machine though in terms of its stitching so a lot depends on the sewist. It also means that with this model, you will move and twist knobs around yourself.
Electrical
In the context of sewing machines and electrical type means that you may set sewing attributes for your machines electronically.
It also offers different stitches as well as lengths. Most of them utilize knobs still though and you'll have the convenience of not moving things around manually so it's more convenient and less straining.
Granting, you can do a lot of work with this type of sewing machine in less time but the accuracy of it would still pretty much depend on the operator on some level.
Computerized
With the advent of modern technology, one can right away guess that there are already computerized sewing machines today.
It will come with fully automated features and will most likely have an LCD screen. They will have built-in stitch programs but take note that they can be expensive.
So, in this modern age, would you still prefer the old mechanical type rather than the computerized one? Just some food for thought.
Frequently Asked Questions
What type of sewing machine is best for beginner sewers?
Given that this will probably be your first sewing machine and that your skill level as a sewist is still not that polished, then you need to consider a sewing machine that's simple but efficient.
You also need to think about whether you're only going to utilize the machine for personal projects or how serious you're going to be with this craft. Is this only going to be a hobby? That won't only ensure that you get a machine that's fit for you, but also make sure that you don't spend more than you would've had to.
Read More: Best Sewing Machine for Intermediate Sewers
Difference between Basic and Advanced Sewing Machines
Basic sewing machines are the types that will serve as a guide for beginners, while advanced sewing machines are the units that come with more features and will help experienced sewists do their job faster and more efficiently. These units may also have multiple stitches than their basic counterparts.
How to find the best sewing machine for you
It's about reflecting on what you're going to do with the sewing machine. How far will you take this? Will this just be a hobby or do you intend to use it for work or paid projects?
You need a machine that can keep up with your demand and caters to your sewing style. Go through this list one more time as we've compiled the best sewing machines and we're sure you'll find what you need.
How to Choose the Right Model for You
You need to make sure that the sewing machine model that you purchase can execute all the stitching styles that you need. Make sure that it's the right size or that it's as functional as you expect it to be.
Also, for beginners, you need to make sure that they are easy enough for you to utilize.
What Are the Prices of Beginner Models?
Beginner sewing machines can go from as low as $50 to as high as $300. Scrutinize each one thoroughly and find which price range you can afford or are willing to spend based on a model's features.
What is the best basic sewing machine to buy?
There's no one machine fits all notion here. Look at the sewing machines we've listed above, gather the specifications that you're after, and compare that with your skill level as well as sewing needs and we're sure that you'll find which model is the best for you.
Are expensive sewing machines worth it?
Yes, very much. But if you're a beginner and don't have a specific path or direction just yet when it comes to sewing, then you should purchase relatively affordable units first. But, if you have the budget for it, then yes, expensive sewing machines from trusted brands are worth it.
What should I look for when buying a sewing machine?
Before buying a sewing machine you must consider the following aspects, stitch options, type (electrical, mechanical, computerized), bells and whistles, weight, size, service, warranty, and your budget for the machine.
These aspects will ensure that you'll come up with a well-informed decision.
Which is better, Singer or Brother sewing machine?
In general, both are considered the best in the industry. So, it's hard to really pinpoint which one is the best. They both manufacture machines on all tier levels too.
What we advise is to make a model-per-model comparison if you can't decide on which brand to go for.
What is the best and cheapest beginner's sewing machine to practice and learn on?
Common advice you'll find from experts is that for what you intend to do, you can go for an affordable Singer or Brother sewing machine and then go for computerized ones as they come with awesome features and are easy to utilize.
Conclusion
There you have it, these are some of the best basic sewing machines in Canada, plus some valuable knowledge about the craft.
Sewing is not just some activity, it's an art form. It's a perfect pastime but at the same time can be a source of income for anyone patient enough to tackle and learn it.
It's a space for creativity but all that talent won't be enough without picking the best or the appropriate sewing machine to maximize your potential. So, go ahead and pick a machine from our list as these are the best of the best and will yield great value for your investment.
Once again, observe safety precautions at all times, and most of all, enjoy your sewing experience!