Do you wish to improve your mental health? Take up crocheting. Are your kids old enough to learn a skill? Introduce them to crocheting. Do you have low self-esteem and would like to feel more confident? Learn the art of crocheting.
Yes, crocheting can offer you countless benefits in all aspects. However, if you are to gain full pleasure from this art, you have to use the Best Crochet Hook Set. But, which are the best crochet hooks to use? Read on to find out!
Review of the best Crochet Hook
The market offers many options on what crochet hooks to buy. Therefore, finding the right hook to purchase can be very frustrating at times. However, we've done all the research for you and compiled the top-rated crochet hooks:
1. 20 Sizes Complete Crochet Hooks Set
20 Sizes Crochet Hooks Complete Set,0.5mm-10mm Ergonomic Crochet Hooks with Case for Arthritic Hands
【Complete Set】You will get 20 sizes crochet hooks with comfortable grip,6 yarn needles,1 scissors and 20 stitch markers.These small sizes,commom sizes and large sizes crochet hooks can meet all...
【Crochet without Pain】Crochet needles with comfortable easy grip handles reduce or eliminate hand,wrist or finger pain.Perfect for Arthritis Hands.You can crochet for a long time without getting...
【Smooth Crochet Hooks】Smooth Crochet Hooks glide effortlessly,produce clean finish project and avoid snagging/splitting yarns.Each hook is color coded and printed with sizes for easy...
【All-in-one Crochet Hook Case】Main storage space with a insert plate(13 large elastic bands,10 small elastic slots) is enough to fit most crochet hooks.All in one place,individual elastic slots to...
【Enjoy Crocheting】Best gifts to grandma,mother,kids.Relax and connect with family or friends.The crochet hook set is backed by Yarniss.100% Satisfaction service,lifetime replacement.
Buy On Amazon
We earn a commission if you make a purchase, at no additional cost to you.
09/30/2023 10:42 pm GMT
This high-quality crochet equipment comes with 20 different size hooks, one pair of scissors, 20 stitch markers, and six yarn needles. The 20 sizes of the crochet hooks range from small to large. Therefore, you can rest assured that these tools will meet all your crocheting needs.
Pros
The 20 Sizes Crochet Hooks can be used by both absolute beginners and expert crocheters.
The hooks are designed with grip handles that eliminate any finger, wrist, or hand pain during crocheting. The comfortable handles also make it possible to crochet for a long time without your hands cramping.
The crochet hooks glide smoothly during crocheting, preventing the yarns from snagging or splitting.
Each crochet hook has a print of its size and a unique color code for easy identification.
The crochet hooks come with a case that can be easily carried and stored. The case is also designed with individual elastic slots where the crochet hooks can be neatly organized for easier access.
As a quality guarantee, the crochet hooks package includes a lifetime replacement warranty and 100% satisfaction service provided by Yarniss.
Cons
The paint on the crochet hooks may come off after continuous use, leaving dark, unattractive hooks.
2. BeCraftee Ergonomic Crochet Hook Set
BeCraftee Crochet Hook set comes with all the accessories you will need to complete your crocheting projects. These accessories include folding scissors, a row counter, two pieces of stitch folder, six pieces of sewing needles, and a set of 9 crochet hooks.
Pros
All the crochet hooks have soft rubber handles, such that even arthritic crocheters can comfortably use the needles without their hands cramping.
The crochet hooks come with a set that can be easily carried for on-the-go crocheting.
The needles are made of lightweight aluminum material. Therefore, crocheters can hold and use these needles for a long time without getting tired quickly.
The aluminum crochet hooks' tips are smooth and long, which ensures that the yarns do not snag or slip during crocheting.
For easier identification, each crochet hook is designed with a specific color code on the plastic handle. Also, the needle sizes are printed on the handles in both numbers and letters.
The needle tips are also tapered to ensure that the yarn does not snag during crocheting.
Cons
Additional items are not so useful that come with this set.
3. New Set of 47 Ergonomic Crochet Hooks Set
New Set of 47 Ergonomic Crochet Hooks Set w Rubbery Handles Hook 0.6-6MM, Comfort Grip for Arthritic Hands (Black)
COMPREHENSIVE CROCHET HOOKS SETS KIT.Each kit contains 8 blue plastic handle hooks & 9 colorful silicone handles hooks and 47pcs accessories. it met your any need.Best choice for beginners and...
VARIOUS SIZE.Hook size is from B/1(2mm)to J/10(6mm),fit any size yarn. 9x Colorful Crochet Hooks -Size: B/1 (2.0mm), C/2 (2.5mm), D/3 (3.0mm), E/4 (3.5mm), G/6 (4.0mm), 7 (4.5mm), H/8 (5.0mm), I/9...
CONVENIENT&COMFORTABLE.The crochet needle is smooth,work fine.if you just crochet plain works,the plastic handle is ok for you.if you will crochet for long time,you can choose the silicone handle...
LUXURY CROCHET HOOK STORAGE BAG.Multi-function storage bag can hold all hooks avoid missing.There is small bag in storage that can contain some sharp accessories avoid hurt your finger.Great for...
IDEA of GIFT.Great crochet hooks ergonomic kits for beginners knitter or crocheter, Great gift idea for Christmas, Mother's Day, Birthday or any other situations.
Buy On Amazon
We earn a commission if you make a purchase, at no additional cost to you.
10/01/2023 07:33 pm GMT
The new Ergonomic Crochet Hooks Set can be defined as a comprehensive set. Each set includes nine hooks with colorful silicone handles, eight hooks with blue plastic handles, and 47 more accessory pieces. It is the ideal crochet hook set for both beginners and advanced crocheters.
Pros
These affordable crochet hooks are in different sizes, ranging from 2mm to 6mm. These different sizes of hooks allow users to use them with any size of yarn.
The hooks are not only very colorful and attractive but also very smooth to ensure perfect projects.
The silicone handle crochet hooks are very comfortable on the hands; even people with arthritic hands can use them extensively.
The hooks' set comes with a multi-function storage bag, which can be used to store the hooks safely. The storage bag is also designed with a space for storing sharp accessories, which could hurt crocheters when not kept well.
Cons
The printing (of sizes) on the hooks tends to wear off after a while.
4. KOKNIT Full Crochet Set
KOKNIT Full Crochet Hook Set, Soft Handle Crochet Knitting Needles Kit with Beautiful Case Holders for Beginners and for Arthritic Hands
FULL SIZE CROCHET HOOKS SET - Crochet hooks Including 9 soft handle hooks, size ranges: B(2mm), C(2.5mm), D(3mm), E(3.5mm), G(4mm), 7(4.5mm), H(5mm), I(5.5mm), J(6mm) 12 Aluminum knitting needles,...
ECONOMICAL CROCHET SET - This crochet set includes 21 crochet needles in different sizes and 49 pcs accessories , suitable for different weighted yarn, to meet your different need, which is very...
CONVENIENT FOR USE - Plastic stitch markers quickly hook into the stitches without easily slipping out, the crochets come in different colors and sizes so you can easily find out the one you need
CROCHET HOOKS WITH STORAGE CASE - Our all-in-one crochet kit including everything you need to crochet. Compact and portable, will not take up your too much space. Easily fit into your backpack,...
ENJOY CROCHETING - Everything you need to teach your kids or grandchildren to best crochet hooks are included in this sewing kit, relax the connection with family and friends
Buy On Amazon
We earn a commission if you make a purchase, at no additional cost to you.
10/01/2023 05:23 pm GMT
KOKNIT crochet set consists of 9 different hooks with size ranges of 2mm to 8mm. The set also comes with 49 pieces of crocheting accessories; everything you will need to start and finish your crocheting projects.
5. Mayboos 20 Pieces Bamboo Crochet Hooks Set
Mayboos 20 Pieces Bamboo Crochet Hooks, Crochet Hooks Kit, Wooden Crochet Hooks, Ergonomic, Eco-Friendly, Size C to N, Silver-Plated Aluminum Hook Sizes 1.0-10.0 MM with Crochet Accessories
Crochet Hooks Set: 20 Bamboo crochet hooks kit all zipped into a convenient carrying case! The crochet hook set includes 12 crochet hooks in US sizes C to N (metric sizes 3 to 10 mm) as well as 8...
Bamboo Crochet Hooks Material: Our crochet needles made of high quality carbonized bamboo material, durable, long time using, while iron tips are plated, anti-corrosive and sturdy, environmentally...
Unique Crochet Hook Design: Different sizes can meet your different demands, handy, great crochet tool for weaving, convenient and practical for using, ideal crochet tools set for housewife to knit,...
Package Including: 20 carbonized bamboo crochet hooks, 3 sizes cable stitch holders, 4 sizes cable needles, 6 plastic sewing needles, 20 x plastic locking stitch makers(10 big + 10 small), 20 x...
Compact crochet needles kit makes it more convenient to use, very helpful for beginners as well as an experienced crocheter.The storage bag provided by the kit is not only exquisite, but also easy to...
Buy On Amazon
We earn a commission if you make a purchase, at no additional cost to you.
10/01/2023 07:02 pm GMT
Mayboos crochet hooks are made from high-quality bamboo wood. The set includes 20 crochet hooks, 12 of the hooks in sizes from 3mm to 10mm, and eight hooks in sizes from 1mm to 2.75mm.
6. Exquisite Premium Rosewood Crafted Fine Crochet Hooks Pack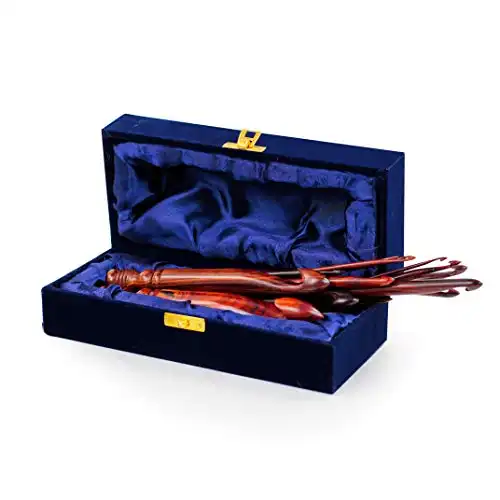 Exquisite crochet hooks are crafted from rosewood. And it is not just any rosewood plant used to make these, but rosewood obtained from the famous South East Asian Forest. Therefore, you are guaranteed to get crochet hooks of the best quality and highest level of Finesse.
7. Lighted Crochet Hooks Complete Set
Lighted Crochet Hooks Complete Set 9/pkg - 9 pcs Light up Crochet Hook Set w/ 9 Extra Batteries – Crochet Lite Hooks – LED Crochet Hooks for Arthritic Hands Sizes 2.5 to 6.5mm (Black with Batterie...
✅ CROCHET ANYWHERE, ANYTIME: Would you like to crochet effortlessly and see clearly with even the darkest yarn, even in dim light? You'll never have to stop or slow down again because of bad light...
✅ NEVER SUFFER HAND FATIGUE: Our ergonomic crochet hooks are designed with ultra-comfortable silicone grips that are easy on your hands for long crocheting sessions and give you precise control...
✅ NO MORE RECHARGING OR INTERCHANGING THE CROCHET HOOKS: You no longer have to waste time figuring out how to change the hooks out or trying to align heads with the handle. BONUS 9-PACK BATTERIES:...
✅ COMPLETE CROCHET SET: It's easy to choose the best crochet light up hooks for your art as every hook in our set is color-coded and printed with both letters and numbers. This crochet set includes...
✅ PERFECT GIFT IDEA FOR MOTHER'S DAY: Yarn Story's Crochet Hooks are perfect to give during Mother's Day - just a simple unique gift to surprise someone you know who "has everything".
Buy On Amazon
We earn a commission if you make a purchase, at no additional cost to you.
10/01/2023 06:37 pm GMT
Lighted Crochet Hooks are crafted from a plastic acrylic rubber material. The set comes with 9 Led crochet hooks and a black case. The crochet hooks are in sizes from C (2.5mm) to K (6.5mm). The set also comes with three extra batteries for recharging the hooks.
8. 87 Pieces Crochet Hooks Set with Storage Case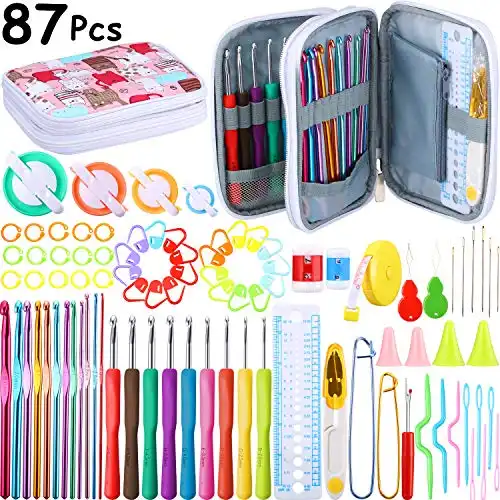 87 Pieces Crochet Hooks Set with Storage Case, Pompom Maker Crochet Hooks Kit Sewing Knitting Needles Stitch Marker Crochet Hooks for Beginners Skilful DIY Crochet Lovers
Complete knitting set: totally 87 pieces, includes 9 colorful handle crochet hooks, 12 aluminum alloy crochet hooks, 20 locking stitch makers, 14 plastic ring markers, 6 plastic yarn needles, 6 sewing...
Easy to use and labor-saving: crochet hooks are well made with smooth surface without burrs and have handles that easily fit your hands for a comfortable grip; Pompom makers are made of ABS resin and...
Store and travel friendly: coming with a case to help you get every knitting tool well organized and prevent loss, which can be easily packed into your suitcase for traveling
How to use the pompom maker: evenly wind yarns around the maker's arm, and use a string to pull tight in the middle for fix and cut away the frills; Help you quickly weave good-looking fluff balls
Convenient for use: plastic stitch markers quickly hook into the stitches without easily slipping out, the crochets come in different colors and sizes so you can easily find out the one you need
Buy On Amazon
We earn a commission if you make a purchase, at no additional cost to you.
09/30/2023 11:57 pm GMT
Like the name suggests, 87 Pieces Crochet Hooks Set includes a total of 87 crocheting accessories. These include 20 locking stitch markers, two row counters, one measure ruler, a pair of scissors, 14 plastic ring markers, and basically every other accessory you would need to finish a crochet project.
9. Tulip TP1166 Etimo Crochet Hook Set
Tulip crochet hook set TP1166 Etimo consists of hooks of assorted sizes, ranging from sizes D3 (3.25mm) to J10 (6mm). Also included in the hook set are two yarn needles, a pair of thread scissors, and a plastic ruler of 4.5 inches.
10. MW Steel Crochet Hook Set of 16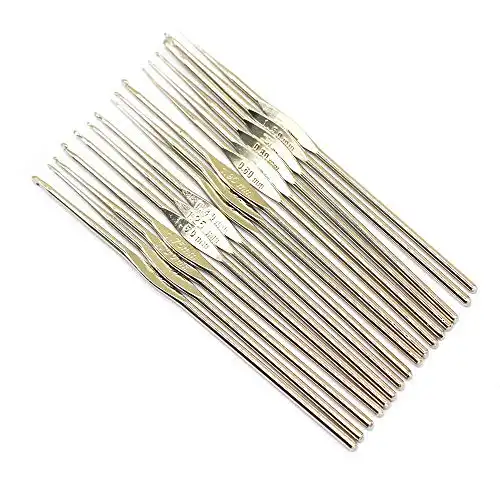 MW Steel Crochet Hook Set of 16
Ideal for crocheting the finest crochet thread lace projects.
16 Steel Crochet Hooks: 0.5mm,0.6mm,0.7mm,0.8mm,0.9mm,1.0mm,1.1mm,1.25mm,1.3mm,1.4mm,1.5mm,1.6mm,1.75mm,1.9mm,2.1mm,2.7mm. Approx 12cm in length
Buy On Amazon
We earn a commission if you make a purchase, at no additional cost to you.
10/01/2023 07:13 pm GMT
The MW Steel crochet hook set is ideal for crochet projects that involve the thread lace yarns. The set includes 16 crochet hooks of different sizes, ranging from 0.5mm to 2.7mm.
11. Addiswings Crocheting Hooks Set
Addi Swing Crochet Hook Set with Hooks 2-8mm
Addi Swing Crochet Hook Set
Contains 7 hooks, sizes 2, 3, 4, 5, 6, 7, 8mm
Complete with Quality Faux Leather Case
Swing hooks measure 16cm long
Buy On Amazon
We earn a commission if you make a purchase, at no additional cost to you.
10/01/2023 12:48 am GMT
AddiSwings Crocheting hooks are not just pretty and orderly hooks but also convenient crocheting hooks. The set includes seven crochet hooks of sizes ranging from 2mm to 8mm.
Types of Crochet Hooks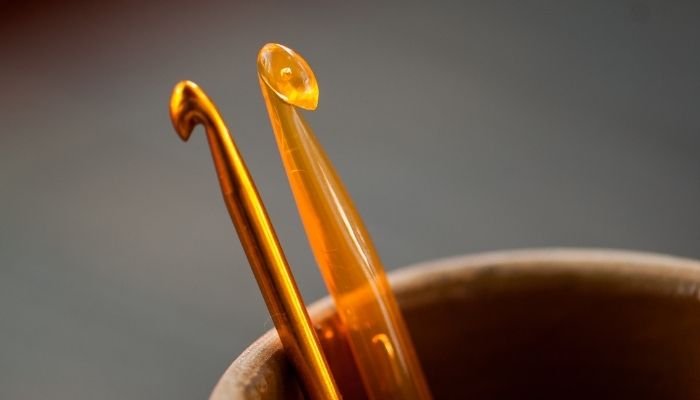 Some crochet hooks are used for any regular patterns, while others are used for specific crochet techniques. Therefore, if you are to craft the perfect projects, you need to know the different types of crochet hooks available in the market. The following are the five common types of crochet hooks you should familiarize yourself with:
1. Basic Crochet Hooks
These are average crochet hooks. The hooks are sold as individual hooks or sets of different-sized hooks. Basic crochet hooks are usually made of bamboo, aluminum, or plastic materials.
If you are a beginner in crocheting, you should start your crochet journey with a set of basic crochet hooks. As you gain more experience in the craft, you can then explore other different types, sizes, and crochet hooks' designs.
2. Thread Crochet Hooks
Thread crochet hooks are almost similar to hooks used to crochet yarn. The only difference is that thread crochet hooks have a much smaller size than the yarn hooks. These hooks are often made of steel, which makes them firm enough that they do not bend while crocheting.
3. Ergonomic Crochet Hooks
Ergonomic hooks are designed with handles larger than other regular crochet hooks. Also, these handles are usually crafted in a shape that creates a comfortable grip. These attributes make the ergonomic crochet hooks ideal for extended crocheting and people with hand conditions.
4. Light-Up Crochet Hooks
Do you love crocheting at night? If so, light-up hooks are the right type of hooks for you. These crochet hooks light up at the tip of the needle, making it possible for crocheters to see the right position to insert the crochet hook. Other than the lighting attribute, light-up hooks are basically like any other regular crochet hook.
5. Tunisian Crochet Hooks
These special crochet hooks use different sets of stitches than those used with regular crocheting. Also known as Afghan crochet hooks, Tunisian hooks are relatively longer than regular hooks. Also, each of these hooks is designed with a head at the end part of the hook.
How Much Does a Crochet Hook Cost?
Most people have an interest in crocheting. However, some remain hesitant about taking up this craft because they believe that crocheting is very expensive. But is that really so?
Well, the fact is that crocheting can be both affordable and expensive. It all depends on the type of crocheting accessories and resources that you use. In other words, crocheting can be as expensive or as affordable as you want it to be.
For instance, there are high-quality crochet hooks that go for less than $5 per hook. At the same time, there are crochet hooks that go for more than $50 per hook. Remember that it is not the price of the hook that makes it high quality. Instead, the hook's critical features, such as its durability and material, make it a high-quality hook.
What Size Crochet Hook for Beginners?
Every crochet beginner has their own specific needs and preferences. Therefore, there is really no specific crochet hook that is ideal for every beginner. However, while there is no specific crochet hook for every beginner, you should always use the hook's size indicated on the pattern.
On the other hand, if you are working on a pattern that has no size hook guide, use the yarn label to identify the ideal hook size to use. Alternatively, you can opt to start in the middle with a 5mm crochet hook size and a worsted-weight yarn. The size H-8 is the most common crochet hook size as it will help you get used to the crochet stitching rhythm.
How Long Does it Take to Crochet a Blanket?
You have been learning how to crochet for a while now. You feel confident about taking up a heavier project and are considering crocheting a blanket. First of all, congrats! In this situation, most crocheters have one main question: How long will it take to finish a blanket project?
There is no specific answer to how long crocheting blankets take. Instead, to estimate how long you will take to finish your project, you need to consider the following two key determining factors:
1. Size of the Blanket
Baby blankets usually take a shorter time to crochet than other types of blankets. They are not only shorter in size, but they also use yarns that are soft and delicate. These short, soft yarns are easier to crochet, making crocheting baby blankets a much faster process.
2. Available Time?
How much time have you set aside to crochet your blanket? If you are working with deadlines or intend to finish up your project faster, you need to set aside more time to crochet. Also, be flexible and have realistic expectations. The lesser time you set aside for crocheting, the more time your blanket project will take.
How Long Does it Take to Crochet a Scarf?
Crocheting a scarf can take approximately five to six hours. In fact, for experienced crocheters, an adult scarf project can take as little as just one evening. However, when using heavier yarns to crochet the scarf, the project can take up to two evenings.
For beginner crocheters, finishing a scarf project can take longer than that, but not too long either. Crocheting a scarf takes much lesser time when double crocheting. Also, the time you take to crochet a scarf depends on two main things: the size of your crochet hook and the thickness of your yarn.
How to Read Crochet Patterns
After learning how to crochet, you will need to learn to read crochet patterns. Crochet patterns can be defined as guides to different crocheting techniques. The following two tips can help you learn how to read crochet patterns accurately:
1. Review Basic Pattern Information
Before you begin any crocheting project, read the title of the pattern. The title provides essential information about the pattern, such as whether it is for a blanket, a scarf, or another project.
Then, check to determine the pattern's difficulty, whether intended for beginners, intermediate, or experienced crocheters. Also, identify the finished measurements of the project to determine the size of your project.
2. Read the Pattern Details
Check your gauge, that is, the amount of fabric that your yarn and hook size will create. Checking your gauge enables you to determine the size of your stitches. Then, identify any unique stitches or terms used by the pattern you are working on.
Interpret all the abbreviations provided by the pattern. For those abbreviations and stitches you don't understand, look them up on YouTube. Also, whenever you encounter an asterisk (*), repeat the steps until you reach the very end of your row. Keep following the pattern, and you will be done with the project in no time!
How to Use Crochet Hook
Before you can use your crochet hook, you first need to know how to hold it. There are two recommended ways on how to hold a crochet hook:
Grip it like a Knife – With this method, the hook is held similar to how a knife is held when cutting food. Place the crochet hook in your hand, such that your thumb is positioned flat on the front while your index finger is positioned flat on the back. Both the throat and tip of the crochet hook should be facing you. Then, wrap the other fingers around the crochet handle to secure it.
Hold it like a Pencil – Hold the crochet hook in a similar way you hold a pencil. Using your thumb and index finger, grip the hook and stabilize it with your hand and the remaining bent fingers.
Conclusion
Crocheting; such a simple yet very weight-bearing word. Crocheting is one of the most meaningful activities you can undertake. This craft not only gives you something to do but also offers you uncountable benefits in all aspects.
But, remember, for a perfect crochet project, you need a perfect hook. So get yourself, or your loved one, one of the best crochet hooks discussed above, and begin your fantastic crocheting journey today!
Sources: