One of the most incredible advancements that have been made in the knitting field is knitting needles. If you love hand knitting, then you most probably have been impressed by how these needles have evolved, from straight needles to circular needles to double–pointed needles.
However, the game changers in the knitting world have been the interchangeable knitting needles. When you invest in interchangeable needle sets, you will have committed to ten and more years of pleasurable knitting.
This article explains which interchangeable sets, brands are a worthwhile investment, how to use them, as well as the buying guide of quality knitting needles you should follow. Read along!
What are Interchangeable Knitting  Needles?
Just like circular knitting needles, interchangeable needles are made up of two needle tips. These tips are usually joined together in the middle by a cord or flexible 'cable.' Interchangeable knitting needles are mostly used for specific patterns in place of circular needles.
These types of needles are also used to knit in the round (knitting projects without a seam). For instance, you can use interchangeable needles to knit hats, gloves, jackets, and sweaters. Other interchangeable needles are also designed to knit large flat projects, such as shawls and blankets.
Best Interchangeable Knitting Needles Reviews
There are different types, designs, styles, and variety of needles set sold in the market today. The following are the ten top picks of the Best Interchangeable Knitting Needles:
1. KnitPicks Option Interchangeable Circular Knitting Needles
The knit picks interchangeable needles set come with nine pairs of needles. These needles are made of metal material and are usually in US knitting needle sizes 4 to 11 (3.5mm to 8mm). The package also includes two tightening keys, four purple cables, and eight purple end caps. Surely it will enrich your knitting needle collections.
2. CLOVER Takumi Combo Interchangeable Circular  Needle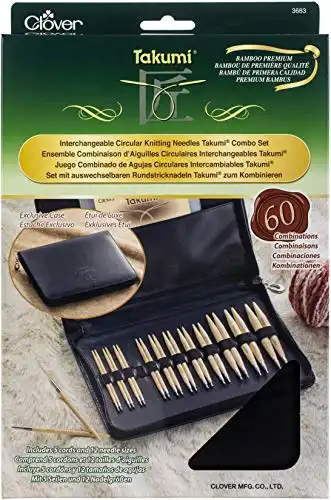 Clover Takumi Combo Interchangeable Circular Knitting Needles
12-Needle sizes (3, 4, 5, 6, 7, 8, 9, 10, 10.5, 11, 13, 15) 5-cord sizes (16, 24, 29, 36 and 48-inch ) 60 combinations
Customized case for easy selection and storage, needles and cords. 12 tip sizes - No. 3 (3.25mm)-15 (10.0mm). 5 cord lengths - 16 inch (41cm), 24 inch (61cm), 29 inch (74cm), 36 inch (91cm) & 48 inch...
Perfectly shaped tapered tip and silky finish of the needle surface
Precision finish of the joint connection between needle and cord, smooth slide for every stitch
Made in Japan
Buy On Amazon
We earn a commission if you make a purchase, at no additional cost to you.
10/02/2023 05:58 am GMT
Clover bamboo needles package includes 5-cord size and 12-needle size. The sets usually come in a lightweight, customized case, giving them a net weight of 0.95 ounces. Therefore, they can be conveniently carried and used for all knitting occasions.
3. Addi Click Turbo Lace Tips Extended Edition – Best lace knitting needles.
addi Click LACE Short Tips Extended Edition - Interchangeable Needle Set with addi Gold Scissors, 5 Red Cords, addi Socks Stitch Marker and addi Grip Pads
THE ORIGINAL ADDI CLICK LACE SHORT TIPS EXTENDED EDITION - Made in Germany
The zipper pocket containing:
8 pairs of short addi LACE needles (US4, US6, US7, US8, US9, US10, US10.75, US11)
addi 24 Karat Gold Plated Scissors, 6 addi Sock Stitch Marker, addi Grip Pads
5 different lengths of extreme supple red cords: (16", 20", 24", 32", 40"), 1 connector, 1 golden brooch pin
Buy On Amazon
We earn a commission if you make a purchase, at no additional cost to you.
10/01/2023 12:33 am GMT
The Addi Click interchangeable needle set can be referred to as a premium set. It consists of eight pairs of short LACE knitting needles, with the needles sizes ranging from US size four and US needle size 11. The knitting needle kit package also includes Addi grip pads, six sock stitch markers, and 24 Addi Karat scissors with gold plating smooth needle finish. We have more addi needles review in case if you want to check.
4. Tulip TP1195 Carry C Interchangeable Bamboo  Knitting Needle Set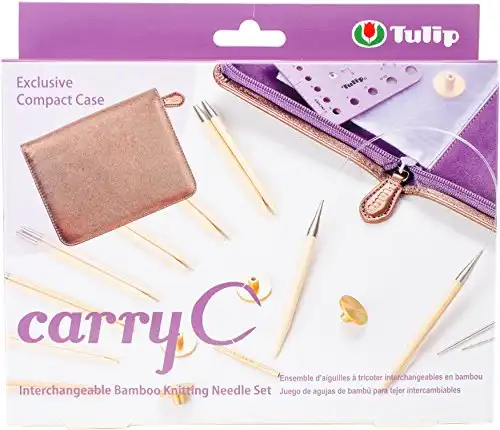 The Tulip interchangeable knitting needles are made of high-quality bamboo material. The wooden needles are designed with a unique system that makes the tightening and unscrewing of needles very easy, such that it can even be done without any tools.
5. Knitter's Pride Zing Deluxe Needles Set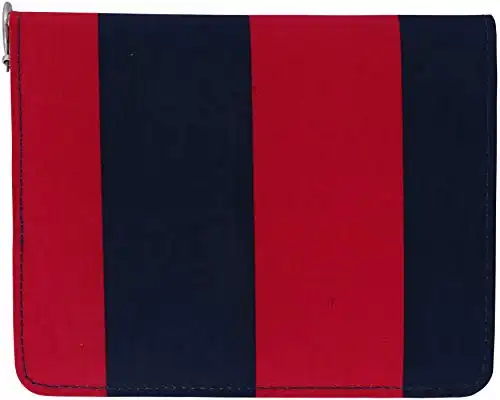 Knitter's Pride Zing Deluxe Interchangeable Needles Set, Multi
Special interchangeable circular needle set! This package contains one 7x5. 5x1 inch red & blue striped fabric case containing a set of 9 interchangeable needles with 4 cords, 4 cord keys, 8 end caps,...
Sizes: 4/3. 5mm; 5/3. 75; 6/4mm; 7/4. 5mm; 8/5mm; 9/5. 5mm; 10/6mm; 10. 5/6. 5mm; 11/8mm
Cords: 1 each of 24 & 40 inches and 2 each of 32
Buy On Amazon
We earn a commission if you make a purchase, at no additional cost to you.
10/01/2023 03:18 pm GMT
The Knitter's Pride Zing Deluxe needle sets feature special interchangeable circular knitting needles. The package includes a single 7×5. 5×1 inch fabric case. This red and blue-striped case contains four cords, nineneedles, eight end caps, a single set of cord connectors, and four cord keys.
6. LAYOER Interchangeable Needle Set
LAYOER Interchangeable Knitting Needle Set 2.75mm-10mm 13 Sizes Aluminum Circular Knitting
Includes 13 pairs of 3.94"length Aluminum interchangeable needle tips in US Sizes: 2 – 15 (2.75mm – 10mm)
Includes 4 flexible steel red cables 12.5" 15" 16.5" 21.5" lenght to attached to tips
Included accessories:4 stitch holders,2 cable keys,2 couplers,1 point gripper
These hooks are smooth, durable, have no rough edges and glide easily through yarn, ergonomically designed smooth and soft handles are comfortable to use for long periods of time. No more hand fatigue
Flexible memory-free cables move with stitches and connect easily to tips for snag-free knitting. Be sure to use included cable keys to secure tips to cables and ensure a tight fit
Buy On Amazon
We earn a commission if you make a purchase, at no additional cost to you.
LAYOER Interchangeable Metal Knitting Needles set includes accessories such as two cable keys, one-point gripper, four stitch holders, and two couplers. The set also comes with 13 pairs of needle tips and flexible red cables of 4 different lengths (14-inch, 20-inch role, 29-inch, and 36-inch).
7. ChiaoGoo Twist Tip Interchangeable Complete Set Red 7400-C
ChiaoGoo Twist Stainless Steel Interchangeable Set, 4-inch (10cm) Complete (7400-C)
Includes 13 pair of hollow, surgical stainless steel, lace tips in sizes US2-8 (2.75-5.0mm) [S] and US9-15 (5.5-10.0mm) [L]
Includes 4 each [S] and [L] red, memory-free cables: 8" (20cm)(x2), 14" (35cm), and 22" (55cm) to make 16" (40cm) and longer circulars
Cables have a tightening/lifeline hole to ensure smooth transitions and secure connections
All tips, cables and accessories come in a zippered, book-style case with two double-rows of inside pockets (29 total!) and one zippered outside pocket. Dims: 6" (15cm) x 8" (20cm)
Each tip is laser imprinted with the US/metric diameter size. All parts/pieces are coded [S] or [L] for easy identification and use. Similarly coded SPIN and TWIST tips, cables and accessories are...
Buy On Amazon
We earn a commission if you make a purchase, at no additional cost to you.
10/01/2023 04:27 am GMT
The ChiaoGoo Big Stainless Steel Interchangeable Twist Set of Knitting needles comes with 13 pair of needle tips(4 inches each), cables of three different lengths (8 inches, 14 inches, and 22 inches), coded cable connectors, needle gauge, stitch markers, end stoppers, and tightening keys designed with a T-shape. Among all other brands, Chiaogoo items are popular choice for lace knitters.
8. Needlemaster 40-Piece Interchangeable Aluminum Knitting Set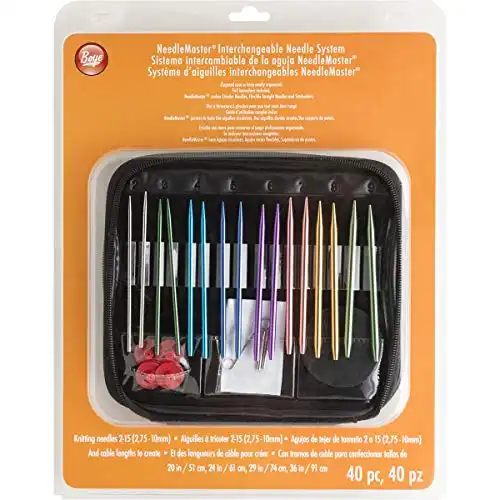 Needlemaster 40-Piece Interchangeable Aluminum Knitting Set
Includes (40) pieces
Includes needles sizes 2-15.
Craft a wide variety of projects using this our handy metal knitting needle set!
Set features circular and flexible straight needles sizes 2-15 and cable to make 20", 24", 29", 36" and custom lengths.
Set comes with a handy travel case for on-the-go crafting
Buy On Amazon
We earn a commission if you make a purchase, at no additional cost to you.
10/01/2023 07:19 pm GMT
The Needlemaster knitting needle kit comes with 40 pieces of needles and have sizes ranging from 2 inches to 15 inches. Also, the knitting set includes cables that can make 20″, 24″, 29″ and 36″, as well as other custom lengths.
9. HiyaHiya 4 inch (10cm)- Needle Size Sharp Steel Knitting Needle Set
HiyaHiya Interchangeable 4 inch (10cm) Sharp Steel Knitting Needle Set Small Tip Sizes (US 2-8) HISSTINKIT4SM
Small Tip Needle Set includes 7 sets of tips in sizes from US 2 (2.75mm) -US 8 (5mm); tips are approximately 4" long.
HiyaHiya Sharp Steel Interchangeable Needles feature key less screw on connections and swivel cables.
Each set also includes cables (16", 24", 32", and 40") and a set of needle grips.
Brocade case measures approximately 7" x 7" inches when closed; case has 2 zipper pockets and 2 rows of pockets for your needle tips.
Color of case may vary.
Buy On Amazon
We earn a commission if you make a purchase, at no additional cost to you.
10/01/2023 12:47 pm GMT
The Hiya Hiya Knitting Needles with case includes cables of four different sizes (16-inch, 24-inch, 32-inch, and 40-inch), a set of needle grips, and seven sets of tips with a length of 4 inches. The interchangeable sharp steel needles are available in US sizes between 2 inches (2.75mm) and 8 inches (5mm).
10. Love2Knit Interchangeable Needle Sets
Love2Knit Interchangeable Knitting Needle Set, US5-9 (Pastel)
Interchangeable knitting needles by Denise Interchangeable Knitting and Crochet - compatible with any Denise set
Includes 5 knitting needle sizes: US5 / 3.75 mm, 6 / 4 mm, 7 / 4.5 mm, 8 / 5 mm, and 9 / 5.5 mm
Includes 3 cords to make 20, 24 and 32 inch circulars - or join cords together with the enclosed extender piece
Case includes a back pocket to store accessories and notions.
Made in the USA and guaranteed with normal stitching use.
Buy On Amazon
We earn a commission if you make a purchase, at no additional cost to you.
10/01/2023 06:57 pm GMT
The Love2Knit knitting set is made by Denise Interchangeable Knitting and Crochet. The set includes three separate cords for making 20, 24, and 32-inch circulars, five pairs of quality needle tips, one extender for storing stitches or making cord-to-cord connections, and two end buttons for making stitch holders and straight needles.
Interchangeable Knitting Needles Buying Guide
As mentioned above, buying an interchangeable knitting needle set is like investing. Therefore, before you can settle on which needle sets to buy, you need to make careful consideration of the following key attributes:
1.) Needle Material
Needles can be made using bamboo, plastic, wood, stainless steel, aluminum, or carbon fiber. Choose the needle material that you feel most comfortable working with or that suits most of your knitting yarns and projects.
2.) Type of Knitting Projects
When buying interchangeable needle sets, you also need to consider what type of projects you mostly do. If you regularly create projects that lie within hat and blanket projects, the larger-sized interchangeable needles would be ideal for you.
However, if you are a sock or lace knitter, go for those smaller-sized interchangeable needles.
3.) Short or Long Needle Tips/Range of Size
Needles with long tips, typically 5 to 5.5 inches, have an advantage in that they do not cause the hands to cramp and are much easier to hand on. On the other hand, the knitting needles with short tips, typically 3.5 to 4 inches, make smaller circles. Therefore, they are perfect for knitting sleeves and socks.
How to Choose an Interchangeable Knitting Needle Set?
Like with other types of knitting needles, key features such as the price per needle, the tip profile, needle material, finishing, and warranty are essential factors you should consider when choosing your interchangeable knitting needle set.
However, regardless of all the characteristics that you consider in your needle sets, there are three crucial variables that you should never forget to look out for. These are:
The versatility of the interchangeable knitting needle set – The best interchangeable knitting needle sets are those whose needles are compatible with each other. Needle manufacturers always pay attention at this point and they don't mix different materials in the same needle.
The breadth of the sizes in the set – The breadth refers to the diameter of the widest/thickest part of the needle tip. Always choose the needle sets with diameters that fit the projects you intend to knit.
The quality of the cables and the join – The join is where the needles meet the cables. When buying your needle sets, inspect the joins and ensure that they are very smooth and the yarn slides easily over them without catching them.
Which Types of Knitting Needles are Best?
When you go out shopping for knitting needles, you will come across needle sets of different designs, sizes, materials, lengths, shapes, and styles. With all this variety of knitting needles, how can you tell which knitting needles are best for you?
First, you need to realize that some knitting needles are ideal for beginners, while others are ideal for experienced knitters. The most recommended needles for beginners, as well as children, are the straight knitting needles. In turn, intermediate and advanced knitters are encouraged to use circular or interchangeable knitting needles.
Beginners in knitting usually lack the muscle memory and skill that advanced knitters have. More so, most beginners have trouble remembering how each hand works, which leads to dropping needles most of the time. Straight needles are usually designed with anti-slip coatings that prevent dropped needles, making them ideal for beginners.
On the other hand, circular needles and interchangeable knitting needles are more versatile and usually have a slick texture. Their versatility and slick texture are what make them ideal for experienced knitters. Since the knitters have enough experience, their stitches do not slide off the polished needle tips, and they knit at a faster pace.
How to Use Interchangeable Knitting  Needles?
To use interchangeable knitting needles, you first need to put them together. As long as you have all the needle pieces, putting them together only takes a few twists. All you need to do is twist the needles into each cable, and your interchangeable knitting needles will be ready for knitting!
It is also essential to remember that knitting needles tend to get loose from time to them. The repetitive motion of knitting usually causes Their getting loose. As you keep knitting, the needle tips gradually unscrew and become loose from the cable. Therefore, to prevent your interchangeable needles from becoming loose very fast, make sure you twist them more tightly to the cable.
Most interchangeable needle sets come with a T-pin, known as a key. You can use this key to tighten the connections between the cable and the needle. When you have put your interchangeable needles together and ensured they are firmly connected, you can start using your needles to knit.
Are Metal or Wooden Knitting Needles  Better?
Knitting needles are built using different materials. The most common needle materials you will find in the market today are wooden needles and metal needles. The question on which of the two materials is better comes down to personal preference and which material feels more comfortable in your hand.
However, before you choose which material suits your preference, there are a few guidelines you need to know about metal and wooden needles:
A. Metal Needles
Most metal needles are made using aluminum material, but others can be crafted out of nickel or brass. These types of knitting needles are more durable than plastic and wooden needles. More so, metal needles offer faster knitting speeds than their counterparts. They are ideal for projects that use yarns that tend to snag.
B. Wooden Needles
Wooden needles are considered the standard needles in the knitting field. The best wooden needles are made of bamboo wood, but other needles are crafted out of hardwood. Wooden needles offer knitters a softness and warmth that metal needles lack. However, they offer just average knitting speeds.
Conclusion
Are you a creative, adventurous knitter? Or do you like knitting different projects of different weights? Well, interchangeable knitting needles are the perfect solution for you. We already discussed all the important questions you might want to know. Get yourself one or even two sets of the ten Best Interchangeable Knitting Needles discussed above and brace yourself to enjoy the best knitting experience!
Source: