In this modern era, knitting has been made more comfortable and fun than ever before. The development of knitting websites/blogs has made it possible for more and more people to take up this exciting craft, making it a regular part of their life. And these blogs never disappoint; they are usually energized and ready to go, always keeping up with the modern trends in the knitting industry.
However, there are countless knitting and crochet blogs on the internet. If you Google 'best knitting sites,' you will get thousands of results. Therefore, it can be daunting to decide which best knitting websites and blogs to follow. With this in mind, we've taken the liberty to compile a list of the top knitting blogs worth following. Read on!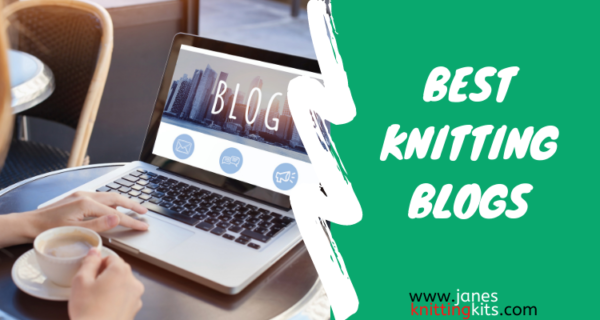 Top 50 Best Knitting Blogs On The Internet Today
The following are the 50 best knitting blogs for beginners and advanced knitters that guarantee to offer you top-notch knitting skills and knowledge:
1.) Ravelry
The Ravelry knit blog is ideal for every person who loves crafting; knitters, spinners, crocheters, weavers, dyers, and designers. It offers expert advice on knitting ideas, inspiration for those with a passion for knitting, and useful information about knitting's latest trends.
More so, Ravelry allows you to connect with other crafters from all over the world and learn from them. The blog is updated with new information thrice every month.
2.) KnitHacker | Where Art and Yarn Hook Up
KnitHacker is a blog by Danielle Holke, an expert knitter. Since it was launched in 2008, the blog has gained popularity among knitters, both beginners and advanced. It features different video tutorials on knitting tricks, patterns, types of stitches, and news about the latest trends.
Knitting Magazine is one of the best and most popular blogs in the UK. It is designed for both beginners and experienced knitters. The blog features stylish patterns, crochets, and accessories for both young ones and adults. It also includes expert tips, designer profiles, and trend reports.
4.) Grainline Studio
Grainline Studio focuses on creating patterns that are easy to follow and modern, fashionable, and style- forward. The designs also come in all sizes, ensuring that you get enough practice and experience to sharpen your skills. In Grainline Studio, you can expect at least one post every week.
5.) KnitPicks Staff
The KnitPicks Staff is specifically a beginner knitting website. It includes free helpful tutorials that teach beginners different knitting methods and patterns. More so, the blog functions as an online knit shop, from where you can get high-quality knitting kits & knitting accessories, such as needles, fiber yarns, and patterns.
Most of the KnitPicks Staff product reviews are positive, which guarantees the excellent quality and durability of the accessories sold on the online knitting business. The webpage makes two posts per week.
6.) The Craftsy Blog
As the name suggests, Craftsy provides tutorials for all sorts of crafts, whether knitting or quilting or sewing or Crochets or even cooking and baking. Here, you will find unique patterns, multiple projects, and endless inspirations to keep you going on your knitting journey. Each week, three new posts are updated. In the knitting community, Craftsy is a popular blog among all.
7.) Reddit
Reddit consists of knitters from all over the world. These knitters share the newest patterns, methods, and tutorials, ensuring that you keep up with the advancing craft. The blog allows users to share their passion for yarn or any questions, triumphs, challenges, and inspirational stories that they may have, and the community of knitters help each other.
8.) Winwick Mum
Winwick Mum is not just a blog; it is an award-winning lifestyle and sock knitting blog. Christine's site, a long-term knitter, features a lot of video tutorials on how to knit socks. Also, you will find different projects, tutorials, and inspirations for all skill levels. Winwick Mum provides about three knitting posts per month.
9.) Yarn Harlot
The Yarn Harlot site author is Steph Pearl-McPhee, a famous writer, blogger, and experienced knitter. Here, Steph shares her knowledge and knitting experience with other knitters. She also provides tutorials on working with all sorts of gorgeous yarn, whether local yarn or bulky yarns or hand-dyed yarns or even crochet yarns.
Therefore, you can expect to get all the knitting inspirations you need from this website. Yarn Harlot posts about three new posts each month.
10.) Knitspot
Knitspot by Anne Hanson is mainly designed for beginners. It provides easy-to-understand instructions on how to go about quick knitting, spinning, and creating simple yet beautiful and unique patterns. Anne Hanson posts at least once per month.
11.) Craftgossip
Just as the name suggests, you can expect to find all sorts of knitting gossip in this blog. Craftgossip provides you with the latest news, ideas, and reviews from the craft world. And not only does Craftgossip offer ideas and projects, but it also includes information on other categories such as crocheting, needlework, quilting, and sewing.
12.) Repeat Crafter
Repeat Crafter is a blog by Sarah Zimmerman. In this blog, you will find Sarah's expert tips, patterns, and projects that will help you become a pro in no time. You will also learn of different money-saving offers, such as on which accessories and patterns can guarantee a more affordable knitting experience.
13.) We Are Knitters
We Are Knitters features numerous tutorial videos on knitting methods, patterns, and different types of stitches. It also offers tutorials on using a wide range of yarns, such as Natural fiber yarns. The website provides knitters with the latest news and advice on trends in the craft world. It updates about eight new posts each week.
In the Little Cotton Rabbits blog, you can expect about two new posts per month. These posts include techniques, new tools, reviews, patterns, and expert advice by famous knitwear designers. In addition to offering several free designs, Little Cotton Rabbits sells premium prints at affordable prices.
15.) Mason Dixon
Mason Dixon brings together expert knitters, writers, and crochet pattern designers from all over the world. Therefore, here, you can expect to find expert advice, how-to guides, and unique crochets patterns. These experts also share funny stories and their knitting experiences in the blog, which in turn gives you the inspiration that will turn you into a knitting addict.
16.) Leisure Arts
The primary purpose of the Leisure Arts is to publish and distribute publications. These publications provide useful information on different crafts and needlework. The site also includes learning materials, such as eBooks, DVDs, and digital downloads, making it an ideal blog for beginners. Posts are updated at least once per week.
17.) NobleKnits
If you are looking for any knitting inspiration, then this is just the blog to follow. In NobleKnits, you will find several free patterns, inspirations, how-to guides, knitting tips, and projects that will give you more skill and make you an avid knitter in a short while. New posts are updated at least four times per month.
18.) Tin Can Knits
Tin Can Knits is managed by two designers, Emily Wessel and Alexa Ludeman, both from Canada. It offers all knitters clear, unique patterns, beautiful photography, and numerous projects.
The primary purpose of the Tin Can Knits blog is to promote love and inspiration to all knitters worldwide. Approximately three posts are updated every month.
19.) Very Pink
The author of Very Pink is Staci. With a knitting experience of more than 35 years, Staci uses her blog to teach different techniques, both simple and advanced. In this blog, you will also find numerous tutorials that provide instructions on creating different crochets and other patterns.
20.) PlanetJune
PlanetJune by June Gilbank provides knitters with a wide variety of cute and realistic nature-inspired designs. Also, the site features tutorials and detailed patterns for beginner knitters. Posts are usually updated at least once per month.
21.) Ysolda
Ysolda is managed by Ysolda Teague, the owner of a knitting business in Edinburgh. It provides knitters with different patterns for sweaters and accessories. These pattern designs are also available in extensive size ranges.
More so, Ysolda sells yarns, accessories, books, and pattern PDFs in her blog. Ysolda provides one new post every week.
22.) Knitting Board
Knitting Board is mainly designed to provide knitters with the best knitting products. It is famous for the high-quality sock looms, kits, knitting looms, and other accessories it offers.
The website also shares information about new and innovative patterns, as well as the Knitting Board process. It is designed and managed by Isela Phelps.
23.) The Plucky Knitter
As a family-run business, the Plucky Knitter focuses on creating yarns that are hand-dyed and feature unique designs. You will find multiple modern designs with a variety of artisan colors and luxury bases on the website.
What's even better, these unique designs are available in different fiber contents and weights. Therefore, if you love playing with color, this is one of the best knitting pattern sites to follow.
24.) ARNE & CARLOS
Carlos Zachrison and Arne Nerjordet are very famous writers, textile artists, and designers. On their site, these two favorite designers share their most unique and original designs. The blog also features several crafts books by Arne and Carlos, books that can teach you lots of knitting. At least one post is updated on the blog every week.
25.) SweetGeorgia Yarns
Founded in 2010, SweetGeorgia Yarns allows knitters from all over the world to share their knowledge and experiences. The blog also provides expert advice and tips on knitting, free patterns, and how-to guides to develop your skills and expertise. Posts are usually updated every week, that is, about one post per week.
26.) Girl Charlee Fabrics
Girl Charlee Fabrics is ideal for those people who sew with knits. As the author and manager, Heather Peterson provides knitters with tutorials, tricks, and tips to improve their knitting experience.
Furthermore, the website provides all knitters with easier access to unique sewing patterns and high-quality knit fabrics. These patterns and materials are provided at very affordable prices.
The founder of Balls of the Walls Knits is Gretchen Tracy. As a resident of Zurich, Switzerland, Gretchen is an expert designer of patterns that use one and two skeins. On her site, she shares quick tips, as well as her favorite designs and patterns. Balls of the Walls Knits provides new posts at least once per month.
28.) Black Sheep Wools
Established in 1983, Black Sheep Wools is one of the oldest Needlecraft businesses in the UK. Their Knit and Stitch blog features different accessories brands, such as yarns, needlecraft, needles, and fabric.
You will also find all the latest news, trends, and tweaks to knitting on this site. The posts are updated at least three times per month.
29.) Small Things
"Small Things" blog is an online journal website. Here, you will find several tutorials on patterns, designs, and techniques. These tutorials are usually accompanied by clear pictures and photographs so that knitters understand the instructions much easier.
Also, the blog features different projects that beginners can practice for more experience. The posts are usually updated once per week.
30.) Amy Herzog Designs
Amy Herzog is not only a passionate and experienced knitter but also the author of different books, such as 'You Can Knit That's and 'Knit to Flatter and Knit Wear Love.' In her blog, Amy focuses on helping other knitters design unique patterns of sweaters. She updates at least one post per month.
31.) Petals to Picots
Petals to Picots is managed by Kara Gunza, an experienced knitter with Masters of Advanced Stitches and Techniques. While the blog focuses more on crocheting tips and techniques, it also features an extensive section of unique patterns. Some of the beautiful designs you will find in the blog are marina knit shawls and chunky knit mittens.
32.) Olive Knits
Olive Knits' owner is Marie Greene, an advanced knitter who learned the craft since she was 11 years. In addition to owning several online workshops, Marie Greene also uses her blog to inspire knitters and create a passion for the craft. More so, the blog features several unique designs of seamless sweaters.
33.) Loveknitting
The Loveknitting was founded in 2012 by Edward, Natalia, Serena, and Kalli. The site serves as an online store for knitting supplies and accessories. You will also find multiple techniques, tips, and the latest news about the current knitting projects.
34.) Mochimochi Land
Mochimochi Land was launched in 2007. It aims at providing knitters and new designers with important information and resources to create knitted toys and gifts. Since knitted toys call for a particular type of knitting skill and knowledge, the Mochimochi Land blog includes video tutorials and tips that can help you become a knitted toy expert in no time.
35.) My Sister's Knitter
My Sister's Knitter has a feminine look and touch. It features beautiful multi-colored strands and guides on how to use these colors for different projects. Also, on the far right margin of the blog are links to other knitting sites that you can also visit to gain more knowledge and experience.
36.) Brooklyn Tweed
Brooklyn Tween is all about providing unique knitting designs. These designs usually use manufactured breed-specific wool yarns. The website offers how-to guides and tutorials on dyeing, spinning, sourcing, and designing wool yarns.
37.) Wool Pattern
The Wool Pattern is one of the best knitting sites with free patterns. The blog was created with the sole purpose of promoting outstanding crafters and their unique ideas in knitting. It features numerous free designs for all levels of knitters, whether beginners or advanced.
38.) Simply Maggie
This website features different arm knitting tutorials, tips, and ideas that can help knitters improve their skills. These tutorials are usually in the form of videos and pictures, making it easier for viewers to understand the techniques illustrated. More so, Simply Maggie includes DIY home decor ideas that beginners can use to better their skills.
39.) Fringe Association
The Fringe Association not only focuses on the knitting world, but it also provides useful information on crochets and weaving skills. It features many tricks, tips, and inspiration to make your knitting experience much better. The blog also offers knitters all the information they need to know about the different types of yarn.
40.) Kate Davies Designs
Kate and Tom founded Kate Davies Designs (KDD) in May 2010. The site offers knitters reading articles about the immense diversity in knitting. Also, in this blog, you will find several tutorials and clear photographs by Tom. KDD is the ideal site for learning how to create digital patterns for hand knitting.
41.) Expression Fiber Arts Blog
The Expression Fiber Arts is a blog that lets knitters express themselves through yarn. It also focuses on other crafts such as crocheting, weaving, spinning, and felting. The blog provides tutorials, how-to guides, and inspiration for knitters of all levels.
42.) Just Be Crafty
Just Be Crafty is a blog owned by Brittany, a knitting and crocheting enthusiast. Brittany shares different patterns and craft tutorials for all knitters in the blog, whether beginners or intermediate, or advanced. Besides, you will also find some inspiration if you visit the blog.
The author of 'A Friend to Knit With' is Leslie, a passionate knitter and baking enthusiast. The blog features different patterns, simple and also intricate. Also, Leslie shares her passion for knitting with other knitters, giving them the inspiration they need to continue their craft journey.
44.) Woolly Wormhead Blog
Woolly Wormhead, the owner of this blog, is a hat architect. In the blog, Woolly shares her unique and original hat designs, some of which are in 3D designs, to ensure that the knitters clearly understand the instructions.
More so, the blog includes different techniques and tutorials in PDF format. You can also find how-to guides and tutorials about this craft on the blog for those who love crocheting.
This is a dressmaking blog based in London, UK. Charlie, the owner, shares his knitting story, successes and fails in the blog. Also, he provides knitters with a lot of tips, tricks, and instructions.
The blog offers tutorials for beginners and allows knitters to track their progress when making handmade things.
46.) SweaterBabe
SweaterBabe blog is owned by Katherine, the designer of Katherine Lee Knitwear. The blog features exclusive patterns for both crocheting and hand-knit projects. Also, it provides information about the latest trends and offers tutorials for beginners.
The Knitcircus Yarns blog provides knitters with delightful yarns dyed by hand. The owner, Jaala Spiro, shares his story in the blog and offers other knitters with inspiration to keep crafting. The blog also focuses on teaching knitters different dyeing techniques that ensure their designs always remain top in the knitting industry.
48.) Knitted Bliss Blog
In the Knitted Bliss blog, Julie shares her modified knitting projects, which usually come with tutorials and easy-to-understand instructions. Also, the blog features several round-ups of craft ideas, techniques, and designs that can be used by both beginners and advanced knitters.
49.) Curious Handmade Knitting Patterns and Knitting Podcasts
Curious Handmade is a knitwear brand by Stewart. The blog is specifically designed for those hand knitters who have already mastered the necessary knitting skills. It provides many knitting techniques, tips, and tricks that can help these knitters create beautiful and unique designs. Posts are usually updated at least once per week.
50.) Knitgrammer Blog
The Knitgrammer blog offers knitters tools that function to do all the knitting math on their behalf. Also, in the blog, Ida shares several unique designs and knitting patterns that she invented herself. Therefore, you won't just learn new ideas in this blog; you will also have fun while at it.
Conclusion
Knitting is a fun craft, and so should the learning process be. While there are countless blogs on the internet that you can follow, the above discussed 50 knitting sites are the most recommended ones. Follow one or more of these top knitting websites, and you will be guaranteed the ultimate learning and knitting experience for both you and your family.