Sewing machines are an important tool for many people. They can be used in a variety of different settings, such as at home or professionally. 
Not all machines are created equal. Machines that are made for sewing light fabrics will not be able to handle the high thread count, weight, and bulk of heavy fabrics such as denim or home furnishing fabric.
Heavy fabrics require special attention when it comes to sewing, as compared to other types of fabrics. Therefore, it is not just any sewing machine that can be used to sew heavy fabrics. Rather, these require special types of sewing machines to make.
For heavier fabrics, you might want to invest in a sewing machine with more power and strength. In this blog post, we will discuss the best sewing machines for heavy fabrics available on the market today so that you will know exactly what to look for when purchasing one. 
What is a heavy-duty sewing machine and what does it do?
Sewing machines are typically categorized by the type of fabric they sew. Heavy-duty sewing machines are mainly used to sew very thick fabric.
This type of machine is capable of sewing leather, vinyl, canvas, and anything else made from thick sturdy materials.  Most heavy-duty machines have the option to insert a walking foot for sewing sheer or stretchy fabrics without puckering the material and smooth fabric feeding. Heavy-duty machines typically have very big sewing heads and can handle multiple layers of fabric. Industrial sewing machines are often called heavy-duty machines.
If you are a seamstress or sew anything other than clothing for yourself, it is likely worth your investment to buy a heavy-duty machine. If you use your machine for clothing, in addition to the thicker fabrics mentioned above, these machines are great at sewing long seams without fabric warping.  They are also great for sewing thicker materials like fur and leather. If you do not often sew, it is likely unnecessary to spend the money on a heavy-duty machine.
What are heavy fabrics?
There are different types of fabric available for purchase. Types of fabrics include heavy, medium-weight, light-weight, and stretchy fabrics.
Heavy fabrics are called that because they tend to be made from very dense material. Heavy fabric can include anything from leather to vinyl, or any type of very thick cotton for example. 
What are the Best Sewing Machine Brands for Heavy Fabrics?
Several companies produce heavy-duty sewing machines. These sewing machines can handle heavy fabrics with ease since they are meant for that. The most popular brands in the U.S., based on customer reviews are,
The heavy-duty aspect of the above-mentioned sewing machines is what makes them ideal for sewing heavy fabrics. Each of these machines offers unique and more precise functionality, as is discussed in the review section below;
6 Best Heavy Duty Sewing Machine Review
The following is a review of the 6 best sewing machines for heavy fabrics;
1. Singer Heavy Duty 4423 Sewing Machine.
Feature of Benefits:
4423 Sewing machine is sturdy and built to last.
Has a powerful motor to save your time 
You can sew through denim, canvas, and more. 
Sew original costumes, sew personalized fashions or transform your home with new decorator pillows and curtains.
Product Description:
Customizable and convenient, the Singer Heavy Duty 4423 Sewing Machine is perfect for both enthusiastic beginners and experienced stitchers alike. Fast, powerful, simple design, and lightweight with a metal frame that's built to last, this machine will exceed all of your expectations. The maximum sewing speed is 1100/min.
A one-Step Buttonhole foot, Automatic Needle threader, Reverse stitching, and Built-In Stitches are some noticeable features of this heavy-duty sewing machine.
With an array of professional accessories included right out of the box– even the Top Thread is threaded for you! — there's nothing stopping you from reaching your heavy-duty sewing tasks.
More about this product:
Will this machine sew through nylon strapping?
It depends on the thickness of the strap. I have used this machine to sew 4 layers of 600 denier fabric, and it worked great. But if your strap is too thick, I cannot guarantee it.
Will it sew through leather?
I have sewed several layers of leather for belts, and this machine worked well. You can sew through a 1/4 inch thick belt, it will work great.
Will the tension discs stay tight enough to hold the tension?
I have no problem with staying tight, but this is important especially when you sew seams and thicker materials. 
Is it a good machine for the money?
Yes, it is. It's very sturdy and powerful enough to sew heavy fabrics. Just use care in getting the tension tight, and you'll be so happy with this machine.
Can it sew canvas?
Yes, it will go through layers of stiff canvas. I have used this machine to make straps for kayaks, and it worked well.
What size or model of bobbins do I use?
I used standard-size bobbins and they work well.
What needle do I use?
Since it is a heavy-duty machine, you need to use heavy-duty needles. 
2. Juki TL-2010Q Sewing Machine.
Feature of benefits:
Durable and easy to use. 
Fast and versatile, for a variety of projects. 
Create jaw-dropping quilts with excellent stitch quality every time. 
The JUKI TL-2010Q is a high-performance sewing and quilting machine. 
It offers the ability to drop the feed dogs for free-motion quilting and straight-stitch sewing.
Product Description:
The Juki TL-2010Q sewing & quilting machine comes with a variety of features to do precision sewing. This industrial sub-tension system aids in flawlessly sewn stitches and other, creative techniques by avoiding top thread from forming taut loops over the needle and is perfect for decorative stitching and heirloom applique projects with ease.
The variable speed control slider allows you to control stitch speed depending on your project giving you more flexibility as you sew. Bright LED light helps to find every little detail on fabric and makes it easier than ever to see the needle position, while a large work surface (up to 23 inches) means larger projects won't be too much trouble for this machine! Why not take your home decor or bedding to the next level? This professional product allows you to trim top and bobbin threads easily; resulting in professional quality all around.
More about this product:
Does it sew through multiple layers of fabric? And is clogging of needles common in sewing heavy fabrics?
Yes, it goes through all kinds of fabric smoothly. There is no needle clog problem.
What kind of needles do you use? And did you change the standard foot pedal with a heavy-duty one? If yes, which one did you buy and what is your experience with it?
I have used several kinds of needles on this machine including Schmetz – all worked well. I did not change the foot pedal.
Does it have an automatic needle threader?
Yes, it has an automatic needle threader. So far no problems with it.
Is there any adjustment for the needle thread tension? And did you have to change anything in its settings?
Yes, you can make some adjustments on the bobbin tension and it worked well. 
How does this machine perform with free-motion quilting?
It does quilting very well.
Can you adjust the presser foot pressure?
In general, this machine has just enough pressure with a light touch. I mostly use the standard presser foot but do switch to other ones when needed. 
What is your opinion about it overall? Would you recommend this machine and why?
I love this machine! It has performed well above my expectations since the day I purchased it. This is not an inexpensive machine, but it is worth every penny. I wish I had purchased this machine long ago! You can check the catalog and manual for more in-depth research.
TIP:
You might want to purchase the Janome Cover for TL2010Q/TL2010Qi to protect your machine during storage because it keeps dust and dirt out of your machine, has plenty of room for all the feet that come with the machine, and has storage for all your bobbins!
3. Brother ST150HDH Sewing Machine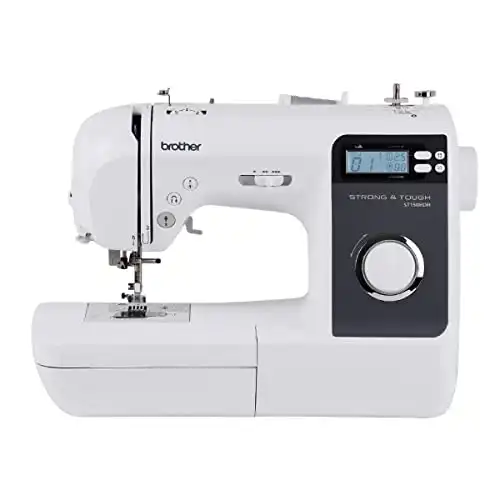 Feature of benefits:
You'll be able to sew anything, from quilts to curtains. 
Sewing will become much easier and more enjoyable. 
The machine will thread the needle for you, saving time and frustration. 
You'll be able to make quilts that are too large to fit on a standard sewing machine. 
Product Description:
The Brother ST150HDH Sewing Machine is perfect for anyone with a passion for sewing. The preset, one-step buttonholes will have your clothes looking custom-made and the sleek design is sure to be an asset in any household. In addition to everything you need to make professional-quality garments, this model includes a variety of accessories and 9 stitching feet that will ensure that no project goes unfinished.
My Opinion:
This Brother Sewing Machine is great for beginning sewists or those with children that are interested in learning to sew. I love the fact that it has so many built-in stitches and can do everything from basic sewing to decorative stitching as well. It's very easy to use and works like a charm. The machine comes with a very helpful instructional DVD.
More about this product:
Can it sew multiple layers of fabric?
This Brother Sewing Machine is great for making layered quilts. It comes with a lot of different feet, but my favorites are the ¼" Foot & the Blind Hem Foot. 
Does it sew fast? Will it keep up with me when I sew?
This machine sews very fast and easily takes on any project. I have never had a problem with it while sewing multiple layers of fabric, or thick fabrics. 
How quiet is it? Will my kids be able to sleep while I sew late at night?
It's not extremely quiet, but the sound is tolerable. It's not loud enough that I feel the need to wear earplugs. 
Is it difficult to thread the machine? Does it take a long time or a lot of skill?
This Brother sewing machine comes with an automatic needle threader, which makes it super easy to thread. It also has an easy bobbin winder so you don't have to worry about hand-winding the bobbins. 
The bobbin threader is also really easy to use. In less than 2 minutes, you'll have a perfectly wound bobbin!  
Is it hard to learn how to use this machine? Do I need any previous sewing machine experience?
No, It's pretty user-friendly! Brother has made this machine super simple, which is great for beginner sewists. It comes with a DVD that will teach you how to use the machine as well. 
4. Juki DDL-8700 Sewing Machine.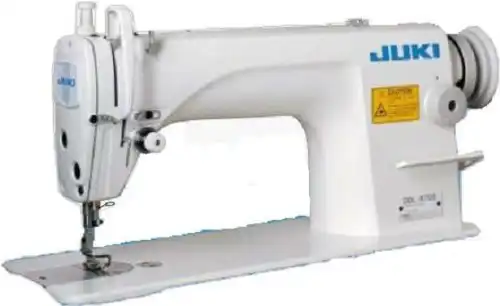 The stitching speed of the Juki DDL-8700 sewing machine is fast enough to enable you to finish your project fast. It can do up to 5500 stitches per minute. The arm space measures 11 inches (27.94 cm) and enables you to work with large quilts. The Juki sewing machine can handle a stitch length of up to 5 mm which gives you the freedom to work on the quilts. Also, it can handle 6 stitches per inch, hence allowing one to handle a close job.
5. Singer CG590 Commercial Grade Sewing Machine.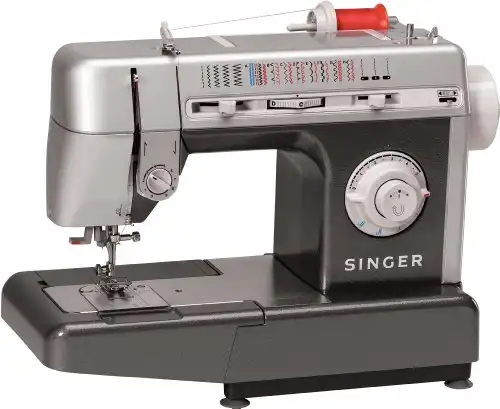 The singer-heavy fabric sewing machine stitches up to 1100 stitches per minute, hence making it speedy and quality. The foot control is completely automatic and electronic, hence providing a speed that is uniform and without jumps. There is an allowance to control the speed using the regulating dial.
6. Brother ST371HD Sewing Machine.
The brother sewing machine contains an auto-size buttonhole and 37 different stitches that are unique. The machine contains an automatic needle threader that enables sewers to handle needle threading so easily. It also includes a wide arm that enables users to handle different sewing jobs each day. The Brother sewing machine has manual support and technical support that can be contacted through means such as live chat or even phone calls. There is also a video manual as well as instructional materials that enable you to make the setup with ease.  
Read more: Best sewing machine for a professional seamstress
Buying Guide for Best Sewing Machine for Heavy Fabrics
Some brands are well-established and have made sales all over the world. Singer and brother are well known while others like Janome are making a breakthrough in the market and are getting established. Depending on your budget you may decide to purchase from either an independent shop or even the company itself if it is within reach.
Buying from an independent shop may come with advantages such as an on-the-spot personnel guide on how to get started. The price might be negotiable or even possible to get it at a credit.
Look at the warranty terms, and understand what the warranty covers, and what it does not cover. It will be great if you make purchases when special events and celebrations are ongoing because discounts are huge at these times. Also, try products before purchasing them. You may bring some fabric samples and test the capability of the sewing machine.
Coupons are a great way you can save some money when making a purchase. Look for coupons online, especially on websites that offer online shopping experiences.
Identify repair centers where you can deliver the sewing machine for repair in case of damage or malfunction. Learn about these repair centers and their turnaround time. It is highly recommended that you identify the repair centers that are authorized by the manufacturer so that the warranty is not nulled.
Also, get to know about the machines beforehand before making any purchases. For you to make a good choice of machines, have first-hand knowledge of the sewing machines, their features, and their weaknesses. Having this essential knowledge will help you understand what sewing machine you need.
There are three types of sewing machines; mechanical sewing machines, electronic sewing machines, and embroidery sewing machines. These different sewing machines carry out different purposes, and functions, and use different mechanisms. For instance, heavy-duty sewing machines, whether electronic or mechanical, handle different types of jobs. Therefore, it is wise to understand what projects you would like to handle using your sewing machine, then narrow it down to the intended machines.
The replacement and spare tools for the sewing machine may be available or even difficult to access in some regions. Therefore, ensure you find out where to get the spare parts for your heavy-duty sewing machine before making the purchase.
Factors to Consider When Buying a Sewing Machine for Heavy Fabric
When buying a sewing machine, you need to ensure you make the right choice. Therefore, you may need to consider these factors to ensure you take the right step;
1. Price
It is usually said that cheap is expensive. When purchasing a sewing machine, look into the quality. Usually, cheap sewing machines have weak frames and build, and are made of plastic bobbins and most parts are weak. Therefore, these may break quickly.
Expensive machines have high-end functionality and some are worth the pay. It can be wise if you buy a sewing machine that can give you medium functionality rather than a low-end sewing machine.
2. Mechanical or Computerized Sewing Machines
Technology has made it possible for people to have automated sewing machines whose usage is easy, accurate, and faster. Though these machines are expensive in comparison to mechanical ones, they have strong motors and programmed stitch sequences. Mechanical sewing machines have lesser parts since they involve less functionality and are lightweight.
3. Where to Buy Your Sewing Machine
Buying from local shops, or other certified online shops, such as Amazon, is advantageous since you can get the delivery done shortly after the purchase.
But such trusted sources also guarantee that you get warranty services, sometimes even get after-sale services, such as live tutorials.
Furthermore, whenever you need to access the shop for spare parts or consultation, it becomes easier and cheap.
4. Type of fabric
When purchasing heavy-duty sewing machines, pick the right sewing machine for your fabric. Normally, heavy fabrics need you to choose strong machines with a heavy build. Knowing the type of fabric to use will enable you to make the right choice of the sewing machine and the right needle to use, to avoid damaging the machine by either using the wrong needle or using it for the wrong purpose. Do tests on your heavy fabrics with the sewing machine to test the ability of your sewing machine. For commercial use, pick an industrial-grade sewing machine to get better service.
Basics of Heavy-Duty Sewing Machine
These sewing machines offer services for sewing heavy fabrics, speedy sewing, and quick project execution due to their powerful motors. They last for a long time, and they have less complicated designs and features. These machines are made to handle heavy fabrics and even some light-duty sewing. They can last for many years if they are well taken care of.
Some sewing machines are made using metal construction or steel frames. Heavy-duty sewing machines have a strong build and strong motors fixed in them. They make use of strong needles that are specifically made to handle heavy fabrics. Metal frames make these heavy-duty sewing machines a bit heavier when compared to others.
Also, some heavy-duty sewing machines will offer large sewing tables that will enable you to handle big projects involving large fabrics. The types of heavy fabrics that can be handled by heavy-duty sewing machines include; leather, cotton, denim, and layers of quilts. The machines are stable and have a smooth top for a good experience in the sewing process. They may be moved from one point to the other since they can be easily dismantled and separated from the table.
The heavy-duty sewing machines have threading paths indicated, either in the manual or even on the machine itself. This makes it user-friendly, as novice users can make use of these great heavy-duty sewing machines. The machine is easy to use and one will spend much time perfecting its viability of sewing rather than focusing on how to use the machine.
Some heavy-duty sewing machines have time-saving features such as; an automatic needle threading mechanism and automatic tension adjusting mechanism.  The automated functionality enables everyone to enjoy using the machine with ease since they do not strain when it comes to needle threading and even operation.
Types of Heavy Fabric
Heavy fabrics are associated with higher weight due to their nature. Understanding the nature of the different materials that exist today will help you to make the right choice when deciding to do heavyweight sewing. Heavyweight materials have thick intertwining fabric materials that make it appear heavyweight. They are strong and sturdy and hence used to make durable projects.
These fabrics exist in different types namely;
1. Denim
Denim is preferred in most clothing like jeans due to its long-lasting effect. It is also used in jackets, bags, and upholstery due to its sturdy and durable nature. There exist different types of denim with different features but maintaining the same characteristics. These include; 100% cotton Denim, Raw denim, Sanforized Denim, colored denim, Stretch denim, Selvedge Denim, Crushed Denim, Waxed reverse Denim, Acid wash Denim, Poly Denim, Ecru Denim, and Bull Denim.
2. Canvas
Canvass is thick and rigid with a weight that can enable you to experience strong and durable fabric material. It can be used to make bags, upholstery, pants, and awnings. Canvas exists in form of nylon, polyester, hemp, and even as a combination of these existing forms with other materials.
Check this guide for our recommended sewing machine for canvas and leather.
3. Polyester Fleece
This fabric is thick and has a soft nap. The surface is made such that it is insulating and feels warm. Most of these fabrics are used to make winter jackets and outdoor clothing. This material is heavyweight and can, therefore, be used to sew heavy fabric materials.
How do you Sew Heavy Fabric?
Before you start any sewing, always ensure you wash the fabric. There are dust and particles that need to be removed from it so that it does not cause devastating problems for your sewing machine. Getting started with a sewing project might be affected by the strong materials of the heavy fabric. You may need walking foot to sew in this situation. This is especially so if there are two layers of fabric used. Where possible, use fewer layers because the thickness might even break the needle or not allow it to go through the fabric.
Make few folds whenever necessary and ensure you keep as few layers as possible. Using the right needle will help you save on resources and avoid damage to the sewing machine. This also saves you time as the needle that is well-fitted for heavy fabric gives you the best experience. Always consider heavy fabric needles when dealing with heavy fabrics.
To sew a heavy fabric, lift the presser foot to ensure it is at its highest position. Then bring the heavy fabric to be sewn under the presser foot. Pin your fabric using clips rather than pins since it may be thick and heavy for the pins to go through. Ensure the material is under control and that you can move it forward and backward with ease. A tailors hammer can help you press the materials together to have a smooth execution of the sewing.
Use a longer stitch length for heavy-duty sewing to achieve the best seam. Range your stitch length from 3 to 3.5 depending on the materials. When all is set start sewing, however when the machines won't sew, try using a hand sewing machine. Hand sewing is one way to stitch together two thick fabrics together. All these applicable sewing techniques for heavy fabrics will find use in most heavy fabric sewing projects.
FAQ
What is the Difference Between a Heavy Duty Sewing Machine and a Regular Sewing Machine?
Heavy-duty sewing machines are meant for sewing heavy fabrics, with strong and sturdy materials. These heavy-duty sewing machines are long-lasting and can sew many projects due to their strong make. Heavy-duty sewing machines are made to serve both lightweight fabrics and heavyweight fabrics.
On the other hand, regular sewing machines are made for lightweight sewing of regular sewing projects. These cannot handle heavy fabrics due to the light nature of their making.
How Many Layers of Heavy Fabric can a Sewing Machine Sew?
Depending on the nature of the fabric, the number of layers that each project can handle is determined. For heavyweight fabrics, the layers should be as minimal as possible since they require higher power. Heavyweight fabrics differ in terms of thickness, and even their weight, despite all being in the heavyweight category. If the heavyweight fabric is less thick, then you can do several layers.
What is the Best Heavy Duty Sewing Machine for Home Use?
The Singer Heavy Duty 4423 Sewing Machine can serve as a better heavy-duty sewing machine. Singer company has been around for a long and there is no doubt that they offer quality sewing machines. They have perfected their production with time and most customers have reviewed their heavy-duty sewing machine with higher stars. You can rest assured that this heavy-duty sewing machine is a power horse that will serve you to the best degree.
What Does Heavy Duty Sewing Machine Mean?
Heavy-duty sewing machines are differentiated from other types of sewing machines by their ability and make. Heavyweight sewing machines can do faster sewing, with some doing up to 6000 stitches per minute. They are durable and handle heavyweight fabrics with ease. These heavy-duty sewing machines are highly preferred in cases of mass production since they are made to handle all these.
What is the Most Reliable Brand of Heavy Duty Sewing Machine?
The Singer brand of sewing machines remains the most reliable brand of heavy-duty sewing machines. This brand deals with a wide range of heavy-duty sewing machines for users to choose from. Some of their heavy-duty sewing machines are mechanical while others are computerized. They offer warranties that they sincerely honor in case of damage or anything.
What Kind of Sewing Machine do I Need for Upholstery?
The most ideal sewing machines for making upholstery are heavy-duty sewing machines. The types of sewing machines are designed with strong metallic parts that can sew the thick and heavy fabric of the upholstery.
Can I Sew Canvas with a Regular Sewing Machine?
Canvas is a heavyweight fabric, meaning that it requires a heavy-duty sewing machine. Therefore, choose a heavy-duty sewing machine for canvas. However, sometimes it might be possible to use a regular sewing machine. When a regular sewing machine is used, then make sure you do not do so more often. Regular sewing machines only offer occasional assistance when dealing with canvas material. Using a regular sewing machine for this work might damage it or break needles. You should find a heavy-duty sewing machine for this purpose.
What Tension Should I Use for Thick Fabric?
The thicker the fabric, the higher the tension. This is because high tension is required to lift the thread on the bottom side to the middle of the fabric. Usually, tension from 3 to 5 is used on thick fabrics. Since heavyweight fabrics have different heavyweights, the tension choice is determined by how thick the fabric is.
Conclusion
Sewing is an art that everyone must learn. Above all, we all need long-lasting machines and clothing. And, regular sewing machines cannot create such long-lasting clothes and machines. Therefore, purchase one of the 5 most recommended sewing machines for heavy fabric; only these types of sewing machines can guarantee you a fun and smooth sewing experience!