Every skill is categorized into 3 levels: beginner, intermediate and experienced. And the same is true of sewing and crafting. When you start learning the art of sewing, you are categorized as a novice/beginner. Then, the more you learn and develop your craft, the more skills you gain, eventually stepping into the intermediate level.
Well, as an intermediate sewer, you will need a good sewing machine that can enhance your skills. Yet, the wide range of sewing machines offered in the market does not make it any easier to choose the right one.
The best intermediate sewing machine should neither be too easy nor too complicated. It should be in between, able to accommodate a sewer with the skills that range between those of a beginner and an expert. In this article, we discuss the most reliable sewing machines for intermediates, as well as how to choose the best one.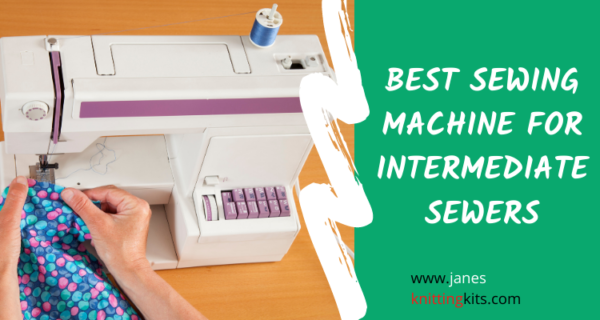 Intermediate Sewing Machine Reviews
The following are ten of the most popular sewing machines that you should consider buying if you are an intermediate sewer:
Product Image

Product Name

Dimensions

Weight

Price / Primary Button

51.5 x 32.2 x 45.6 cm
20.3 x 12.7 x 18 in.

39 x 39 x 28 cm
15.4 x 15.4 x 11 in.

43.9 x 18.9 x 36 cm
14.3 x 17.4 x 14 in.

51.6 x 35.2 x 22 cm
20.3 x 13.9 x 8.7 in.

39 x 17 x 29 cm
15.4 x 6.7 x 11.4 in.

40 x 16 x 30.5 cm
15.7 x 6.3 x 12 in.

27.48 x 12.09 x 25.98 cm
10.8 x 4.8 x 10.2 in.

17 x 24 x 30 cm
6.7 x 9.4 x 11.8 in.

29.97 x 35.56 x 43.43 cm
11.8 x 14 x 17 in.

42 x 21 x 34 cm
16.5 x 8.3 x 13.4 in.
10/02/2023 02:47 am GMT
1. Brother FS100WT — Overall Best.
The Brother FS100WT is ranked as the best all-purpose sewing machine. Not only does this machine go for an affordable price, but it is also designed with mid-range high-quality features. In fact, compared with other sewing machines of the Brother series, the FS100WT has a lot of impressive features.
This sewing machine is designed with 100 built-in stitches and 8 buttonholes. The wide range of stitching options, including blind stitching, simple stitches, adding to the alphabet set and embroidery stitches incorporated into the structure, make it possible to use the machine for numerous sewing projects.
The Brother FS100WT top-selling sewing machine is ideal for those sewers in need of a good machine for quilting projects. Also, this reliable machine is suitable for undertaking freehand embroidery. It features a large-sized extension table which provides plenty of room for working.
Pros
The Brother FS100WT models are easy to use.
Adjustable sewing speed control features
Variety of accessories is included with the package.
It has a clear LCD display screen.
The manual and instructional DVD are free and easy to understand.
It includes decorative styles and satin stitches.
It has a strong and durable build.
Cons
The quilting machine is quite heavy, which makes it difficult to transport to classes.
It lacks an automatic thread cutter.
2. Janome J3-24
The Janome J3-24 features 24 different stitch functions, including utility and decorative stitches. The utility stitches make it possible for sewers to achieve professional finishing styles for the raw edges of the fabric. The length and width of these stitches can also be easily adjusted for fine sewing.
The Janome J3-24 intermediate sewing machine features a buttonhole foot which allows for easy sewing of buttons onto fabric. It is also designed with a zipper foot which functions to promote a neat and tidy zip finish on fabrics.
For easier threading, the Janome J3-24 sewing machine is designed with a one-handed thread cutter and an automatic needle threader. Also, it comes with an accessory tray that can be easily removed to allow for free-arm sewing.
Pros
Layers of fabric do not fray on raw edges.
All types of fabric can be sewn with the machine, even synthetic garments that pucker easily.
Stretch stitches and swimwear can be easily sewn.
It has a plastic cover that protects the machine during transit and storage.
3. Brother LS14S
The Brother LS14S is one of the best mid-range sewing machines you can find in the market. Just like other sewing machines by Brother, the LS14S is built using a highly durable metal chassis. The metal chassis not only ensures that the sewing machine supports all the internal mechanisms, but also makes it very stable to prevent accidents.
This sewing machine for intermediates comes with 14 stitches. These basic stitches help sewers create unique and professional projects. Also, the Brother LS14S is designed with a drop-in bobbin system which makes it highly jam-proof. The amount of bobbins left can be easily seen through the clear display cover built into the structure.
Pros
It has a clear LED light.
The top thread tension is easily adjustable.
Hard-to-sew areas can be easily reached using the free arm.
It comes with a 3-year warranty, which guarantees its high quality.
Cons
These highest-rated sewing machines do not come with a carrying case.
4. Uten 2200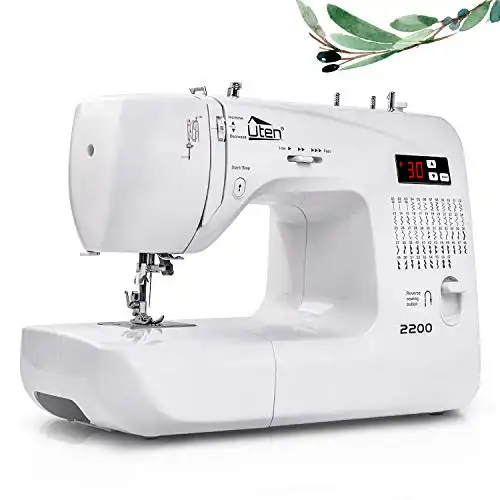 The Uten 2200  is a compact, mini sewing machine. However, despite its tiny structure, this computerized sewing machine is the best all-around sewing machine available in the market. It features one of the most user-friendly interfaces, making it very reliable and easy to navigate.
The Uten 2200 mini sewing machine is designed with various knobs and dials, such as for setting stitching speeds. It comes with 16 pre-set stitches which are just ideal for intermediate sewers. Also, the computerized sewing machine has a reverse stitching mechanism which helps to increase the quality and durability of stitches.
These computerized machines feature two different speeds; the lowest setting and the highest setting. Their lightweight design also makes them good travel sewing machines. Therefore, sewers can easily carry the machine anywhere for a new and more thrilling sewing experience.
Pros
It is an attractive and eye-catching sewing machine.
It is an ideal machine for beginners and experienced sewers.
It is portable.
It is highly affordable.
Cons
It can only handle basic sewing.
The included thread tends to break easily.
5. Brother FS40 – Editor's Choice
If you want a sewing machine that will give you good value for money, as well as meet your sewing needs, the Brother FS40 would be just the machine to go for. This machine is designed with numerous presser feet which allow users to undertake a wide range of products.
The Brother FS40 electronic sewing machine features an automatic bobbin winder & drop feed mechanism which prevents any jamming.  Also, the sewing machine features 40 different stitch types, including 16 decorative stitches and 5 buttonholes.
As a computerized (electronic) sewing machine, the Brother FS40 electronic sewing machine has enhanced slide speed controls. It is also designed with a start and stop button which makes it easy to operate. More so, the sewing speed can be controlled using the standard foot pedal that comes with it.
Pros
It is light and extremely portable.
It can be easily used by sewers with limited mobility.
It offers maximum stitching speeds.
It produces high-quality stitches.
Cons
The Brother FS40 does not include a needle threader.
It features a small harp, which makes quilting larger projects very difficult.
6. Singer 4411 – Best Heavy-duty
The Singer 4411 machine is highly recommended for those sewers who regularly deal with heavy garments and thicker fabrics, such as canvas, denim, and quilts. This heavy-duty sewing machine is a real workhorse and can, therefore, handle all types of fabrics with great ease.
The great power of the Singer 4411 machine can be attributed to the high-powered motor incorporated into the structure. The powerful motor ensures that the machine lasts for a long without breaking down.
Also, this sewing machine for intermediates is designed with 11 built-in stitches. Among these stitches are basic adjustable stitches, 1 buttonhole, and decorative stitches. More so, the machine offers high stitching speeds of 1,100 stitches per minute.
One of the greatest features of the Singer 4411 is the top-loading bobbin. The quick-set drop-in bobbin is usually easy to load and includes a clear cover that lets sewers monitor how the thread is supplied through the bobbin. Also, the machine features a reverse function which makes it easier for sewers to reinforce several layers of fabric and heavy materials.
Pros
It is built with a highly durable metal frame.
It offers maximum stitching speeds.
It can be used with all types of fabrics and projects.
Cons
It lacks a clear LCD screen.
7. Amazon Basics Household – Best Under 100
The Amazon Basics Household sewing machine features 12 built-in stitch patterns. The wide variety of stitch patterns makes it ideal for any home or basic sewing project. It has a beginner-friendly design which makes it very easy to operate.
The sewing machine for intermediate sewers has a compact design and a weight of under 2kg. Also, it is designed with an in-built carrying handle which makes it easy to carry. Therefore, the sewing machine can be transported easily and stored even in the tiniest of spaces.
Also, the Amazon Basics Household sewing machine can run either from mains power or even off batteries. Considering this, adding to the fact the machine goes for a cheap price of less than $100, makes it the best basic stitch sewing machine in the UK.
Pros
It is a cheap sewing machine in UK.
These basic sewing machines offer a wide range of features ideal for both beginners and intermediates.
It has a storage drawer for holding accessories.
It is compact and portable.
Cons
The needle tends to catch the thread and breaks easily.
8. Singer 3232 – Best Budget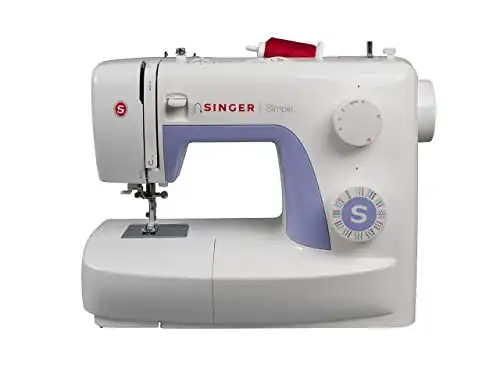 The Singer 3232 is more of a fairly basic sewing machine. It is one of the most affordable units in the market, sometimes even going for less than $100 in some retail stores. These cheap sewing machines have very user-friendly features, which make them ideal for both beginners and intermediate sewers.
The Singer 3232 sewing machine comes with 32 built-in stitches. It has a very lightweight design and incorporates a built-in carrying handle. Therefore, the machine can be easily carried to sewing classes or other sewing locations.
Pros
It goes for an affordable price.
It is very lightweight and portable.
It has a very user-friendly interface.
Cons
It does not include an automatic needle threader.
The timing and tension of the machine tend to be off regularly.
9. Bernette B35
The Bernette B35 is a mechanical type of sewing machine. It comes with all the basic stitches and accessories that intermediate sewers require. The machine has a friendly-looking appearance which fits perfectly into any room. It comes with 23 built-in stitches.
Compared with other computerized sewing machines, the Bernette B35 is easier to control. Also, it is a good quality sewing machine that lasts for a longer lifespan than most sewing machines. The front part of the Bernette B35 features 3 knobs that allow sewers to adjust the stitch length, width, and patterns more easily.
Pros
The sewing machine is easy to read and use.
It can handle heavy and bulky layers of fabrics.
It goes for an affordable price.
It is compatible with universal bobbins.
It has a stylish look.
Cons
The process of cutting threads and threading the needle requires some manual input.
It has slightly larger buttonholes.
10. Singer Starlet – Best Under 300
Most Singer computerized sewing machines usually come at very high prices. In fact, if you find any Singer machine going for a low price, it will most probably be a mechanical sewing machine or that which is just but pretty bare bones. It is no wonder, then, that the price of the Singer Starlet machine would force you to double-check.
This entry-level computerized sewing machine goes for quite an affordable price; less than $300. Yet, even with the low prices, the machine offers more features than those simple mechanical machines. It also features a very user-friendly interface which makes it ideal for both beginners and intermediate sewers.
You don't have to worry about stitch selection, this portable sewing machine has 60 built-in stitches, zigzag stitches, automatic needle thread, steel bedplate, an automatic one-step buttonhole, and many more. Even this machine has embroidery capabilities.
The Singer Starlet allows sewers to select straight stitches with just the click of a button. Also, the stitch length and width are easily adjustable. The computerized sewing machine package comes with a 25-year limited warranty.
Pros
It has a lightweight design.
It has an automatic needle threader.
It can be used for sewing buttonholes.
Cons
Unlike most other computerized sewing machines, the Singer Starlet lacks a speed control slider.
The sewing light is quite dim.
Sewing Machine Buying Guide for Intermediate Sewers
When looking for the best sewing machine to buy, you have most probably come across hundreds of sewing machine reviews for intermediate sewers. So, how can you tell just which particular sewing machine is ideal for you? The following two questions can help you choose the most suitable sewing machine:
Who are the Intended Users?
Even as an intermediate sewer, there are things that you might not know about intermediate sewing. Therefore, before you can choose your ideal sewing machine option, first think about what you can and can't do. Consider your level of expertise. Then, go for a versatile machine that offers the features and attributes that you regularly use.
Read more: Best sewing machine for a professional seamstress
How Will the Sewing Machine Be Used?
The sewing projects you regularly undertake will also determine which sewing machine to go for. Sewing machines for intermediates have different features and abilities. For instance, there is some machines ideal for buttonhole stitching and lightweight fabrics, while others are most suitable for heavy fabric materials.
Therefore, it is crucial that you consider the projects that you regularly undertake and then choose a sewing machine that perfectly suits the projects.
How to Choose the Best Sewing Machine for Intermediate Sewers?
The market today offers numerous varieties of sewing machines, which each brand praising theirs as the best. It is no wonder, then, that most people feel very overwhelmed when it comes to choosing the best sewing machine for Intermediate sewers. To ensure that you always settle for the best machine, the first thing you should do is figure out your skill level.
If you are yet to master basic and intermediate skills, the best choice would be a mechanical sewing machine. On the other hand, if you have gotten quite the hang of sewing, it would be best to choose a computerized sewing machine that offers more stitch options.
Also, remember that as an intermediate sewer, you still have a long way to go until you become an advanced-level sewer. Therefore, choose a sewing machine that will not only inspire your creativity but also allow you to expand your skills and horizons. A good sewing machine should be able to accommodate your current sewing needs, as well as any future needs that you might have.
What Features Should I Look for?
Whether a sewing machine is ideal or not is usually determined by the features that it has to offer. As an intermediate sewer, there are those priority features that should be at the top of your list. Consider the following four key features that you should always look out for in your sewing machine:
1. Robust Build and Stability
The build of an intermediate sewing machine can either improve or break your learning process. It is important that you choose a steady sewing machine that has all its features working. Otherwise, you will risk causing your learning process to be as wobbly as your sewing machine.
2. Lightweight Design
Being at the intermediate sewing level means that you are still a learner. Sometimes, you will be required to go to sewing classes and learn more advanced sewing skills. Therefore, you will need a lightweight sewing machine that can be easily carried to and from classes.
3. Built-in Stitches
The best sewing machines for intermediates are those that offer a maximum of 50 built-in stitches. Sewing machines with 100 or even more stitches are not recommended for intermediates, as you will rarely use these stitches. In fact, a high number of stitches will only confuse you even more.
4. Moderate SPM
High-speed sewing machines with over 1100 SPM are recommended for experts and advanced sewers. On the other hand, the most recommended ones for intermediates are standard sewing machines which offer speeds of 800-1100 SPM. Such speeds ensure that an intermediate sewer can still sewer at a faster rate while still having good control over the fabric.
FAQ
What Is The Best Sewing Machine To Buy In The UK For Intermediate Sewers?
The Brother FS100WT is considered the perfect sewing machine UK. It offers 100 built-in stitches, such that sewers can explore their creativity and create a variety of sewing projects. The sewing machine can also be used for other types of crafts, such as quilting and free-motion embroidery. What's even better, the sewing machine offers all these features at a very affordable price.
What Is The Best Mid-Range Sewing Machine?
The Brother LS14S is the best mid-range sewing machine in the UK. It offers 14 stitch settings and a drop-in bobbin system. The number of stitches offered is ideal for a mid-level sewer; they offer enough opportunities to create a wide variety of projects.
What Is The Best Sewing Machine For Heavy Fabrics?
To perfectly sew heavy fabrics, you will need a heavy-duty sewing machine; and the Singer 4411 perfectly does this. Singer 4411 features a workhorse structure and a high-powered motor, attributes that give it the ability to handle bulky fabrics, such as canvas and denim.
What Sewing Machines Do Professionals Use?
Research shows that most professionals use the Janome 1600P-QC sewing machine. This commercial machine is preferred for the high stitching speeds it offers (1,600 stitches per minute). The high speed enables professional sewers to finish their projects more quickly and neatly.
What Is The Best Brand Of Sewing Machine?
There are numerous brands that manufacture sewing machines. However, the five best sewing machine brands are:
Singer
Brother
Bernina
Juki
Janome
When you buy a sewing machine from these brands, you are guaranteed to get good quality, durability, and good value for your money. Also, sewing machines from these brands offer all the features that an intermediate sewer will require to start and finish projects.
What Is The Best Low-Cost Sewing Machine?
Singer 3232 is ranked as the best low-cost sewing machine. This fairly basic machine goes for an affordable price. Yet, its low price does not minimize the efficiency and quality of the simple machine. Singer 3232 still offered a wide range of stitches and features ideal for an intermediate sewer.
Are UTEN Sewing Machines Good?
Yes, Uten sewing machines are a good choice, especially for those intermediates looking to buy a quality machine on a budget. These mini sewing machines are popular for their durability and flexibility. Also, they offer an abundance of features and stitch options, with some even including up to 100 built-in stitches. What's even better, Uten computerized sewing machines can be used to sew heavy fabrics, such as leather and denim.
Which Sewing Machine Is Better, Singer Or Brother?
Both Singer and Brother produce high-quality sewing machines. However, when it comes to stitching options, the Singer brand produces better sewing machines with additional stitch options.
On the other hand, when it comes to the types of stitches, Brother produces models with numerous stitch types than Singer sewing machines.
Are Old Sewing Machines Better?
It goes without saying that old sewing machines are much better than modern ones. These vintage sewing machines usually offer more durability and quality than their counterparts. Also, since they are mechanical sewing machines, anyone can easily use them to sew. More so, old sewing machines go for relatively lower prices than modern computerized ones.
Read more: Best overlocker in the UK
Conclusion
As an intermediate sewer, you need an everyday sewing machine that allows you to work for extended durations. The above ten recommended sewing machines do not just allow you to work for long, they also accommodate any future additional skills that you may develop. Therefore, invest in one of the above intermediate sewing machines and gradually eventuate in the pro-level skill.