When it comes to crocheting dense and durable pieces, nothing produces better results than Tunisian crochet hooks. There's just something about these long and slender hooks that get the job done better than regular crochet hooks.
Tunisian hooks come in different lengths and hook sizes so that you can find the perfect one for each type of fabric. That also allows you to work more comfortably and efficiently.
And because of the many options available, we know how hard it is to pick the one that best answers your needs. So to make the search easier for you, we've picked and reviewed the ten best Tunisian crochet hooks in the market.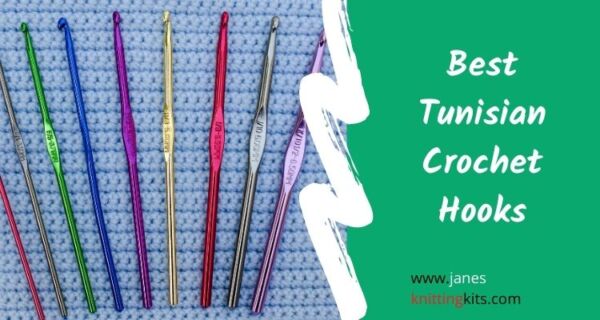 Comparison Tables:
What is a Tunisian Crochet Hook?
A Tunisian crochet hook is an elongated hook that features a stopper on one end. These types of crochet hook sizes are perfect for holding a lot of stitches, even more than the regular hook can. They're specifically built for Tunisian crochet technique.
This type of crochet hooks also goes by the name 'Afghan hooks.' Some of the best Tunisian crochet hooks are Clover Tunisian Hooks, Boye Tunisian Hooks, Susan Bates Afghan Hooks & Addi Tunisian Hooks.
Review of the top 10 Tunisian crochet hooks for beginners
1. Knitter's Pride Dreamz Tunisian Crochet Hook Set: KP600151
Knitter's Pride-Dreamz Tunisian Crochet Hook Set
Package Dimensions: 235 L x 18.5 H x 170 W (millimeters)
Package Weight : 4.76 ounces
Country of Origin : India
The hooks are handcrafted by skilled artisans
Buy On Amazon
We earn a commission if you make a purchase, at no additional cost to you.
10/01/2023 03:12 pm GMT
Knitter's Pride Dreamz Tunisian Crochet Hook Set is the perfect choice for anyone who wants to get started with Tunisian crochet or upgrade their current set. The hooks are handcrafted by skilled artisans and polished wood surface insures effortless yarn glide-works with every type of material. Easy to connect cord with smooth join-means easy stitch flow and no snagging. Resilient, flexible cord lays flat and warm to the touch, gentle in the hand, and ideal for everyone!
The Hook Set comes with eight hooks in different sizes, ranging from 3.5mm to 8mm. It also comes with a clear vinyl case to keep everything organized and in one place.
Aside from 8 different size hooks, the case includes extra features and crocheting tools, such as compatible flexible cords, stoppers, keys, and connectors. The hooks are constructed from unknown wood material with a thin coating on them. Overall, these Knitters Pride Tunisian crochet hooks are pretty much decent in what they can do. Click here to know more details.
2. Chiaogoo Tunisian Crochet Hooks: T-Spin Bamboo Set
ChiaoGoo T-Spin Bamboo Tunisian Interchangeable Set, 5.7-inch (14.5cm) Complete (1500-C)
Includes 11 Moso bamboo hooks in sizes US E-N (3.5-10mm). Size US7 (4.5mm) is included. [S][L]
Includes 4 red, memory-free TWIST [S] cables: 8" (20cm)(x2), 14" (35cm) and 22" (55cm)
Cables have a tightening/lifeline hole to ensure smooth transitions and secure connections
All hooks, cables and accessories come in a zippered, book-style case with 11 inside, labeled pockets and one zippered outside pocket. Each pocket has room for a second hook. Dims: 6" (15cm) x 8"...
Each hook is laser imprinted with the US/metric diameter size. All parts/pieces are coded [S] or [L] for easy identification and use. Similarly coded SPIN and TWIST tips, cables and accessories are...
Buy On Amazon
We earn a commission if you make a purchase, at no additional cost to you.
10/01/2023 04:12 am GMT
The ChiaoGoo T-spin crochet hook set comes with a sturdy cloth zipper pouch, which can efficiently protect the bamboo crochet hooks from dust, sunlight. The pouch even comes marked for each hook. The front pocket of the pouch features signature lace cords from Chiaogoo, stoppers, keys, adapters, and connectors. The Chiaogoo T-Spin Hook set includes 11 different-sized bamboo hook options, starting from 3.5mm to 10mm. They're made from 100% bamboo material and have metal connectors at the end.
3. Knitter's Pride Bamboo Interchangeable Tunisian Crochet Hook Set: KP900586
Another top contender for the best crochet hooks in the market is the Knitter's Pride KP900586 Interchangeable Tunisian Crochet Hook Set. With a decent selection of eight lightweight hooks with a range of sizes between 3.5mm and 8mm, these bamboo hooks are bound to help you create your next masterpiece.
Also, these crochet hooks are purely crafted from bamboo. That's why they're so lightweight – so you can crochet for hours without experiencing any fatigue.
Moreover, as the name suggests, the bamboo hooks are interchangeable. The Knitter's Pride KP90586 already contains cords and caps that fit the full lineup of the hooks. And that makes it more convenient than the others.
4. Denise Interchangeable Crochet Hook Kit
Denise Interchangeable Crochet Hook Kit - Brights (Multicolor)
Denise Needles-Denise Interchangeable Crochet Hook Kit
Ideal for double-ended crochet with purchase of extra hooks
Completely interchangeable with all Denise knitting needles! Add knitting to your crochet and crochet to your knitting! This package contains twelve individual hooks in sizes between F5/3
75mm and 19/15mm, seven cords (two each of 3 inch and 5 inch cords, and one each of 9 inch, 12 inch and 16 inch cords), four end buttons, two extenders and detailed Tunisian crochet instructions by...
All items come in one 8-1/4x7x1 inch case
Buy On Amazon
We earn a commission if you make a purchase, at no additional cost to you.
Another great set of interchangeable hooks is the Denise Interchangeable Crochet Hook Kit. The brand is generous enough to include cords, extra cables, end buttons, and extenders on top of a total of 12 hooks. True enough, this kit contains all of your Tunisian crocheting needs.
One of the best things about this kit is that the hooks featured in it can also be purchased separately. Therefore, you'll be able to test the hooks out before you make a decision. These interchangeable Tunisian crochet hooks with cables are perfect for regular Tunisian, double-ended Tunisian, and Tunisian in the round.
5. Extra Long Tunisian Crochet Hook: Looen Aluminum Afghan Knitting Needles Kit 
Looen Aluminum Tunisian Crochet Hooks Set Afghan Knitting Needles Kit with Long Case,11pcs 2mm/B-8mm/L Hooks and Necessary Accessories,Gift for Mom (Green)
AFGHAN TUNISIAN ALUMINUM CROCHET KIT.Looen crochet kit include 11pcs crochet hooks, 20 stitch markers, 9pcs plastic yarn needles, 2 aluminum stitch holders, 1 scissors, 1 retractable measuring tape, 1...
SMOOTH QUALITY CROCHET HOOKS WITH DIFFERENT SIZE.The crochet hook is made of aluminum so that it is smooth touch;fit weight is comfortable in hand,it is also perfect for arthritic hand;long crochet...
LONG DESIGNER STORAGE BAG ORGANIZER FOR AFGHAN CROCHET HOOKS.The storage bag is made of oxford fabric.The zip of bag is very strong.There are different internal compartments for long afghan crochet...
EXTRA SPACE FOR SHORT CROCHET HOOKS.Thre are 10 elastic compartment for your short ergonomic crochet hooks or classic aluminum crochet hooks
IDEA of GIFT.Great afghan tunisian crochet hooks kit for beginners knitter or crocheter, Great gift idea for christmas, mother's day, birthday or any other situations
Buy On Amazon
We earn a commission if you make a purchase, at no additional cost to you.
10/01/2023 06:43 pm GMT
If you're looking for a budget-friendly alternative, the Looen Aluminum Tunisian Crochet Needles Kit is the best option. This kit contains various accessories and Afghan hook sizes to help you start your Afghan crocheting projects as soon as you get it. And that's not bad for an affordable crochet hook set.
What we love most about the Looen Aluminum Tunisian Crochet Needles Kit is that it already comes with a convenient carrying case. This bag contains around ten compartments, making it easier to organize all your aluminum crochet hooks. This feature also makes everything more accessible, so you can get the job done faster.
6. Addi Crochet Hook Set: Click Aluminum and Plastic Interchangeable Set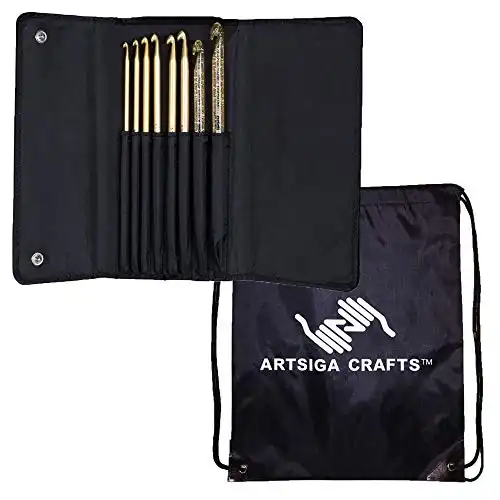 The Addi Click Tunisian Crochet Hook Set is another promising contender for the best Tunisian hooks in the market. It contains a selection of eight different-sized hooks. It also comes with a handy carrying case, so you can continue doing your projects wherever you may be.
You can choose from its wide selection of 3.5mm to 8mm Addi Click hooks to create beautifully intricate pieces. The small hooks are coated in brushed aluminum, while the larger ones come coated with thick resin material. These coats ensure durability without sacrificing its overall aesthetics.
Aside from the Tunisian crochet, this set from Addi is also perfect for double-ended crochet and creating cro-needles.
7. KnitPal Tunisian Crochet Needles: Cro-Hook Circular Afghan Tunisian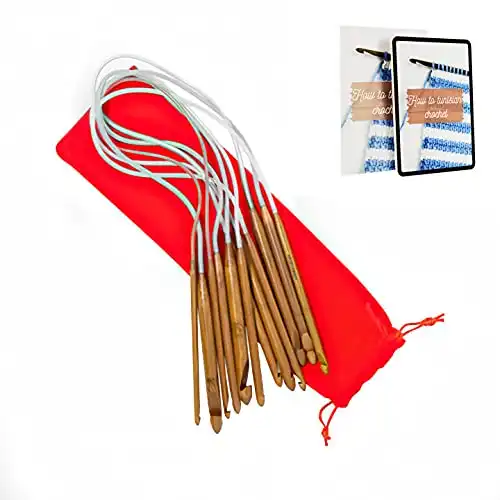 KnitPal Cro-Hook Circular Tunisian Crochet Needle Double Ended Hook Set (3 Free Patterns) 7 Hook Sizes: D/3mm,E/3.5mm, F/3.75mm,G/4mm,7/4.5mm and H/5mm, with Cable for Afghan Tunisian Stitches 24-inch
✅ – A MUST-HAVE: KnitPal's double-ended circular crochet hooks offer you endless possibilities, crocheting on the double, a combination knitting with crochet, fully reversible, seamless, and...
✅ – HIGH VALUE: For the price of one, you will get CRO HOOK crochet needles hooks set of 7 sizes from D/3mm, E/3.5mm, F/3.75mm, G/4mm,7/4.5mm, H/5mm, to I/5.5mm OR set of 6 sizes from J/6mm,...
✅ – FREE PATTERNS: You will receive 3 beginner-advanced Patterns - Waves of Cable Scarf, The Market Sac, and Brioche Socks, designed by Atenas @Mode.Bespoke with video tutorials within 3 days...
✅ - TOP QUALITY: Not all bamboo hooks made equal. Our circular Tunisian crochet hook's polished bamboo surface ensures effortless gliding of yarns – smooth stitch flow and snag-free experience....
✅ - WE LOVE GIVING BACK: Tunisian crochet hooks that make a major difference. We donate a portion of our profits to 'For the Children of Pine Ridge Reservation'. Click 'Add to Cart' now...
Buy On Amazon
We earn a commission if you make a purchase, at no additional cost to you.
10/01/2023 02:37 pm GMT
Another top contender for the best Tunisian crochet hooks is this set from KnitPal. True to its name, its wide selection of 13 different-sized hooks will be your best knitting companion.
We are all weary of wooden hooks because of its potential cause for splinters. But luckily, all of KnitPal's bamboo hooks are smoothly polished to perfection. Snags are a thing of the past with these hooks.
Because they're made of bamboo, these hooks are incredibly lightweight and highly manageable. These are organized in a luxurious carrying case, so you can take them with you wherever you go. For portability and convenience, there's no doubt that KnitPal is a brand to look out for.
8.Tunisian Afghan Crochet Hooks: 11-Piece Multi-Size and Colors
11 PCS Different Sizes Assorted Colors Crochet Hooks Tunisian Afghan Aluminum Knitting Needles
SIZE: 11 different sizes, including 2.0mm, 2.5mm, 3mm, 3.5mm, 4mm, 4.5mm, 5mm, 5.5mm, 6mm, 7mm, 8mm.
LENGTH: Approx. 27cm/10.6inches.
HIGH QUAILTY: Made of aluminum which is durable and not easy to deform.
COLORFUL: They are various colors crochet hook, such as pink, green, red, gold, blue and so on. They will give you a good mood when knitting.
GREAT GIFT: Knitting needles are perfect gift for mom, sister, anut, friends and all crochet lovers.
Buy On Amazon
We earn a commission if you make a purchase, at no additional cost to you.
If range is what you're after, no other brand does it better than the Tunisian Afghan Crocheting Hooks. Aside from its impressive size range, it also offers 11 different-sized hooks to choose from. It's also available in assorted colors (11 multi-colored hooks), so you can surely pick the Afghan crochet hook that best suits your style and personality.
Despite its aesthetics, these hooks are also built to last. These aluminum hooks won't easily bend or break when working on Afghan crocheting projects, so you know that they're meant to last for a long time.
9. 23 Aluminum Tunisian Crochet Hook Set with 12 Bamboo Hooks
23 Pieces Tunisian Crochet Hooks Set, 12 Bamboo Crochet Hooks 3.0MM(D) -10.0MM(N) and 11 Tunisian Afghan Aluminum Knitting Needles Set (2mm to 8mm)
WHAT YOU GET: There are 12 pieces cable bamboo knitting needles with beads and 11 pieces assorted color Tunisian afghan aluminum crochet hooks, totally 23 pieces crochet hooks is the wonderful gift...
MEASUREMENT: carbonized bamboo needle hook measures approx. 1.2 meter/ 47.2 inches long, 12 different sizes Tunisian Crochet Hooks approx. 3 mm, 3.5 mm, 4 mm, 4.5 mm, 5 mm, 5.5 mm, 6 mm, 6.5 mm, 7 mm,...
HIGH QUALITY: our carbonized bamboo needle hook is polished, smooth and lightweight,you can enjoy your crocheting and have a relaxing creating art time; assorted colors Tunisian afghan crochet hooks...
EASY TO USE: Smooth cable-needle join, with a designed head that easily hook and pull thicker yarn, this product enables you to crochet smoothly and comfortably for a long time, Bamboo needle hooks...
WIDE APPLICATION: Tunisian crochet hooks are practical tools for weaving, to make blankets, carpets, scarves and other crafts, you can easily hook and pull thicker yarn, crochet smoothly and...
Buy On Amazon
We earn a commission if you make a purchase, at no additional cost to you.
This set incorporates 12 individual hooks of diverse sizes. The hooks are very smooth and lightweight. With them, you'll have a great time crocheting, as well as a relaxing creating art time.
The entire set is quite functional and colorful. From it, you'll get a lot of flexibility which is essential for larger projects. It also features a long flexible cable which makes it perfect for weaving blankets, rugs, carpets, scarves, etc.
10. LEEYIEN Interchangeable Tunisian Crochet Hooks Set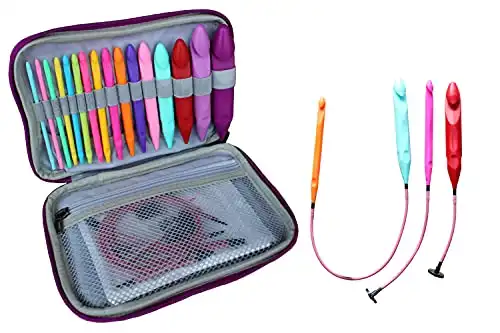 LEEYIEN Interchangeable Crochet Hook Kit Afghan Crochet Hooks Tunisian Crochet Hooks Set
LEEYIEN Interchangeable Crochet Hooks of Upgraded Version 2021 with Durable & Brilliant Purple Storage Bag.
A Real Cost-effective Interchangeable Crochet Hooks Set with Complete Accessories.
A big surprise! Wonderful & Special colorways.
Amazing gift for friends and great stuff for personal use.
LEEYIEN Interchangeable Crochet Hooks set is unique and ideal for small or bulky projects.
Buy On Amazon
We earn a commission if you make a purchase, at no additional cost to you.
10/01/2023 06:22 pm GMT
The LEEYIEN Interchangeable Tunisian Crochet Hooks Set is a real cost-effective solution for those who cannot afford such kits due to limited budget issues. This set is unique and great for small or bulky projects.
This entire set contains 16 sizes of plastic needles, 5 cord sizes for interchangeable knitting needles, 7 corded hooks, 4 extenders, and end buttons, and a durable bag. The hooks in this look wonderful, thanks to them being available in numerous wonderful colorways.
Popular Tunisian Crochet Hook Brands
Denise
When we think of Tunisian crochet hooks, Denise hooks always come to mind. This brand offers a wide selection of premium hooks, along with a variety offering interchangeable cables. Because of that versatility and added convenience, it's easy to see why it became popular over time.
Boye
Another popular brand is Boye-style hook – best known for their 14-inch size crochet hook. These hooks also come in different sizes, even offering a double-ended variant. So if you're a fan of 14-inch hooks, there's no doubt that Boye has everything you need.
Aside from its standard collection, the brand also offers a line of rosewood hooks. Not only are these hooks offer superior aesthetics, but the density of rosewood guarantees premium durability. Hooks from the rosewood set also come in 14-inch sizes.
Susan Bates
For those who prefer working with shorter hooks, then Susan Bates is the brand you're looking for. It has a decent selection of 10-inch hooks that are lightweight and easy to use. Aside from the regular option, the brand also offers flex-cable and double-ended hooks– and that allows you to work on almost anything.
Tunisian Crochet Hooks Buying Guide
At this point, you're now familiar with our top ten favorite hooks. But, there's a chance that you might still be considering two or more options from the best interchangeable Tunisian crochet hooks list. To help make the choice of hook easier, you might want to consider the following factors first.
Length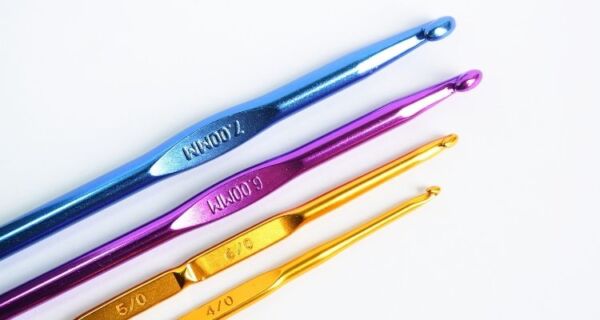 One of the most important factors that you have to consider is the length of the hook – and this is especially true when it comes to Tunisian crocheting projects.
For this type of crochet, it's best to go for larger sizes of hooks. Extended hooks will help you create large pieces with ease, so always keep that in mind.
Size
Tunisian crochet hooks come in a wide variety of sizes. This refers to the shaft diameter, which reflects how big or small the stitches will be.
If you're a beginner, the excellent hook options would be those sizes that provide a perfect thumb rest and that you're most comfortable to grip and work your way from there. It also helps to buy a set that already comes with multiple hook sizes. Not only will that give you the best value for money, but it will also help you create different pieces.
Materials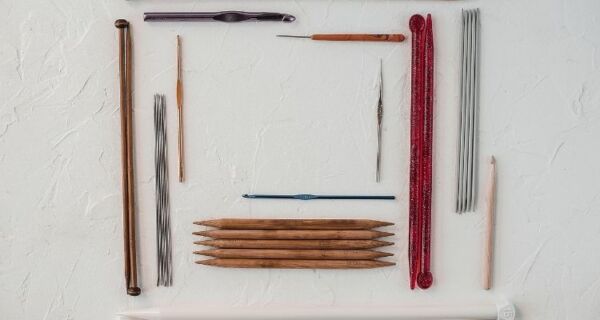 You should also consider the type of hook materials used for each hook. Popular choices involve bamboo and aluminum.
Bamboo is known for its lightweight construction and excellent warmth. This makes bamboo tunisian crochet hooks comfortable to the touch – especially during the colder months. Unfortunately, bamboo hooks are not as durable, and you would have to deal with splinters if they're not properly smoothed out.
As for aluminum, there's no doubt that these hooks are among the most durable. Aluminum hooks are also known for being lightweight, making them easy to use. Unfortunately, the slippery smoothness of aluminum crochet hooks can be a bit of a hassle sometimes. If you're a beginner, we recommend going for classic crochet hooks made of bamboo material.
Durability
And finally, you should consider the durability of these hooks. You have to make sure that the hooks you buy are well-made, so you don't have to buy new ones ever so often. As previously stated, metal interchangeable Tunisian crochet hooks are more durable than wooden ones. Take this to heart before you go out and buy one.
How-to Guide: Tunisian Crochet Basic Stitches
The basic stitches like double crochet or single crochet stitches aren't the same as the ones in Tunisian crochet. They're a little different. So, if you're new to Tunisian crochet, the most important thing you can't help understanding is the location where you'll insert the hook.
One must insert the hook through the stitch loops in traditional crochets, but when it comes to Tunisian crochets, one must insert the hook through the bars. Even though there's a version of Tunisian crochet stitches that can work in the horizontal bar, most versions tend to work well around the vertical bars.
Here, the term 'bar' refers to the two parts of the loop you'll see at the row counter you're working your stitches into. You'd have to start your work with a foundation chain and work into that first in the bars.
Once you've been able to complete your first row successfully, you'll see that your work has created vertical bars. These are the bars you're going to have to work with the Tunisian stitches for the rest of your project.
Besides, if you take a close look at your work, you'll discover that each vertical looks more like a loop, where one vertical bar is located at the front of the work, while the other is located towards the back. As a result, the density of the fabric increases. Also, it'll let you create different types of stitches, which depends on the bars you're going to work your stitch markers into.
These are the main rules you must follow to do basic stitches in Tunisian crochet successfully.
What is the Best Way to Learn Tunisian Crochet?
Crochet becomes difficult to learn if you're about to do this for the time. Shortly speaking, if you're new to crocheting, you can't expect this to be a piece of cake.
So, if you want to learn crocheting in the best way, follow the tips we're mentioning below:
Transform the skeins into balls of yarn before crocheting.

Remove hinders that can obstruct the progress of your project.

Place the yarn in a position where it'll be able to unwind easily as you crochet.

Shift hooks whenever it's necessary.

Don't change hooks in the middle of the project.

Try to make use of ergonomic crochet hooks.

Make gauge swatches.

Don't be scared of unraveling and experimenting.

Befriend people who're skilled in crocheting.
FAQs
Where to buy Tunisian crochet hooks?
The majority of Tunisian crochet hooks are available in major crochet hook set shop like Hobby Lobby, Michael's, and Joann's. They're filled with Tunisian crochet hooks. You can also check out your local LYS. They also sell Tunisian crochet hooks. You can also try to buy custom hook online.
Do you need a special hook for the Tunisian crochet?
Yes, you're going to need not only one but four special hooks for Tunisian crochet. These four special hooks are; one head hooks, flexible cable hooks, two head hooks, and circular hooks. However, their use mainly depends on the type of project you're going to do.
Is Tunisian Crochet hard?
No, it's not as hard as one may think. Even if you aren't that skilled as a knitter, you'll be able to crochet fabric that looks a lot like knitting with Tunisian crochet. Not to mention if this is your first time using yarn and a hook or needle together.
Does Tunisian crochet use more yarn than regular crochet?
No, Tunisian crochet doesn't use more yarn than regular crochet. Instead, it uses less yarn. There are some cases where you'll have to use less yarn than you'd want to for a comparable project in hand knit.
What is the difference between crochet and Tunisian crochet?
The main difference between crochet and Tunisian crochet is the curling. The curling in crochet is minimal. You can easily relax it with some steam blocking. On the other hand, the curling in Tunisian crochet is maximal. It often has to be blocked aggressively to keep the curling in place. You can use your standard crochet hook for your Tunisian crochet project if you know how to do that.
How does Tunisian crochet work if you want to make something bigger?
One of the best things that everybody loves about Tunisian crochet is that they can use it to create almost anything, from minimal to maximal, beyond maximal projects. So, if you want to make something bigger with this technique, don't worry about making a lot of mistakes, as you won't be. Instead of making blunders, you'll be finishing up your big project like a pro.
What size of hook to use?
For Tunisian crochet, it's advised to go with larger hooks of up to 1-2 sizes more than the yarn standard. For example, one would typically use a G-hook for working with worsted yarn weight. However, it would be best to use a size H or I with that same yarn when it comes to Tunisian crochet.
Moreover, if you're a beginner, the best way to get the hook's right size is to buy a set of several hooks of varying sizes.
Which is the best Tunisian crochet hook to purchase?
The Denise Interchangeable Tunisian crochet hooks are overall the best one to purchase. People who've got their hands on them for the first time have never stopped praising them. They're pretty much amazing at what they're designed to do. With them, you'll be crocheting like an expert, regardless of not having prior skills or experience.
Conclusion
We hope that these 10 Tunisian crochet hook reviews will help you find the perfect one for you. We guarantee that all of these are durable and easy to use so that you can get your money's worth. 
And If you're still unsure about which one to pick, you can always look back on our buying guide. That will surely help you find the best Tunisian crochet hook for you. 
>> Check this guide for more Crochet Hook Reviews.