Maybe you have just begun learning how to weave or are thinking about venturing into the weaving business. You may feel confused as to what tools you will need and how to go about the process of weaving. This article will help guide you through understanding all that is necessary for a successful weaver, including weaving loom and other essential tools needed and tips for beginners!
We'll go over a few different types of looms and cover some of their pros and cons. Since there are so many to choose from, it's important to know what your needs are before making a decision. In addition, we'll take into account the price range as well as how much space you want or need in your home.
What is a Weaving Loom, and why should you use it?
Loom is the essential weaving tool that you will require when weaving. Weaving looms are usually threaded with a warp, such that the user can easily weave through a variety of colors and fillings. There are plenty of hand-weaving high-quality looms sold on the market. If you are to weave using a loom successfully, you should always ensure that you go for the best weaving loom kit.
Top 5 Weaving Loom for Beginners
You may wonder, just which looms are ranked as the best weaving looms for beginners? The following review discusses the five best weaving looms to buy for both kids and beginners;
1. Ashford SampleIt Loom – Best for Beginners.
Ashford is a popular brand in the weaving sector, and they make good quality products for the users. All weavers can use the Ashford Samplelt, whether beginners or experienced. Those who start learning to weave can quickly apply new weaving techniques using Ashford Samplelt. The perfect size and rigid body of this loom make it the best weaving loom for beginners. It is easy to use and gives you confidence when making a new weaving project. However, the Ashford Samplelt loom package does not include a stand.
Pros
The structure of the Ashford Samplelt is built using the natural silver beechwood timber. This solid timber adds to the beautiful design of the loom and enhances the durability of the loom due to its sturdy state.
It allows users to sample all their preferred rigid dent heddle patterns.
It provides users with ample working space, such that even larger weaving projects can be undertaken with the loom.
It is designed with a notch. Resting this notch on a flat surface/table makes it possible for users to weave on their laps, promoting faster and easier weaving.
It is small and lightweight, such that it can be easily carried around and stored.
Cons
The natural silver beechwood used to make the table has no finishing.
The Ashford Samplelt loom comes unassembled, which can be quite inconvenient for most beginners.
2. Melissa & Doug Multi-Craft Loom – Best for Kids
Melissa & Doug Wooden Multi-Craft Weaving Loom:...
IDEAL KID-FRIENDLY WEAVING KIT: The Melissa & Doug Wooden Multi-Craft Weaving Loom includes everything kids need, including adjustable wooden loom, oversize wooden needle, craft materials, illustrated...
PROMOTES MULTIPLE SKILL DEVELOPMENT: Not only is weaving for kids exciting and productive, it improves concentration and hand-eye coordination, promotes fine motor skills, and encourages creative...
EASY TO USE: Our weaving loom for kids features easy-grasp knobs that make it simple to change the frame and switch from craft to craft. There are four craft projects to choose from, or kids can...
GIFT FOR AGES 6 AND UP: The Melissa & Doug Wooden Multi-Craft Weaving Loom makes an ideal gift for kids ages 6 and up. Add the Melissa & Doug Deluxe Wooden Standing Art Easel to round out hands-on,...
"THE GOLD STANDARD IN CHILDHOOD PLAY": For more than 30 years, Melissa & Doug has created beautifully designed imagination- and creativity-sparking products that NBC News calls "the gold...
The Melissa & Doug Multi-Craft is an ideal loom for kids aged six years and above. It is designed with a large frame that can be easily adjusted. The loom package includes an over-sized wooden needle and a lengthy yarn of 91 yards. This yarn longer lengths also provides youngsters with various rainbow colors for weaving colorful designs and patterns. Melissa & Doug Multi-Craft is a loom for weaving textured fabrics such as scarves, drawstring projects, and tasseled coasters.
Pros
This weaving Starter kit loom promotes different skills in young ones. For instance, it helps to improve concentration, coordination of the hands and eyes, the self-esteem of kids, and instill fine motor skills in these.
It has a beautiful design with knobs that can be grasped quickly and easily switched from craft to craft. It makes it an easy-to-use loom.
The loom package includes four craft projects that users can choose from.
The Melissa & Doug Multi-Craft loom comes with three animal picture tapestries that kids can use to learn how to weave colorful projects.
It has a large frame size to weave flat weaving with colored thread.
Cons
The notches are 1/2 inches, which may sometimes call for the use of a larger yarn.
3. WILLOWDALE 25.2" H × 19.3" W Loom
WILLOWDALE 25.2"H x 19.3"W Weaving Loom with Stand...
Exquisite Workmanship --- The groove is smooth and flat, avoiding the damage of the opponent, is safer, and reduces the abrasion of the wool during the weaving work. Hard beech loom, featuring...
A Great GIFT --- This is the best gift for weaving beginners. Can weave tapestries, mats, carpets, scarves, etc. Add the wooden standing art easel to round out hands-on, creative, screen-free play...
Easy to Use --- It takes only a few minutes to assemble the braiding machine kit. As long as the assembly is complete, weaving can begin, and the shuttle shuttles back and forth, which is very simple.
Promotes Multiple Skill Development --- The weaving not only inspires kids exciting and productive, but it also improves concentration and hand-eye coordination, promotes fine motor skills, and...
What You Will Get --- Side frames x 2, wooden stick x 1, heddle bar x 1, beams x 2, frames x 2, support frames x 2, large shuttle x 3, wooden comb x 1, nut & bolts accessories. Please note the...
The WILLOWDALE loom is an ideal gift to get for a weaving beginner. The loom package is usually very generous. It comes with two large side frames, two warp beams, three large shuttles, a single wooden stick, two frames, one wooden comb, an available dent heddle bar, two support frames, several bolts, nuts, and other accessories. The WILLOWDALE loom can use for weaving mats, scarves, tapestries, and carpets. All the textured fabrics weave by this loom looks very attractive.
Pros
This particular loom is designed with a flat and smooth groove. The exquisite quality of the groove helps to prevent any damages from the opponent.
The built-in groove is safer, as it minimizes wool's associated abrasion when the weaving project is ongoing.
This rigid beech loom features high-quality warp beam teeth and a very sturdy frame. All these work to ensure durability and long-lasting.
The structure of the WILLOWDALE large loom is designed with an easily adjustable stand.
The assembling process is quite simple, requiring only a few minutes to assemble fully.
Kids can easily use it, promoting multiple skill development, such as better concentration and fine motor skills.
Cons
Both the top and bottom brackets of the loom frequently bow, hence they are not as strong as is expected.
The instructions are very brief and confusing, which may make its assembling quite challenging.
4. Mikimiqi Wooden Multi-Craft Loom
The unique design of this Wooden loom mainly takes after the traditional weaving process. Since the conventional weaving process was straightforward, it promotes more comfortable weaving activity than other looms. Its simplicity is what makes it the best loom for beginners.
This beautiful, designed wooden loom is for kids aged six years and above. It has large frame size dimensions of 9.85 × 15.75 × 1.3 inches and provides users with a working width of approximately 8 inches. The Mikimiqi loom can be used to make scarves, woven tapestries, among other weaving items.
Pros
The loom is built using polished wooden material, which makes it very comfortable and safe. Therefore, even kids can safely use it.
It is designed with a metal screw regulator, which makes it easier to adjust the frame and switch the strings and make them tighter.
When used by kids, it does not only increase their interests but also helps to improve their manipulative abilities and hand-eye coordination.
This large weaving loom's simple design makes it very easy to use and promotes a faster learning process among users.
Cons
The wood lacks any light sanding using grit paper.
The Mikimiqi loom doesn't come with proper instructions. It only includes a paper that directs users to YouTube clips.
5. FOCCTS Wooden Multi-Craft Loom
FOCCTS Wooden Multi-Craft Weaving Loom Large Frame...
[ Wide Application ] - Wooden weaving loom is based on the traditional weave ways to make weave more easily, perfect for making scarves and other interesting knitting. Perfect for beginners, kids,...
[ Easy To Use ] - Weaving loom to use out of the box. Metal screw regulator make it simple to change the frame and switch string from loose to tight. Notched heddle bar makes the process much faster
[ Safe Material ] - Weaving frame made of Pure natural wood material, eco-friendly, no-toxic, durable and delicate. Wooden material make it use comfortable and prevent kids from hurting
[ Gift for Ages 6 and Up ] - Not only is weaving for kids exciting and productive, it improves concentration and hand-eye coordination. The wooden multi-craft weaving loom makes an ideal gift for kids...
[ DIY Your Tapestry Weaving ] - Our weaving loom for kids features easy-grasp knobs that make it simple to change the frame and switch from craft to craft. There are four craft projects to choose...
This is another ideal loom for kids aged six years and above. The simple yet sturdy design of the FOCCTS Multi-Craft loom makes weaving very easy for beginners, with the loom lasting for a long time duration. This harness loom can create beautiful wall hangings, phone cases, coasters, handbags, doll blankets, and even unique bookmarks. It allows users to be as creative as they can.
Pros
The FOCCTS loom is very easy to use, making it ideal for beginners and kids.
The structure includes a metal screw regulator, which functions to change the frame and tighten the loose strings.
It is designed with a notched dent heddle bar, which promotes a faster weaving process.
It made using pure natural wood, which is eco-friendly and highly durable, and non-toxic. This material, therefore, makes the loom safe and comfortable for use by kids.
Weaving using this loom helps to improve the concentration and coordination of kids.
Cons
It does not come with instructions.
Basics of Weaving and Looms
Handweaving is quite a simple process. When most of us were kids, we probably engaged in some paper weaving projects, either on cardboard or using plastic cups. This weaving process of weaving under a yarn, then over the other next yarn, is referred to as the 'over-under' method (plain weave). The same plain weave concept also applies in weaving using a loom.
However, before you can embark on your weaving project, there are three crucial things that you need to do. These are;
1. Prepare a Shed Stick
A shed stick refers to a thin piece of plastic or wood that makes it possible for users to weave between the yarn and warp. Preparing a shed stick is very important as it helps keep the yarns organized and maintain the tension of all the warp yarns.
2. Add Warp Spacers
Before you can start weaving with any thicker yarn, it is imperative that you first weave-in warp spacers. Warp spacers could either be long paper towels or even wider pieces of card stock paper. Doing so helps to provide enough space to tie the warp off at the latter part of the project.
3. Control Weaving Density
Every weft thread row that a person adds should add pressure to secure the yarns. Pressure can be added using a loom comb/beater. It helps to control the weaving density, promoting a more successful weaving.
Types of Weaving Looms
Following all looms sold on the market, you must understand the primary classification of looms. The following are the five most common types of looms available on the market;
1. Backstrap Looms
These looms are designed with a stationary object at one end and a weaver on the other end. The warp is usually tied around both the stationary object and the weaver. They rank among the best loom for weaving scarves, leggings, and other clothing.
2. Tapestry Looms
Tapestry looms are the simplest of looms, which makes them the best weaving loom for beginners. An excellent example of this is the frame loom. Other larger tapestry looms can hold even longer warps.
3. Inkle Looms
This classification of looms is ideal for weaving narrow fabric strips. Inkle looms are usually portable and can be used by both beginners and advanced weavers to make belts and straps.
4. Table Looms
Compared to floor weaving looms, table looms are relatively smaller and highly portable. This small weaving loom is designed to be used either on stands or tabletops. Most table looms have 4 or 8 shafts. Shaft weaving gives the finest cloth rather than others.
5. Floor Looms
Floor weaving looms are the largest of all home weaver looms. They are ideal for weaving large projects. Also, these types of looms are usually freestanding. Floor weaving looms mainly use to make fabric, rugs, linens for home use, and different accessories.
What to Consider When Choosing a Loom
Before choosing a loom, there are three several considerations that you need to keep in mind;
1. Your Skill Level
Are you an advanced weaver, or just a beginner? If you intend to try out weaving as just a side project, you will do well to start with a small loom, such as the table loom or inkle looms.
2. Type of Fabric
The type of fabric that you intend to make also influences what choice of the loom to pick. Frame looms are ideal for tapestry, while floor looms are best for creating larger pieces. However, if you don't care about the fabric's size, you can go for any loom.
3. Amount of Space Available
When considering the best weaving loom for beginners to buy, you should first determine the space available to place both the equipment and loom. Floor looms have larger footprints, while most of the other looms have smaller footprints. Also, the floor and table loom requires additional equipment, such as winders and warping boards. Therefore, you should ensure that you have enough space to store and place your loom.
How Does a Weaving Loom Work?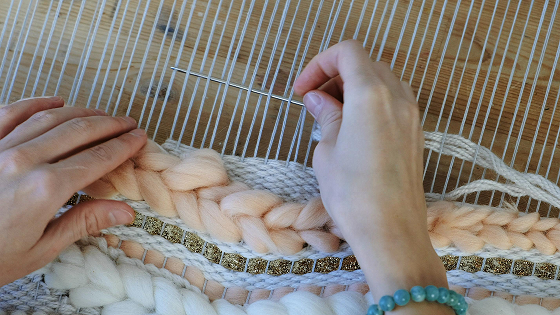 The functioning of a loom is not as complicated. When the user knits weft threads through the warps, the loom holds these warps in place. Therefore, by using different threads of multiple colors, the user can easily weave various intricate patterns or even change the weaving method to create various textures.
What Do I Need to Start Weaving?
To start weaving, you will require five essential items. Major considerations are;
A weaving loom
Cotton warp
Weaving needle
Warp Yarn/ Weft Yar
A weaving beater (a hairbrush can also work as an excellent alternative to a weaving beater)
FAQs
What Practical Things Can I Make Using a Weaving Loom?
There are many things that you can make using a loom. For instance, you can use it to make seat covers, denim, rugs, hats, bedsheets, baskets, drapes, curtains, drapes, hose cables, and even woven shoes. These are also used to make decorative items for houses and offices.
What Would be a Good Hand Loom for a Beginner to Learn to Weave on?
Sometimes, beginners in weaving opt to start with handlooms, as they progress and advance to use other weaving loom machines. The most recommended handloom for beginners is that which has a pin loom for small pieces. Such handlooms have an added advantage in that; they are not only hand-held tools but are also usually cheap.
How Much Does a Weaving Loom Cost?
Price is another important consideration that most weavers consider when purchasing loom for beginners. Most small looms are sold at around $130, while the more massive floor looms go for $4,400 and above.
However, do not let those price ranges scare you off. You can trust that you will always find an appropriate loom for your ideal price range. Also, remember that when calculating the cost of a weaving loom, you will also need to factor in the associated equipment values, such as warp boards and shuttles.
What is a Good Website to Learn About Weaving and Looms?
When you type in 'weaving and looms' on Google, you will see countless results. There are very many websites written about weaving and looming. Yet, not all of these websites are as effective and specific for beginners. The two most recommended websites for learning about weaving and looms are; Interweave and Theweavingloom.
What's the Best Way to Learn How to Weave?
If you are to weave a project like an expert, you need to learn how to do so correctly. There are several ways in which you can learn how to weave. For instance, you can consult experienced weavers and have them teach you. You can also consider teaching yourself how to weave by watching online weaving tutorials on different websites and platforms, such as YouTube.
However, the most effective way of learning how to weave would be signing up for online weaving courses. These courses register the best results when it comes to teaching beginners how to weave.
Conclusion
A weaving loom is a must-have tool if you are to engage in the weaving activity. However, this does not mean that you go for any loom sold on the market. Even as a beginner, you have the right to create beautiful weaving designs and pattern ideas. You can only achieve such perfect weaving designs with a high-quality loom. Therefore, get yourself, or your loved ones, the best weaving loom for beginners discussed above, and see how you do your first project quickly in textured fabrics and in no time.