Knitting and crocheting are very fun and enjoyable hobbies. However, have you ever had to run across the room just to get hold of yarn that was rolling across the floor? Or do you at times have to spend a lot of time untangling your yarn?
Well, if you have ever been in either of the above situations, you can agree that the knitting or crocheting experience was not very fun. Working with yarn that keeps tangling or rolling on the floor can be very annoying. However, there is a way to keep your yarn from tangling or rolling: using a yarn bowl.
A yarn bowl is a very important tool in crafting. Read on to find out how this amazing tool can improve your knitting and crocheting experience, as well as the best yarn bowls you should consider buying.
What is a Yarn Bowl?
A wonderful yarn bowl is a tool used for holding the yarn in place during knitting or crocheting. Therefore, it helps to keep the yarn clean and well-organized throughout the crafting process. With a knitting yarn bowl, you won't have to worry about your skeins of yarn getting tangled in knots or rolling across the room.
A yarn bowl is also referred to as a yarn holder bowl. They are either oval or round in shape. Also, they are usually designed with a swirl (or, holes) on the side where the hanks of yarn are fed through.
Review of the Best Yarn Bowls
So, with all the different yarn bowls in the market, which ones should you consider buying? The following are ten of the best-rated funny yarn bowls commonly used in knitting community, guaranteed to provide you with the best knitting experience:
1. Hagestad Wooden Yarn Bowl.
The Hagestad yarn bowl is crafted using sheesham wood (rosewood). This high-quality material makes it sturdy and heavy, such that the bowl does not slip during knitting or crocheting. However, despite its sturdy design, this wooden bowl is light enough to be carried around easily when on the go.
Pros
It has a smooth surface, edges, and swirls.
It comes with a beautiful travel pouch for carrying.
The package comes with a full-refund guarantee.
The extra-large yarn bowl can hold more ounces of yarn skeins.
Cons
The bottom of the yarn bowl has a sharp edge which can snag the yarn at times.
2. Nirvana Class Wooden Yarn Bowl.
The Nirvana Class yarn bowl is handcrafted from sturdy and unbreakable Mango wood. It also features a smooth finishing which ensures that yarn balls glide smoothly through the cut-out curved swirl design. Due to its lightweight design, the Nirvana Class yarn bowl can be carried with ease in a knitting yarn bag or tote.
Pros
It does not slip or tip easily.
The heavy Nirvana Class yarn bowl is very stable on all surfaces.
It has elegant and classy designs.
Cons
Being a small-sized yarn bowl, the Nirvana Class is not ideal for projects that use large oz. of yarn.
3. Eunoia Yarn Bowl.
Eunoia Wooden Yarn Bowl Holder | Handmade Knitting Wool Storage Basket with Holes for Knitting, Crocheting, Home & Garden Arts, Crafts & Sewing | Free Wood Crochet Hook & Travel Bag - 7&qu...
PREMIUM HANDCRAFTED QUALITY : Every inch of the bowl is carefully hand crafted using natural Indian rosewood which is highly durable and safe.
PORTABLE : Size Large: The small bowls can easily be carried wherever you go. We have added a carry pouch for this purpose. Each 7x 4inch bowl can comfortably hold a 3 or 4 inch yarn ball or multiple...
EASY KNITTING: The surface of the bowl including the swirl hooks have a high gloss finish and is silky smooth. This stop yarn from catching. Simply feed the yarn thread through the swirl and stitch...
PERFECT GIFT: Every item comes with 2 crochets and a carry pouch all enclosed in a nicely compact gift ready box. Perfect Mothers Day gifts or for the crocheting art and crafts lover.
Buy On Amazon
We earn a commission if you make a purchase, at no additional cost to you.
10/01/2023 05:43 am GMT
The high durability and safety of the Eunoia yarn bowl can be attributed to the natural Indian rosewood used to make it. It designed with all sizes, from small to extra-large yarn bowls. Therefore, even larger projects and skeins of yarn can be comfortably accommodated by this particular yarn bowl.
Pros
The bowl has a beautiful, high-gloss finishing.
It offers easy, compact storage for crochet needles.
It can be easily carried in a carry pouch while on the go.
Cons
It has a strange chemical smell which can be discomforting to some knitting lovers.
4. Ceramic Hand Painted Storage Bowl.
Nagina International Ceramic Attractively Hand Painted Gorgeous Stoneware Yarn Ball Storage Bowl with Innovative Dispensing Curl | Knitting & Crochet Accessions (Small, Deep Water Blue)
Dimensions : 6 Inches x 6 Inches x 3 Inches (Height) | Model : Deep Water Blue | Alphabetical Size - Small
SKU Code - B075J1FH3Q | Material - Ceramic | Include This Ceramic Bowl Into Knit Pack & This Would Be Most Admired & Talked About Thing Out Of All.
Whats MORE Needed ? We Have Complete Range Of Rosewood Bowl, Knitting Needles, Crochet Hooks & Lots More In Store For You
Gift Ideas for Crocheters and Knitters | A Lovely Loving Memory Gifts For Older One Ladies & Gents | Amazingly Traditional Unique & Attractive Hand Painted & Rendered Into Perfection | High Gloss...
We Ship Worldwide From India | Ideal Gift Option For Your Upcoming Birthday, Christmas Or Any Other Festival / Occasion.
Buy On Amazon
We earn a commission if you make a purchase, at no additional cost to you.
10/01/2023 05:27 am GMT
This Ceramic pottery yarn bowl features an attractive high glossy surface. The glossy finish provides a smooth gliding surface for the yarn, while the heavy flat base ensures that the bowl remains stable and does not tip off easily. The handmade yarn bowl is also double kilned, giving it an amazing and extraordinary touch of quality.
Pros
The bowl is an elegant and lovely piece of decor.
It can support up to 100 ounces of yarn.
It is sturdy and less fragile.
It is portable.
Cons
The color of this ceramic bowl is not very vibrant or vivid.
5. Rosewood Crafted Wooden Yarn Storage Bowl.
Rosewood Crafted Wooden Yarn Storage Bowl With Carved Holes & Drills | Knitting Crochet Accessories | Nagina International (Set)
Dimensions - (Small - 6 x 6 x 3 Inches) + (Medium Bowl - 7 x 7 x 3 Inches) + (Large Bowl - 7 x 7 x 4 Inches) | Package Contains : You Get Trio Aka Set Of 3 Bowls (Small + Medium + Large)
SKU Code - B07FJN26D9 | Material : Solid Premium Grade Rosewood (Handpicked) | Deep Dark Rich Natural Wood Grains Crafted Yarn Storage Bowl.
Plush Design Beautiful Yarn Storage Bowl With Quality Thin Clear Coat & Amazing Wood Details | Fine Sanded Finish | Waxed Premium Buffed Polish | Authentic & Natural Wood Design With Beautiful...
Check Out All Our Stitching & Knitting Accessories Such as Yarn Bowl, Yarn Needles, Double Point Needles & Our Exclusive Home Decor Products Range From Nagina International
We Ship Worldwide From India | Ideal Gift Option For Your Upcoming Birthday, Christmas Or Any Other Festival / Occasion.
Buy On Amazon
We earn a commission if you make a purchase, at no additional cost to you.
10/01/2023 05:19 am GMT
This wooden yarn storage bowl is crafted from one of the finest wood types; the Rosewood. It features a sturdy design and heavy base which prevents the bowl from constantly tipping. This Sculpted Yarn Bowl is also designed with a spiral part which is perfectly carved, such that it lacks any dips or downs. Therefore, the wooden yarn bowl does not snag hanks of yarn.
Pros
The wooden yarn storage bowl is very lightweight and portable.
It comes in all sizes.
It is both a functional and beautiful tool.
The surfaces are well-polished and coated.
Cons
The yarn bowl has some unfinished, rough edges which tend to shred yarn balls.
It has an overpowering, chemical odor.
6. Unicorn Yarn Bowl.
This funny yarn bowl with unicorn faces feature a hook and a loop in its design. The hook and loop function to prevent skeins of yarn from rolling on the floor or getting tangled in knots. This cute yarn bowl is also designed with 5 different-sized holes for knitting and crochet needles. It can be used for all sorts of yarn bowl crafts, such as knitting, weaving and crochet projects.
Pros
It has a fairly large size, such that it can hold more than 2 yarn skeins at a time.
It allows crafters to use a wide variety of yarn colors when knitting.
It is lightweight and portable.
It has a trendy unicorn design, which guarantees to brighten up any room it is added.
Cons
Fair of falling and breaking.
7. JubileeYarn Bamboo Yarn Bowl.
JubileeYarn Bamboo Yarn Bowl with Lid - Holder Knitting Crochet Accessories - Carbonized Brown - 1 Box
CONTENTS Box comes with lid to ensure your yarn stays clean and protected while you knit
FEATURES Swirl on the front secures yarn in place, making it easy to feed through while working
COMPOSITION Made from 100% bamboo with a glossy finish
OUTER SIZE 6 x 6 x 6" (15.24x15.24x15.24cm)
INNER SIZE 5" (12.7) depth, 4.75x4.75" (12.06x12.06cm) width and height. Comfortably fits a 100g yarn skein under lid. Able to hold larger bundles with lid off
Buy On Amazon
We earn a commission if you make a purchase, at no additional cost to you.
10/01/2023 04:38 am GMT
The JubileeYarn knitting yarn bowl is crafted from high-quality bamboo material. The raw wood material, adding to the beautiful finishing of the yarn bowl, gives it a natural, elegant look. Therefore, even when the yarn bowl is not in use, it still makes a beautiful aesthetic addition to any table on which it is placed.
Pros
Yarns always stay clean and protected.
It has holes for storing knitting needles and crochet hooks.
The flat-style lid can be easily removed.
It can hold more than 50 styles of yarn, from jumbo weight to lace weight yarns.
Cons
These wooden bowls only work well with small yarn sizes.
8. Hind Handicrafts Yarn Storage Bowl.
The Hind yarn storage bowl is crafted with precious aluminum metal. The aluminum metal surface features a beautiful Matte finish which shines more each time the bowl is wiped with a soft cloth.
Therefore, if you want a shiny yarn bowl, all you need to do is rub the Hind Handicrafts Aluminium yarn bowl more and more. The metal yarn bowl also ensures that skeins of yarn are effortlessly dispensed without getting tangled.
Pros
The beautiful yarn bowl does not slip easily on surfaces.
Each aluminum yarn bowl has a unique and original design.
It can be easily carried anywhere in a yarn tote.
It can be used for crochet and knitting projects.
Cons
The cut-out for the yarn balls is quite small.
9. Yarn Valet Yarn bowl.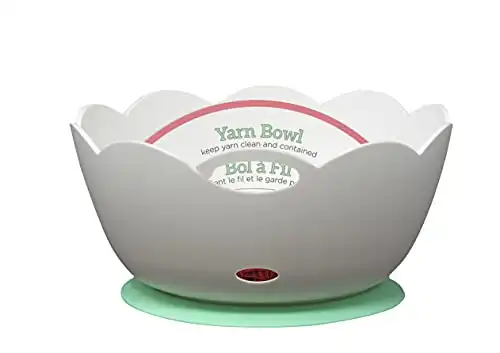 Yarn Bowl by Yarn Valet - Portable, Unbreakable with Soft Rubberized Non-Slip Base
A stylish, lightweight and unbreakable yarn bowl with rubber bottom keeping the bowl from slipping on smooth surfaces
Keep yarn clean and delivers perfect tension when yarn is pulled through the yarn director or skein hole for larger fibers and skeins
Lightweight and easy to take on the go. Fits in your yarn bag and great to bring on road trips or to knit night
Measures approximately: 6" length, 3" height, 6" width
Made in America
Buy On Amazon
We earn a commission if you make a purchase, at no additional cost to you.
The yarn bowl product by Yarn Valet has a rubber, non-slip base which keeps it steady on all surfaces. It also features a bottom hole director which can hold larger fibers and heavier yarn weights. The yarn bowl measures  6 inches long by 3 inches in height by 6 inches wide. Hence, it can be easily fitted and carried in a yarn tote bag.
Pros
It is an unbreakable yarn bowl.
The bowl does not slip on smooth surfaces.
It can be used with large yarn skeins.
It offers an even feeding of yarn and perfect tension.
Cons
Due to its very lightweight design, the plastic yarn bowl is a little wobbly and unstable.
10. Rustic Handcrafted Ceramic Knitting Yarn Bowl.
MyGift Knitting Yarn Bowl, Rustic Handcrafted Turquoise Ceramic Yarn Ball Holder, Crochet Side Pull Yarn Bowl
Handmade round ceramic pottery yarn bowl with distressed rustic finish
The cut-out curved swirl design allows yarn to easily flow when knitting, while keeping your yarn tidy and tangle-free
A perfect addition to your knitting accessories or as a gift for the enthusiastic knitter in your family
Yarn and knitting needles NOT included
Approximate Dimensions: 3.5 H X 6.25 Diameter (in inches)
Buy On Amazon
We earn a commission if you make a purchase, at no additional cost to you.
10/01/2023 04:02 am GMT
The Rustic ceramic yarn bowl has a distressed textured appearance. The side of the yarn bowl is designed with swirls where skeins of yarn can be guided and unraveled with great ease. The ceramic knitting bowl also has a beautiful rustic finishing which makes it even more elegant and stylish.
Pros
It keeps yarns neat and tangle-free.
It can support yarns of great sizes, from small to mid-sized skeins.
It does not have any jagged edges which may catch yarn.
Cons
The region around the yarn holder is a little rough and may snag yarn.
It is too lightweight, which makes it a little wobbly on table surfaces.
Yarn Bowl Buyer's Guide
To choose the best yarn bowl for crochet and knitting projects, consider the following key features:
A. Size of the Bowl
Before you settle for which yarn bowl to buy, first consider the amount of space you have. Then, choose a decent yarn bowl size which best fits into the available space.
B. Size of Yarn
Before deciding on which yarn bowl to buy, look at the type of yarns that you regularly use. Measure your yarns at the widest point. A perfect yarn holder is that which has more inches in diameter than the diameter of your largest yarn. Thus, it will allow the yarn ball sizes to move around freely.
C. Material
Yarn bowls come in different designs, styles and sizes. They can be crafted from wood, clay, porcelain, among many other materials. However, the best yarn bowls are made of wood, plastic or ceramic. These three materials not only ensure the durability of your yarn bowl, but also keeps the yarn in place at all times.
Reasons Why You Should Use a Yarn Bowl
Irrespective of the type of crafting project that you engage in, you should always use a yarn bowl. Why? The following are six reasons why you should use a knitting yarn bowl, whether you are crocheting an afghan or merely knitting socks:
A yarn bowl holds your projects perfectly when you're not crocheting or knitting.
It protects the yarns from pets.
It prevents skeins of yarn from tangling, rolling across the floor or collecting dust.
Yarn bowls allow users to knit and crochet safely on the outside.
Being stylish knitting tools, yarn bowls make beautiful decorations for your house.
Where to Buy Yarn Bowls
There are several good places you can buy your yarn bowls. For instance, if you are looking for ceramic or wooden yarn bowls for knitting, you can get these from Amazon, eBay, or any other online platform.
Also, another good place you can get wooden knitting bowls is KnitPicks. In fact, KnitPicks offers cheap deals for KnitPicks Rosewood yarn bowl and KnitPicks Maplewood yarn bowls. Knit Crate Company also offers high-quality handmade wooden yarn bowls, which can be used for weaving, knitting and crochet projects.
How do you Use a Ceramic Yarn Bowl?
To use a ceramic yarn bowl, you first have to thread the bowl. Pass the skein of yarn through the opening (hole) at the top and into the bowl. Then, using the working end, slip the strands of yarn through the hole or wrap it through the swirl. This will depend on the type of guide that your yarn bowl provides.
If your ceramic yarn bowl is designed with curved slots or yarn bowl holes for crochet hooks and knitting needles, you can also slip these through the holes. You can do this either from the outside or inside the yarn bowl. Your ceramic yarn bowl will then be ready for use so that you can start your knitting or crocheting.
How do you Use a Wooden Yarn Bowl?
Wooden yarn bowls work in a similar manner as ceramic knitting bowls. All you need to do is thread the end of your yarn through the swirl. Alternatively, you can slip it through the yarn slots if that is what your bowl offers. After threading the yarn strands, you can then start knitting or crocheting your projects.
How do you Make a Yarn Ball?
Winding skeins of yarn into a ball is very easy. To make a ball of yarn with hands, start by winding it using 2 to 3 fingers. Repeat this process 10 to 12 times. Then, slide the yarn off the fingers in a gentle manner.
Fold your yarn in half, such that it sits over itself. Continue winding the string around the ball of yarn. The ball might look quite messy as you start off. However, as you continue winding and turning the ball, your yarn will start to take up a beautiful ball shape.
While rolling yarn into a ball, remember to twist the ball around regularly. Doing so will ensure that the ball of yarn is evenly distributed.
What is a Yarn Bowl Winder?
A yarn bowl winder is a tool used for holding and keeping the yarn in place. It is usually round or oval shaped, and is designed with a swirl or holes in the side where the yarn is passed through. By keeping the yarn in place, a yarn bowl winder not only prevents tangled yarns, but also ensures that yarn balls do not collect dust or become pet toys.
What Size Yarn Bowl is Best?
Knitting yarn bowls are designed with different sizes. There are small yarn bowls which range from 2 to 4 inches. There are also medium-sized bowls with a diameter of 5 to 6 inches, as well as large-sized ones with yarn bowl dimensions ranging from 6 to 8 inches.
The best size yarn bowl is that which is big enough to accommodate your skeins of yarn comfortably. Also, go for those yarn bowls with taller sides. The extra inches tall are more effective at keeping the yarn skeins from popping out, especially when the yarn is pulled on too hard or too fast.
Conclusion
A knitting yarn bowl is just as beautiful and stylish as it is functional. Therefore, if you want to ensure that you always have a fun knitting or crocheting experience, gift yourself one of the above ten favorite yarn bowls. Your crafting experience will never be same once you start using a quality yarn bowl for all your projects!
Sources: