If you're looking for a new sewing project, you should try making cushion covers with zippers! It looks like an easy and fun project. You can make it from any fabric that looks good to you.
A lot of sewers are intimidated by sewing with zippers, but it's actually not too difficult. This post will show you how to make a cushion cover with a zipper in just one afternoon! 
What Materials you'll need?
A zipper – you can find this at your local fabric store.
Cushion/Pillow – you'll need a removable cushion or pillow to make the cover for. If you already have one, then great! But if not, most home improvement stores sell them.
Measuring Tape – you'll need this to measure your fabric and zipper.
Fabric Scissors – you will need these to cut the zipper and fabric.
Fabric – enough fabric to cover your cushion. To make it easier, choose the same width and material as your zipper.
Sewing Machine – you'll need this to sew the zipper and fabric together. A basic sewing machine is enough to make the cushion cover.
Zipper Foot for your Sewing Machine – this is optional, but it makes the sewing of the zipper very easy. 
Marking Pen or Chalk – to mark the fabric.
Pins and Sewing Needle – pin your zipper to the fabric and sew.
How to sew a Cushion Cover with Zipper:
Step 1: Begin by cutting out your fabric to fit the size of your cushion. Leave about 2 inches on each side for seam allowance.
Step 2: Cut the zipper piece to fit into the opening after you've measured the length and width required. (You'll need to cut it a little bit shorter than the fabric size.)
Step 3: Sew the zipper to one of the short ends of your fabric.
Step 4: Once you're done sewing the zipper to one side, it should look something like this: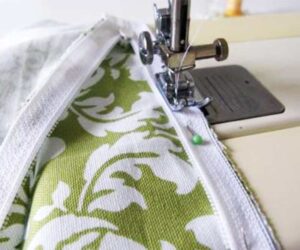 Step 5: Turn over and sew a seam along the opposite edge to fold inwards.
Step 6: Flip back over and sew another seam along the opposite side.
Step 7: Turn the cushion cover inside out through the opening left between seams 2 and 3.
Step 8: Place your removable cushion or pillow into the cover, and you're done!
Here's a short video tutorial on how to sew cushion covers with zippers:
Finishing touches:
You can add a ribbon or string around the opening of your cushion cover for some decoration. You can skip this step if you don't want, but it will give your cushion cover good finishes.
Read more: How to sew rounded corners on cushions
Can I Use A Regular Zipper To Make This Cushion Cover?
Yes, you can. However, if you use a regular zipper, it won't look nice since the teeth will stick out of the fabric. But you can always sew some interfacing behind your cushion's cover and then use either a zig-zag stitch or a regular stitch to close it up. This way, the zipper teeth will not be sticking out of your cushion cover.
I Don't Have Fabric Scissors, Can I Use Some Other General-Purpose Scissors?
A2: Sure! Regular sewing scissors are usually narrow enough to cut both your fabric and zipper. However, they won't do a perfect job like fabric scissors will.
Can I use a regular zipper to make this cushion cover?
Absolutely! You can choose any combination that you like. But make sure to follow the steps above in "How to sew a cushion cover with zippers" so that your zipper is facing the correct side of your fabric.
What size cushion cover should I make?
The size of your cushion/pillow will determine the dimensions of the fabric. You can use a normal 18 x 18 pillow inside the foam, so you'll need to measure it and then add about 2 inches on each side for seam allowance when you're cutting out your fabric. If you're using a pillow that is slightly smaller, then you can scale down the dimensions of your cover so that it will fit.
Can I Make This Cushion Cover Without A Zipper?
Yes! If you don't like zippers or if you already have one to use, then you can try sewing your cushion cover with buttons or snaps. It will work the same way, except that you'll need to cut a small hole near the opening left behind by your zipper so that you can access it when you're putting in or taking out your cushion/pillow.
Can I Add Another Pocket To Hold Additional Things?
Yes! You can sew on the same opening left behind by your zipper so that you can put it in an extra pocket. Make sure it's big enough for whatever you're putting inside, and remember to make openings if you want to be able to access what's in there.
Can I Add A Tie Or Something Around The Opening?
For decoration, you can add anything you like. String, ribbon, lace, etc.
Can I Use A Zipper That's Longer Than My Fabric?
Yes, normally, people do this when they are sewing oversized cushion covers. However, I would recommend that you use a zipper that's as long as your fabric so that it will be easier to put in and take out your pillow/cushion.
Hope you love this tutorial on how to sew cushion covers with zippers!
Happy sewing!