Leather contains very hard fabrics and it cannot just be sewed as any other fabrics which contain materials such as polythene, polyester, or nylon. We have different types of leather which include bonded leather, corrected grain leather, and full-grain leather. Leathers are mostly known to be durable and expensive. As we know leathers are hard and when sewed using a regular needle then it will break even before the actual work has been started, so it's always good to apply the right needle on the leather fabric and that is a leather needle. The following are some of the ways on how to sew leather:
STEP-BY-STEP GUIDE ON HOW TO SEW LEATHER
1. PREPARING THE LEATHER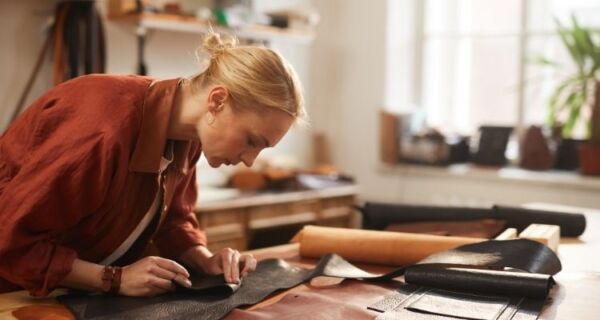 A leather to be sewed should be the first to be prepared and kept in place. This is done by cutting the right size of the fabric, placing clips or tapes where available to put work in place and also to secure knots and the end and the beginning of the fabric to avoid the fabric being perforated. While preparing for the leather you can use tracing wheel to bring out the shape you really wants and also you can use carbon papers for easy transfer of the actual fabric to be sewed.
2. CHANGING SEWING MACHINE FOOT
When sewing leather fabric, always requires a heavy-duty sewing machine. Before sewing, a leather one needs to change the presser foot because when someone uses a regular one while sewing leather it will stick on the fabric and it will make the threads also stick on the bobbin making it difficult to move. A sewing machine is supposed to be changed into roller foot to allow the correct feed of the thread into the leather fabric. The machine foot is always tried according to the machine you are using it can be a roller foot or Teflon foot as long as when you try it on your leather it doesn't stuck on the fabric then you are good to start your work.
3. CHANGING THE NEEDLE
Before starting to sew leather one should make sure he or she is using a leather needle. When sewing leather if other needles are used e.g. a regular needle, it will automatically break this because the leather fabric is very hard. One is advised to have as many leather needles before starting to sew just in case a needle breaks you have some spare on to keep you work moving.
4. CHANGING STITCH LENGTH
Stitches comes in different types for example top stitch, back stitch, whip stitch, basting stitch and etc. While sewing leather long stitch could be referred on the fabric since the fabric is very heavy and back stitch could not be referred because of the material of the fabric. Decorative stitch can do when decorating the fabric since some leather require decoration while sewing to make the look good and attractive to the users. The stitch length also depends on the type of machine and one sets it according to the type of machine he or she is using. A short stitch is not advisable since it can damage the fabric either tear it or making it look it has wearied.
5. USE THE RIGHT THREAD
Before starting to sew one should make sure he or she has the correct thread. While sewing, it is not advisable to use cotton thread because the thread is also heavy and the leather fabric is also heavy so it won't work well on it. The rights thread to use while sewing leather is nylon or polyester, this thread works well on the fabric because it is lighter and fits well on the fabric.
6. DON'T PIN
While sewing leather its more advisable not to pin the fabric since it will leave holes in the fabric that can cause damage while sewing. One is advisable to use binder clips, holding clips and also tapes to avoid putting holes in the fabric and also when clips are used it help in keeping work in place and neat like it hold the fabric together. If you chose to use the tapes or the clip just ensure that it doesn't contain sharp endings that can bring damage on the leather material.
7. SECURE THREADS ENDS WITH KNOT
When sewing any type of fabric it's always advisable to thread ends with knots both at the beginning and at the end of each stitching specifically in row. Placing thread knots at the end and at the beginning of a leather fabric prevents the fabric from tearing and also it makes work easier when backstitching since it can damage the fabric. Securing a thread also makes the sewing work look presentable and attractive and also neat. After performing the sewing work, the knots are always removed because they can't be left after the whole work has been performed.
8. ALWAYS TEST FIRST
Before starting to sew always test with another fabric to ensure your bobbin and bobbin case are in the right way and the machine is ready to start the sewing process. If you've tested and ensure that everything is correct then you can continue with the sewing process.
9. TAKE TIME
While sewing always takes your time and be happy with the kind of work you're doing to produce a quality material that is attractive to others. Concentrate so that the final product could be sewed accurately. While threading holes must be left behind and it can't be avoided since the fabric is very hard.
CONCLUSION
As we can see leather fabric are always hard but nothing can stop someone from sewing, even though they take a lot of time and energy its good if we sew them since they are durable for example when it comes to leather shoes it always serves school children apart from them being expensive. As we all know leather is expensive so it's better for someone to buy an expensive thing that will last and can deserve someone whenever they don't have money to buy another one. Also, when it comes to leather handbags and leather school bags also it is always good.
>> Click here to see reviews of our favorite leather sewing machines.