If you're a seamstress who delights in tackling new projects, sewing with stretch fabric should be right up your alley. It may not look very easy for beginners, but some simple ways to follow can help you start this craft. You just need to have the right tools and follow an easy procedure!
What is stretch fabric?
The material used to make a garment or other items in which the main aesthetic is that it is stretchy and moves easily, often including spandex. While the fabric does not have to be stretchy (it can be made of breathable, smooth jersey), it is almost always made of spandex or a blend of spandex and nylon. The fabric stretches and moves easily but does not stretch beyond its natural width or height.
Here is how to sew stretch fabric with a sewing machine?
Step 1: Cut your fabric
This is the first step toward sewing stretch fabric with a sewing machine! Ensure that you cut the fabric so that it has about 1″ seam allowances added to compensate for the fabric's stretchiness. Also, make sure to cut your fabric in straight rows. Most of the time, you will have a four or five-inch hem on the bottom of your garment, and so you should leave enough room at the bottom of your pattern pieces so that you can sew with ease.
Read More: Best Sewing Machine for Stretch Legging Pants
Step 2: Measure the pattern piece
Now, measure your fabric to ensure that you have enough room to allow for a hem at both ends. You will also need to add a seam allowance of 3/8″ along the entire edge of your pattern and make sure that you cut from the fold line of your fabric so that it is not too small.
Step 3: Trim and press your fabric
Cut off any excess bits at either end of your pattern pieces by rolling them under with a pair of sharp scissors. The fabric will get stretched along the bottom edge of your garment or pattern piece, so you should try to trim it as close to the bottom curve as possible.
Then, press the excess fabric under at both ends of your pattern. By pressing the area well, you will allow yourself a smoother work area and make sure that your beautiful fabric doesn't stretch out too much and become too small!
Step 4: Sew your seams
You can use a regular setting on your sewing machine for most of this work. You will want to make sure that you do not stretch out the fabric during sewing. Keep it firm against the foot of your sewing machine and feed it through with just a little bit of giving. As you sew, you will notice that some areas can get difficult to work with, particularly around corners and bends in the seam. You can use a sewing aid to help you here. With much of the fabric, you will want to use a 1/4″ seam allowance, but this is not necessary, and it depends on your project.
Step 5: Press your seams
When you are finished sewing all of the seams, you should press them well with an iron. Your fabric might be pretty delicate at this point, and so you should be careful that you do not apply too much heat with the iron. Iron the seam allowances so that they lay flat and smooth.
Step 6: Sew the hems with a zigzag stitch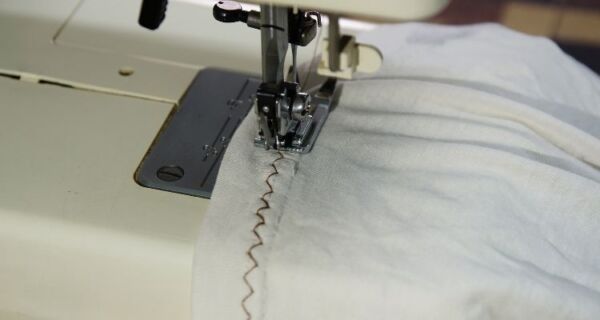 When you are done sewing all the vertical seams, it is time to do the finishing touch. Make sure that you measure down your garment to make sure that the bottom hem of your clothing looks good and is symmetrical on both sides of your garment. Now, sew a simple 1/4″ hem with a very narrow zigzag stitch using tiny stitches to prevent fraying of your thread.
That's all!
What type of sewing machine is used to sew stretch fabric?
Any sewing machine that is capable of sewing with a variety of fabrics and thread can be used to sew stretched fabric. The most commonly used stitch is the zigzag stitch.
What type of needles should you use to sew with stretch fabric?
You should use Extreme Stretch needles, which are also known as ballpoint needles. These are a special type of needle with a rounded ball tip instead of the more common sharp one.
What type of thread should you use to sew with stretch fabric?
You should use a polyester/cotton blend thread to avoid stretching out your sewing machine and your thread during sewing. Of course, you could also use sew-in snap-in elastic thread, which is more effective than regular cotton. If you are just starting out, try using the universal nylon-coated thread, but if you want something that will hold up longer and not wear down quickly, switch to the elastic or polyester thread.
Final Thoughts:
Sewing stretch fabric is not complicated, but you will need to pay attention to the details. With a little practice, you will be able to sew stretch fabric with a sewing machine without any trouble. The possibilities are endless, and you will feel excited about your creativity! Try out some new projects and see just how easy it is. It might take some time before you get the hang of it, but soon your sewing skills will turn into something that everyone wants in their closet.