If you want to take your love for quilting to the next level then a long-arm quilting machine is a must-have for you. However, long-arm quilting machines have a hefty price tag and it's highly important that you do some solid research before making the ultimate purchase.
Innova is one of the market leaders for quilting machines and they have a number of different products. We have designed the article with Innova long-arm quilting machine reviews to ensure that you have invested your money in the right product.
What is Innova Long Arm Quilting Machine?
Innova Long Arm Quilt machines are built to quilt. They are manufactured by ABM International, a family-run business in Houston. They are making high-quality quilting machinery since 1947. You can buy the Innova long-arm quilting machines as hand-guided ones and with autopilot M3, navigator, or with a computerized robotic system.
All of their long-arm quilting machines are built with high-quality aircraft-grade aluminum. The machines are engineered with top-of-the-line digital electronic features for state-of-the-art performance.
Innova Quilting Machine Comparision Table & Reviews
1. Innova 18
You can make quilting marvels when you have the right product to deal with. The Innova 18 is the perfect model for serious quilting hobbyists out there. It will provide you with exceptional stitching accuracy with impeccable reliability.
It features a 1HP motor that can do a whopping 3000 stitches per minute. The powerful motor ensures swift operation with outstanding precision. It has handlebars on both the front and back which enables you to work from either side of the quilting machine.
You can program the machine for 5-22 stitches per minute. You can also adjust the speed ranging from 75-3000 spm. The manual speed control handle can be used on the fly adjustment for better accuracy and control.
It's equipped with the Innova™ Pro-Frame that maximizes efficiency levels and enhances the ease of use. The frame has an adjustable height from 30 inches to 42 inches. The adjustable self-leveling legs enable you to adjust it up to 13 inches to reach your desired quilting height.
2. Innova 22
The Innova 22 is a fantastic machine and doesn't get any better considering the price. It's super rugged and delivers accurate results. It enables you to quilt an entire 12-inch block without any need to advance your quilt.
The machine features Innova's patented swivel sew head that is super unique. The stitch quality should be one of your prime concerns when you're shopping for quilting machines. Thanks to the balanced tension on the top and bottom of the bobbin head, you can make perfect stitches in every direction.
The Innova 22 also comes with a 1HP motor that can make 3000 stitches per minute. The strong ensures that you get faster and more efficient quilting sessions with optimized stitch regulation. You'll also get couching attachments with this machine that will come highly convenient for any sudden repairs, removing broken needles, changing the feet, etc.
3. Innova 26
The Innova 26 is another gem by ABM International that will make you fall in love with quilting again. If you're a professional quilter who wants to take the quilting game up a notch then the Innova 26 is the perfect choice for you.
It has a unique AutoPilot Robotic System that will let you explore the world of quilting and make the best out of your talent. The system will boost your efficiency as well as your productivity. The machine can also be hand-guided and it's one of the best-rated long-arm quilting machines in the market.
Like the other Innova quilting machines, this one also comes with a 1HP motor with the ability to make 3000 stitches per minute. You can program the stitch limit per inch and the sewing speed based on your preference.
You'll get tons of different accessories such as a set of leaders, bobbin winders, a 4-pack of 16 needles, a screwdriver, etc. Also, you'll get a 5-year warranty with the Innova 18 to make the most of your purchase.
4. Innova M20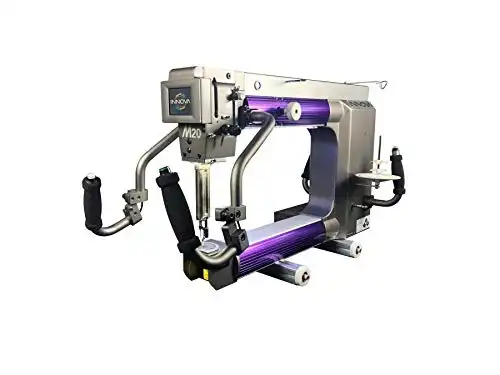 If you have been searching for an industrial quilting machine in this Innova long-arm quilting machine reviews then hold your horses, we have found just the right product for you. It comprises all the latest technology and innovations in the long-arm quilting world.
The Innova M20 has innovative AutoPilot features that come in super handy for industrial quilting. You can also define the parameter to get the perfect corners and edges every time. It has a tested speed of 4000 stitches per minute that allows you to quilt with high speed and precision. You can readily access the tablet power and the communication plug of the machine.
You'll get a 10-year warranty with the product and Innova has excellent customer service and returns policies. Thanks to the cooling system, you'll get a long lifecycle out of the machine without any trouble.
5. Innova M24
The Innova M24 is a sleek yet powerful machine that will take care of all your quilting projects perfectly and with utmost precision. One of the most prominent things about the Innova 24 is that it's the quietest long arm by Innova to date.
The motor of the machine can speed up to 4000 stitches per minute making it a great purchase for industrial use. No matter how fast you stitch, you'll not be outrunning the motor. It comes with a rotating sewing head that enables you to easily change the needle and the hopping foot.
It features the lighting stitch regulation system which is standard in all M series machines. The perk of this system is that it will maintain an accurate stitch length even when you slow down or increase the speed. You can also customize the frame to fit any room size or the height of the quilter.
6. Innova M28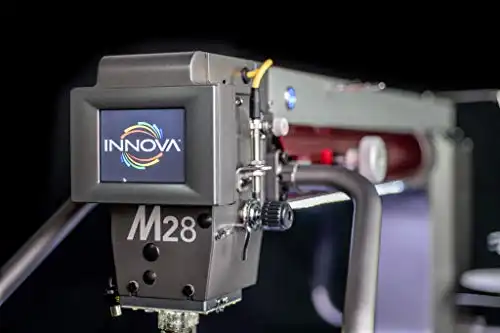 Innova M28 industrial quilting machine has outstanding features with unparalleled quality. There is not much to say about quality when it comes to Innova quilting machines. The machine has a tested speed of 4000 stitches per minute that will take care of all your quilting needs.
It has the integrated AutoPilot Embroidery format that you only need to activate to run the machine. Also, it features the HD stitch feature for AutoPilot mode that enables you to perfectly define all the edges and corners. Keep in mind that AutoPilot robotics is needed to run this M28 machine.
The Innova 28 is equipped with viewing windows for advanced LED diagnostics. The LED lighting system has bright, dim, and black lights to match different work environments. It also has an integrated needle laser light and lighting stitch control system with a horizontal orientation.
The best part about the M series machines is their long warranty life. The Innova M28 comes with a 10-year limited warranty.  
Why Should You Buy an Innova Longarm Quilting Machine?
Innova long-arm quilting machines boast tons of different features and qualities. There are many different qualities that make them stand out in the crowd. Also, there are some amazing features of these long-arm quilting machines that give their competitors a run for their money.
One of the most notable features of the Innova long arm quilting machine is that all of them are equipped with the 3000 stitches/minute 1-horse motor. The powerful motor makes the machine highly efficient and ensures better stitch regulation at the same time. Due to the high-powered motor, the machine is able to pierce through denim, leather, and several layers of seam allowance without any stalling.
You'll love how easy the machine is to maintain and take care of. The innovative design of the machine houses sealed ball bearing and the Teflon® coated components which cut down the maintenance and oiling requirements to a great extent.
The manufacturer, ABM International has equipped all the industrial quality components, design and taken the same quality control measures while making these long-arm quilt machines. They're highly concerned about their customer service and they don't want the customers to face any mechanical problems, poor stitch quality, or thread-breaking problem that is common with most of the other long-arm quilt machines in the market.
Innova Long Arm Product Variety
Innova has a range of different long-arm quilting machines and has picked the best 6 for our Innova long-arm quilting machine reviews. We have reviewed Innova 18, Innova 22, Innova 26, Innova M20 Innova M24, and Innova M28. These machines are suitable for both beginner and professional quilters.
All the Innova quilting machines are equipped with a powerful 1HP motor that will enable you to work more efficiently. You'll get a 5-year warranty with the regular machines and a whopping 10-year warranty with the M series machines. 
Availability of Innova Quilting Machine Parts & Accessories
One thing that you'll love about the Innova longarm quilting machine is how easily you can find its parts and accessories. You can find all the parts and accessories for your longarm machine here without any hassle.
Warranty
Innova is quite generous when it comes to warranty. Innova has a separate warranty structure for electronics, electrical, and casting shells. They offer a 5-year warranty on the mechanical and electrical parts on the machine head. You'll get a 1-year warranty on optional equipment such as lightning stitch, autopilot stitch, etc.
They offer a whopping 10-year warranty for the M24. The rest of the models follow the criteria mentioned above. Also, keep in mind that your warranty will be void if you always keep the machine plugged in or if you use it for business purposes.
Return
ABM International accepts authorized returns within 30 calendar days from your purchase date. The return must be done in complete original packaging. Also, they will not be held liable for any damage that occurred due to incorrect installation processes or usage.
They will repair or replace the product if there is any defect found during the warranty period. You need to return the product to ABM with a full description of the defects along with the purchase order.
The product will be returned to the customer via FedEx, DHL, or U.P.S. at the customer's expense. However, if the product is found to be non-defective then the customer needs to pay a service charge. Also, ABM will not be liable for any incidental or consequential damage to the machine.
Customer Support
Innova customer service is hands down one of the finest in the industry. They have a range of highly skilled customer service agents who will serve you 24×7. Even if you face Innova longarm troubleshooting in the middle of the night, the hotline support system will be available to guide you through the way. You can email them or call them on their hotline number. They also offer a remote assistance service powered by TeamViewer.
Other Popular Longarm Quilting Machine Brands
If you want to keep your options open then check out these other popular longarm quilting machine brands.
Handi Quilter
Handi Quilter is highly raved by quilters around the world for their low-maintenance and reliable range of products. Their machines are known for ease of use and superior functionality. Also, their quilting machines are backed by an HQ warranty.
A-1 Quilting Machines
A-1 Quilting Machines, Inc. is a Missouri-based company with an outstanding range of products. They have a different range of packages for quilters with different levels of expertise. Whether you're a novice or an expert quilter, you'll surely find something desirable from A-1.
Juki
Juki is one of the oldest and most reliable long-arm quilting machine brands out there. They have a wide range of product categories at different price ranges and expertise. Their quilting machines are built with industrial-grade sewing machine technology to offer you the best output from them.
Innova Longarm Prices
The price may vary depending on the dealer. As of March 2021, the prices for the Innova Long arm quilting machines are as follows:
Innova 18: $14,065.00
Innova 22: $16,065.00
Innova 26: $18,065.00
Innova M20: $18,975.00
Innova M24: $23,500.00
Innova M28: $28,500.00
Gammill vs Innova
Gammil is another top favorite by quilters all over the globe. They are highly rated for their wide range of hand-guided and computer-controlled quilting machines. However, if we were to compare long-arm quilting machines, both Gammil and Innova offer an impeccable range of longarm quilting machines with a variety of features. Also, both of them offer products with similar features at a similar price point.
Gammil offers a limited lifetime warranty for their mechanical parts and a 3-year warranty for their electronic parts. As we have described on our Innova long arm quilting machine reviews that Innova offers a 5-year warranty for their regular line and a 10-year warranty for their M series machine.
FAQs
What Size Of Innova Longarm Quilting Machine Is Right For You?
Well, it depends on multiple different factors. From our Innova long-arm quilting machine reviews, the Innova 18 is perfect for hobbyists out there. The Innova 22 is also another great addition for the personal use of hand-driven businesses. The Innova 26 is a computerized machine with a 23-inch sewing depth. This one is more suitable for advanced users or for small businesses. All the M series quilting machines are suitable for industrial use and for large businesses. So, we hope these descriptions have helped you find the one suitable for you.
What brand of long-arm quilting machine is best?
Innova is undoubtedly one of the best long-arm quilting machines out there. However, you can also take a look at Juki, Gammil, and Brother quilting machines as well.
How much does a long-arm quilting machine cost?
The price for quilting machines varies depending on brands, features, availability, etc. We have mentioned the prices for Innova quilting machines above. However, a quality quilting machine's price can range between $9,000 to $30,000.
Should I Buy A Longarm Quilting Machine?
Buying a quilting machine is a significant investment and you should only make the purchase when you're 100% sure about it.
Where To Buy Innova Long Arm Quilting Machine?
Is A Longarm Quilting Business Profitable?
The business will be profitable when you have the necessary knowledge and expertise on it. You should study the market and charge appropriately for each project. You can also add the service charge and a few other charges to make it profitable.
Conclusion
Buying a long-arm quilting machine is a significant decision and you should never go for an impulse buy. Our purpose is to present you with the Innova long-arm quilting machine reviews so that you can make the right decision based on your requirements and necessities. We have included 6 different options with varying prices and features so that you can find your best match.
>>Click here to see reviews of our favorite home quilting machines