Sewing is an art that can teach children to be creative, patient, and observant. It's also a skill that they can take with them for the rest of their lives. There are some things you should know before getting started, though, so keep reading!
Tips and tricks for teaching kids how to sew 
Here are some tips for teaching sewing to your children. We will discuss how you can involve them in the process and help them enjoy their time learning this new skill.
TIP (1) – Don't be scared to start at an early age!
It is never too early to begin sewing instruction for children and the earlier they learn the better. It is easy to teach them simple things like how a button goes on a shirt, and then move on to how elastic goes around the waist of their pants. Teaching them to sew while they are very young will help them work through any fear that they might have and feel natural with sewing as they get older.
TIP (2) – Let them use the real thing!
It is always a good idea to let your child use a child-friendly or beginner-level basic sewing machine if they are old enough to get used to the feel of it and learn to use it properly. That way, there will be no confusion when you pass your sewing machine down to them once you are done using sewing as a hobby or profession.
TIP (3) – Don't hurry them!
It is good to take it slow when teaching children almost anything, including sewing. They will learn all the basics with their own materials, and that way, you can see how they are being taught when you're done or lose interest in the lesson. Allowing too much at one time will only confuse them before finishing.
TIP (4) – Let them do it on their own!
It is important to let your child have their own sewing space where they can work without you hovering over them or helping in any way, just sitting and watching. Teaching them how to follow directions from a pattern will greatly help them learn to sew; this takes time and patience.
Read More: Safety tips for sewing with kids
TIP (5) – Teach them about sewing terms!
Teaching your child how to sew is the first step in a long line of lessons you will be teaching them. Before they start working on new tasks, they will need a foundation in machine mechanics, terminology, and vocabulary. Teaching them about the sewing machine functions is a big help, like when they need to rewind the bobbin or change the thread. Teaching them common sewing terms like straight stitch and zigzag will help them be better at sewing when they are older.
TIP (6) – Show them how to care for their stuff!
When you start teaching your child about sewing, teach them how to clean and take care of what they have created. From the beginning, these lessons will help them to avoid problems in the future. They will also learn how to take care of their sewing machines and how to sew buttons and other neat things to help them become better seamstresses when they grow up. Teaching them how to take care of their clothes so that they don't tear or fade in the washer and dryer is a good idea too.
Read more: How to sew cushion covers with zippers
TIP (7) – Teach them about sewing patterns!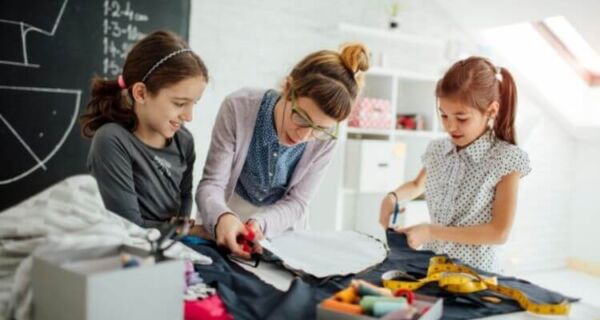 To teach children to sew, they must trace the pattern from their own body, helping them develop fine motor skills. Here are some of the most important things to be aware of when teaching a child to sew.
Teach them how to read patterns and use measurements properly – since this will best prepare them for challenges in their later life.

Show them all types of sewing patterns to better understand what is possible with sewing.
TIP (8) – Show them different stitches!
It is important to show your child how and when to use each stitch, that way, it will help them when they are sewing on their own. Teach your child the stitches for different types of fabrics and how to read an embroidery machine chart will help them greatly in the future with sewing clothes, blankets, or other items that need unique designs. Sewing a seam over the same stitch will create a long-lasting, durable bond that is less likely to come apart under stress and strain. Teaching your child how to follow patterns like sewing a stuffed animal can be made more accessible by demonstrating ways to reinforce seams with extra stitches that hold them better.
TIP (9) – Show them sewing machines!
Introduce your child to sewing machines and sewing accessories, and this will show them the variety of sewing that is out there for them. Showing your children one sewing machine isn't enough; they need a few different types so that they can learn each kind thoroughly. Take time with your kids and let them have fun sewing their own clothing. Sewing projects for 4 -7-year-olds is a fantastic hobby that will help them make lasting friendships with other sewing enthusiasts at their own age.
TIP (10) – Teaching them about safety!
Teaching your child to be safe when sewing and cleaning is an integral part of teaching them how to sew. Water and electricity are powerful forces that need to be appropriately handled. Show them how to correctly or safely turn on the sewing machine, change sewing needles, unplug sewing machines and other sewing accessories when not in use. Proper cleaning of sewing supplies will prevent harmful bacteria or mildew from building up on non-washable items they might have in their room.
What are the supplies needed to teach a child how to sew?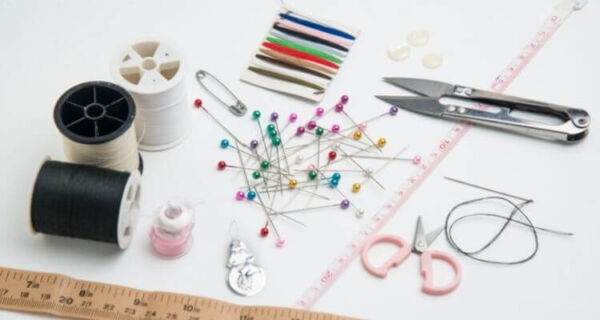 You will need the following supplies:
Sewing machine

Measuring tape/yardstick

Fabric scissors (good quality and kid – friendly)

Cutting mat

Sewing pins

Needle threader

Sewing pincushion

Sewing pattern and sewing instructions.
What are the benefits of learning to sew for a child?
According to Stitching for Kids: "As a parent, it's important to instill in your children a healthy interest and respect for sewing. They need to know how and why things are made, how they work, the parts that make them up, and the materials used. It is also very important that they learn safety while using sharp instruments."
Teaching your kids to sew can have many benefits, including increasing fine motor skills, problem-solving skills, and manual dexterity. It also helps them develop better hand-eye coordination because they will see the final product they are making when sewing. 
What age is appropriate to start sewing?
A child can begin learning to sew as early as 4 or 5 years old. What's most important is that they are in an environment where they feel comfortable and safe while sewing. Children younger than this age may need assistance from you when learning more complicated stitches.
What sewing projects are appropriate for a child/beginner?
There are many simple sewing projects that children can sew. Children will enjoy sewing stuffed animals or dolls from a pattern, small stuffed objects using scraps of fabric and bags for everything. They can even try making their own finger puppets.
A list of resources and books that can help get children interested in sewing from an early age
Resources for parents who want their children involved with learning about sewing, but don't know where to turn