A knitting machine is a domestic machine to create different pieces or woven garments in the comfort of home. An Addi is the ideal knitting machine if you want to take your fabrics to the next level. It is faster than conventional hand knitting and a way to earn some money by weaving various designs with knitting patterns.
What is an Addi Knitting Machine?
An Addi knitting machine is an amazing machine that will let you make a lot of beautiful pieces to look at or to sell, what can you make with an addi knitting machine? Many kinds of stuff like Scarves, sweaters, dresses, hats, and more. This is a circular knitting machine made of plastic and is cheaper and smaller not like the big ones used in the industries.
Addi knitting machines are famous because many people love to knit and enjoy the turbotextile.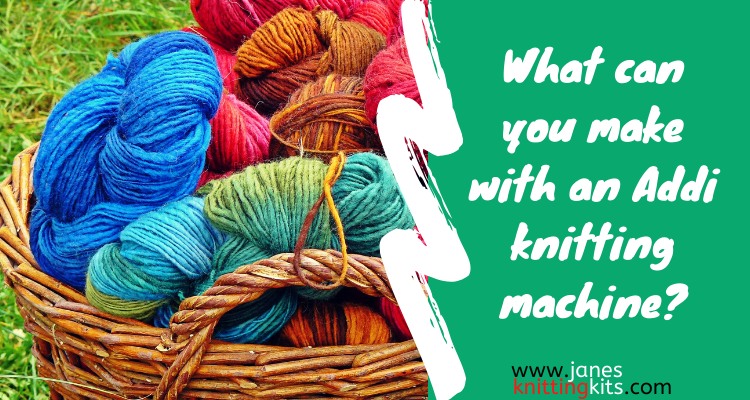 All the things you can make with the Addi knitting machines
Do you like knitting? Do you like manual jobs? Do you like knitted garments and accessories? The Addi knitting machines will be useful to you, you can entertain yourself and easily do what you want, whether you know how to knit or not. 
With these items, you can create knitted garments "without needles" quickly and easily. Anyone can use it, even beginners in weaving. With it, they can knit up to children (from 5-6 years old, according to information from the manufacturer), men and women with little experience in knitting. Knit circular pieces as well as flat pieces.
Addi knitting machines can be used to great advantage since they can be used to make accessories, but also clothing for all ages, home accessories, dolls, etc., being able to work with almost all kinds of wool threads, even work with a double strand, etc. Any garment can be knitted, from a hat to a poncho. You can create solid or multi-colored garments. Ideal for creating patchwork garments and plaids, as well as being very useful for making gifts in a short time.
Types of Addi Knitting Machines
There are two versions of this knitting machine, the Addi-Express professional and the Addi-Express Kingsize knitting machine made of plastic and is cheaper and smaller not like the big ones used in the industries.
Addi knitting machines are famous because many people love to knit, and they enjoy turbo textile.
A review and evolution of these knitting machines, the first version of addi-Express did not have a pass counter. To improve it and facilitate the work of its users, addi developed the new version of addi-Express, the addi-Express professional, which has 22 needles and a pass counter that allows working with precision. The next step was to create the large version, the addi-Express Kingsize, which with its 46 needles has approximately twice as many needles as its predecessor. All its needles are numbered to easily increase and decrease points.
The addi-Express knitting machine (its two versions) has recently been perfected thanks to the development and production of its addi-Stopper accessory.
With addi-Express knitting will be very easy and comfortable, Quickly weave shapes round or straight; Even beginners in a few minutes they will be proud of their works: in scarves or sweaters and patchwork vests, in an arm or leg hems, in small items such as phone cases, egg cases and much more. addi-Express now has a practical needle holder and a counter row improved with memory function.
Even more possibilities, even bigger knitted pieces: with addi-Express Kingsize will enjoy knitting even more. With the largest diameter, in the blink of an eye, you get even more individual knitted pieces. Kingsize just like addi-Express is fixed in a few steps on the table so it cannot slide. Then the appropriate thread for the thicknesses is inserted needle 3–8 mm into the hole and voila! Find out our recommended yarn for addi knitting machine.
You can always buy either if you have an addi-Express or addi-Express Kingsize, the stop addi, With this accessory you can individually determine the bandwidth of your piece of knitting in the flat weave. It is made with High-quality plastic, easy to handle, and clean in execution.
Features
These machines have excellent features, for example, the addi-Express professional brings 22 needles Knitted Circular Items – Diameter 10 to 15 cm (4 "to 6") and Plain Knitted Items: 15 to 20 cm (6 "to 8") wide. While knitting, you can use almost all kinds of threads.
On the other hand, the Addi-Express professional Kingsize has 46 metallic needles, a resistant needle holder, a decrease needle, 5 spare needles, 4 baskets, 2 screw hooks for stable table mounting, and a digital row counter with memory function.
Be it caps, scarves, cardigans, pillowcases, ponchos, hats, etc., with addi-Express and Addi-Express-Kingsize knitting will be a children's game. Those who are not used to knitting will only have to turn the crank and in a short time, you will be able to create your first own woven pieces. Both machines have multiple instruction manuals and ideas as accessories. Become a fan of addi and surprise your customers.
Conclusion
So remember, what can you make with an Addi knitting machine? These beautiful knitting machines will make your days more enjoyable and allow you as much as your family to knit wonderful clothing for your every day, they are made in Germany with much love for you.